The Carlton Cheer Squad was established in ????.
Carlton and the Elliott sisters - a love story
Carlton historian Tony De Bolfo's article on the Elliott sisters. As well as Barbara Elliott being named "Belle of the Carlton Ball" in 1960, Barb and her sister Carole were involved in the early days of the Carlton Cheer Squad.
http://www.carltonfc.com.au/news/2018-05-04/carlton-and-the-elliott-sisters-a-love-story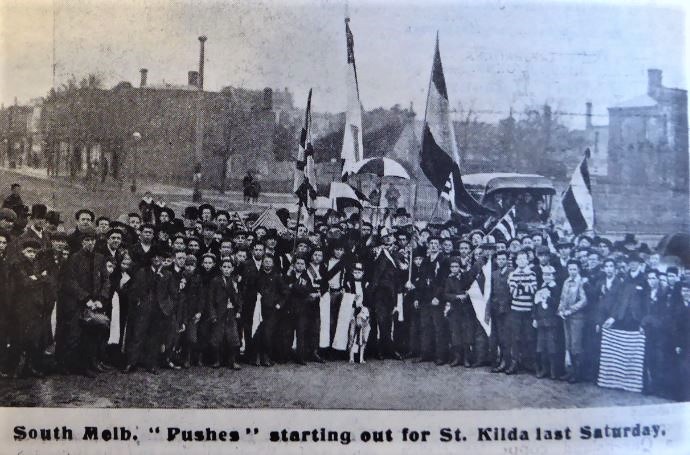 1907: So far, this is the only image we have found of an early supporter group. Blueseum presumes Carlton's and most other club's would have been similar.
Note: The absence of females, club coloured umbrellas, posters of players, extremely large flags, a dog in South colours, various South jumper types - sashes (both ways) hoops/stripes, a horse and buggy displaying a flag.
Round 7, South defeated St.Kilda by 12 points. Carlton thrashed Essendon by 54!
In the Pre VFL era mention was made of large groups of supporters carrying ribbons and team flags, horse and carts/buggies sporting team colours. So by 1907 these supporter groups, in various forms, had been around for a very long time.
Image: SLV, Illustrated Sporting and Dramatic News June 20 (p12), 1907
"Push" was an every day word for a street gang that was in usage up until WW1. Pushes were common place in Melbourne from the mid 1870's.
Most gangs and there were many of them, were not all associated with football teams. Some were so violent that a policeman would not pursue them into laneways.
By the 1920's special police squads had broken up the gangs. (e Melbourne the city past and present)
Further information on pushes can be found here>
http://www.emelbourne.net.au/biogs/EM00619b.htm