Victorian Football Association
Career: 1880
Left: J. Blackham aged 24, part of a group of photographs of Australian Test Cricketers taken at Chuck Photographic Studios in Ballarat 1878. See
Thomas Henry Chuck
For the complete picture see
GENERAL: Team and general Pre-VFL images
(National Museum of Australia)
1880
Blackham scored two goals for the Carlton Reserves/Second Twenty during the season.
(The Footballer 1880. p65)
Could this player be the famous cricketer-wicketkeeper John McCarthy Blackham,
(DOB: May 11 1854, North Fitzroy - DOD: December 28 1932, Flinders Lane Melbourne) who first played for the Carlton Cricket Club as a 15 yo?
The Carlton Cricket Club (July 1871) in its annual report for the 1870 - 71 season mentioned "....the appearance of the two boy colts, John Blackham and
Thomas Horan
...." (Australasian July 22)
Andy McHarg
in an interview with the Sydney sports newspaper The Referee in March 1915 recalled a match in
1868
in which Carlton played football against the British Army side the 14th. Regiment at Royal Park. Andrew recited verses of a poem about this match which was written by Jack Blackham, father of the famous wicketkeeper.
See
1868
August 01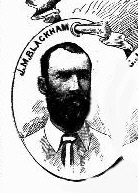 Links
Blueseum
:
Pre VFL Players