| | | | | | | | | |
| --- | --- | --- | --- | --- | --- | --- | --- | --- |
| Carlton | 4.6 | 30 | 6.11 | 47 | 17.15 | 117 | 20.22 | 142 |
| Sth Melbourne | 4.3 | 27 | 5.6 | 36 | 8.8 | 56 | 13.10 | 88 |

Venue: Princes Park
Date: Saturday April 22, 1939
Result: Win by 54 points
Umpire: Cummins
Crowd: 25,000
Goalkickers: M.Price 7.5, K.Baxter 4.3, J.Hale 2.1, J.Wrout 2.6, P.Schmidt 1.3, J.Skinner 1.2, H.Hollingshead 1.1, B.Diggins 1.0, C.McInnes 1.0, C.Crisp 0.1
Reports:
Injuries: C.Crisp (groin) replaced by C.McInnes during last quarter
---
Game Review
After an even first quarter, Carlton exerted their authority on this match and pulled away to an impressive 54-point win over the Bloods. Rover Mick Price was superb for the Blues, kicking 7 goals. Carlton were second on the ladder after round one, behind St Kilda.
Best: Price, Carney, Diggins, McLean, Park, Baxter, Wrout, McIntyre, Hale, Schmidt. Skinner made a fine debut.
More than 3,200 membership tickets were sold this day. The club hopes the membership total will exceed 8,000 this year.
At the end of this round Carlton were in 2nd spot on the ladder with a percentage of 161.4.
1938 FLAG UNFURLED
Minature replica 1938 flags were on sale at the ground today, but there was one flag that could not be purchased.
Carlton's sixth VFL flag was unfurled prior to the match by the wife of acting Carlton president, Mrs G. W. Westcott.
Carlton president K. G. Luke and wife are overseas.
OLD TIMERS
Saturday's Age reported that former Carlton players from the club's VFA days,
Jack Baker
,
William H. Crapp
,
Alex "Dookie" McKenzie
,
Frank Johnson
,
John 'Jack' Melville
,
Robert Heatley
, and former player/trainer
Henry J. "Bonner" McKay
will attend this game.
Milestones
Debut:
Jack Skinner
Score Records:
This is Carlton's
fourth highest 3rd quarter score in the VFL / AFL
Team
B:
2 Don McIntyre
21 Frank Gill
26 Jim Park
HB:
6 Bob Chitty
10 Jim Francis (vc)
1 Frank Anderson
C:
7 Jack Carney
12 Creswell 'Mickey' Crisp
32 Bob Green
HF:
8 Jack Skinner
28 Jack Wrout
23 Paul Schmidt
F:
14 Rod McLean
4 Ken Baxter
30 Mick Price
Ruck:
5 Brighton Diggins (cc)
17 Harry Hollingshead
11 Jack Hale
19th Man:
31 Charlie McInnes
Coach:
Brighton Diggins

Frank Anderson tackles, Frank Gill in background. Image: Trove; Argus April 24

Jack Wrout 28, Ken Baxter 4
Image: Trove, Argus April 24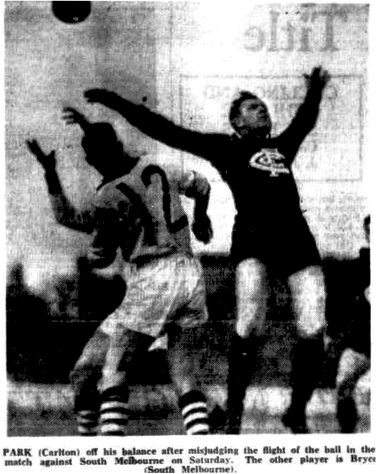 Jim Park, Trove; Sporting Globe April 26
---
1939
|
Round 2