| | | | | | | | | |
| --- | --- | --- | --- | --- | --- | --- | --- | --- |
| Carlton | 2.4 | 16 | 3.4 | 22 | 5.5 | 35 | 8.7 | 55 |
| St Kilda | 0.4 | 4 | 5.10 | 40 | 7.11 | 53 | 10.14 | 74 |

Venue: Junction Oval
Date: Saturday May 20, 1950
Result: Lose by 19 points
Umpire:
Crowd: 46,973
Goalkickers: K.Baxter 3, J.Mills 2, G.Brokenshire 1, R.Garby 1, J.Howell 1.
Reports: Nil
Injuries: Nil
Game Review
Any loss to St Kilda hurts, but this defeat came in front of a
record crowd
for the Junction Oval, of almost 47,000. Queues 300 metres long formed outside the ground before the game, as Saints supporters flocked to see their team claim a rare victory over the Blues.
46,973 see Saints give Blues hell
A crowd of 46,973, a record for a home-and-away game at the Junction Oval, saw St Kilda down Carlton by 19 points and establish themselves as a Finals contender after so many seasons as the League's perennial underdogs. Trams and trains to the St Kilda Cricket Ground were overcrowded and queues of up to 300 yards formed outside the entrance gates. St Kilda, as if overawed by the occasion, started nervously and kicked six behinds before scoring their first goal early in the second quarter. The crowds in the stands went wild and this seemed to spur on the Saints who soon took the lead when their full-forward Peter Bennett scored their second. Once St Kilda got their noses in front their fast-running game had the more experienced Carlton line-up struggling to stay in the match. In the final quarter, Carlton threw everything at the young Saints in an effort to overhaul them, but the St Kilda defence led by Bruce Phillips and Keith Drinan held firm.
- 100 Years of Australian Rules Football.
Team
B:
33 Ritchie Green
27 Ollie Grieve
28 Fred Davies
HB:
25 Jim Baird
1 Ken Hands (vc)
26 Jim Clark
C:
8 Arthur Hodgson
10 Fred Stafford
35 Jack Conley
HF:
6 Ern Henfry (c)
14 Vin English
20 Ray Garby
F:
29 Frank Bateman
21 Ken Baxter
15 Bruce Comben
Ruck:
13 Jack Howell
24 Harry Caspar
9 Jack Mills
Res:
31 Geoff Brokenshire
22 Allan Streeter
Coach:
Percy Bentley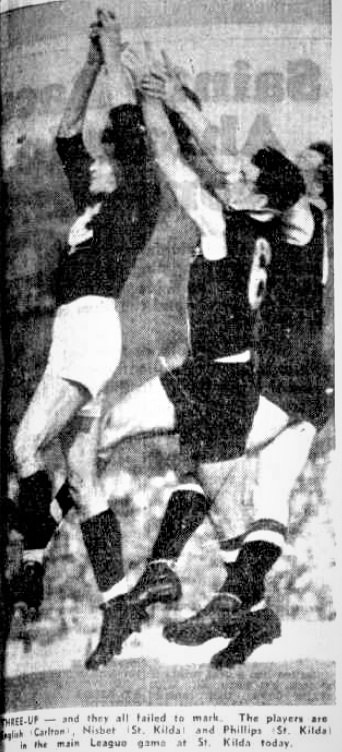 Herald April May 20
---
Round 4
|
Round 6