| | | | | | | | | |
| --- | --- | --- | --- | --- | --- | --- | --- | --- |
| Carlton | 0.5 | 5 | 5.10 | 40 | 9.13 | 67 | 14.18 | 102 |
| Melbourne | 8.4 | 52 | 10.7 | 67 | 13.10 | 88 | 16.11 | 107 |

Venue: Princes Park
Date: Saturday May 28, 1938
Result: Loss by 5 points
Umpire: Hawkins
Crowd: 20,000
Goalkickers: H.Vallence 7, R.Cooper 3, K.Baxter 3, J.McElroy 1.
Reports:
Injuries: B.Chitty (injured) replaced by G. Crisp at three quarter time
---
Game Review
Melbourne bounced from the blocks with an eight goals to nil first quarter. Carlton made up ground steadily after that, thanks to the brilliance of 'Soapy' Vallence at full-forward, who booted 7 goals in a superb follow-up to his 8 goals against Collingwood the previous week. The last quarter was a cracker, as the Blues strove to get on terms with the Fuchsias, but in the end fell short by 5 points on the final bell.
Still, this was Carlton's first loss of the season, and we maintained our place on top of the ladder - one win clear of Collingwood.
This game also featured one of Carlton's greatest ever grabs, with
Jim Park
soaring over his opponent for a speccie you have to see to believe - more on this
here
.
At the end of this round Carlton were in 1st spot on the ladder with a percentage of 114.2.
Team
B:
2 Don McIntyre
21 Frank Gill
26 Jim Park
HB:
9 Eric Huxtable
10 Jim Francis (vc)
6 Bob Chitty
C:
7 Jack Carney
12 Creswell 'Mickey' Crisp
32 Bob Green
HF:
4 Ken Baxter
1 Frank Anderson
11 Jack Hale
F:
3 Fred Ayers
22 Harry Vallence
30 Mick Price
Ruck:
5 Brighton Diggins (cc)
15 Jack McElroy
19 Ron Cooper
19th Man:
8 Gordon Crisp
Coach:
Brighton Diggins
Interesting Fact:
This was the ninth time that Carlton has used numbers 1 to 10 in the same senior side, the last time was
Semi Final, 1919
and in this game numbers 1 to 12 were used.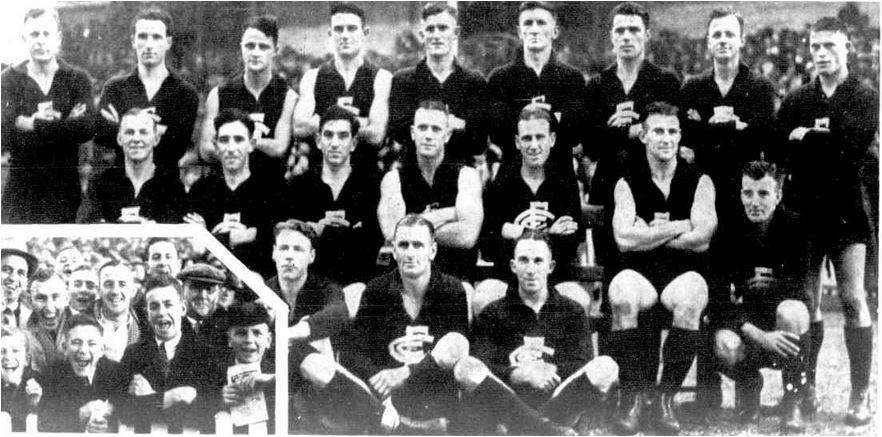 Trove; Weekly Times June 04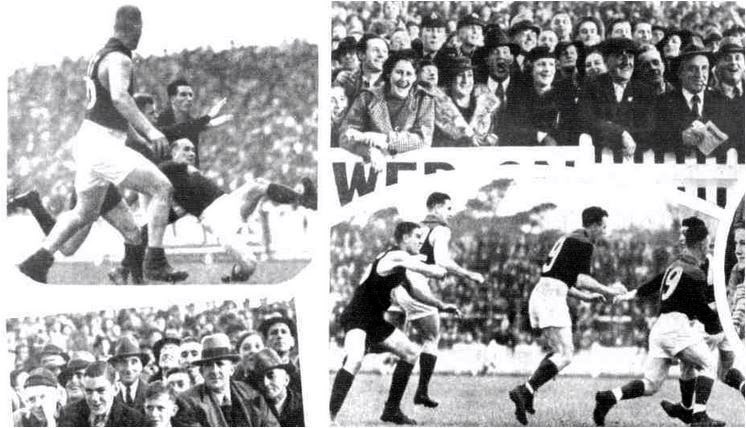 Trove; Weekly Times June 04
---
Round 5
|
Round 7