Author: Anthony De Bolfo - Published Thu 21 of Jan, 2010 06:44 AEDT - (7790 Reads)
First published: January 2010. Kindly reproduced with the permission of the Carlton Football Club

More than 100 years after they laced their navy guernseys with the chamois yokes, the Gillespie twins
Doug
and Dave are indelibly remembered.
Remarkably,
James Douglas Gillespie
was born in the Royal Melbourne Zoo, where his mother was employed to run the kiosk. He followed his twin brother
David
into the world on December 13, 1887, and the pair would later play for Carlton - a feat emulated only by the
Hanton twins Hal
and
Alex
, who represented the Blues in the mid-1940s.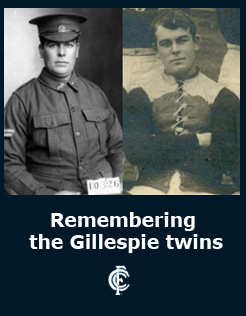 Over the next 11 years
Doug
and Dave's parents, Glaswegians James Gillespie and Mary Gallagher, would raise another three sons and three daughters as the clan settled in the Carlton district.
Doug
and Dave each pursued their respective careers - Doug as a gardener, Dave as a constable of police - and Dave would follow
Doug
from the Gillespie home in Gatehouse Street to the Carlton ground on Royal Parade.
The story goes that
Doug
was partaking in a friendly game of kick-to-kick with his mates at the old Carlton oval when he hurtled over the pickets to retrieve an errant footy. Watching on was the then coach
Jack Worrall
, who was so taken by the young kid's acrobatics that he duly encouraged Doug to get hold of a guernsey.
Doug
, who was already acquainted with the Carlton players Rod McGregor and "Bongo" Lang, didn't need to be asked twice.
Doug Gillespie
made his senior debut for Carlton in the second round of 1906 and featured prominently as a full-back in the team's maiden League premiership that season. He followed up in the back-to-back premiership year of 1907, the year Dave joined, but was deprived of the three-peat in 1908 because of injury.
Doug
would represent Carlton in 90 matches from 1906-'10 and 1912; Dave in just five from 1907-'08 before joining the Two Blues of Prahran. Coincidentally, the VFA outfit emerged the minor premier in 1909 but was on the wrong-end of a semi-final loss to Brunswick. This in turn triggered the sackings of four Prahran players (Bennion, Haigbloom, Julian and Rourke), who reputedly played below their best.
On the eve of the 1910 second semi-final against South Melbourne,
Doug
and two of his teammates Doug Fraser and Bongo Lang were sensationally withdrawn from the selected team. No reasons were officially given, yet strong rumours soon circulated that officials had acted on creditable information that "Bongo" Lang and the two Dougs were paid to lie down, in what became
infamously known as The Great Bribery Scandal
.
An in-camera hearing subsequently found Gillespie innocent of the bribery charge, and he later turned out for the Blues in the 1910 Grand Final.
But they say mud sticks, and in 1911, in a bid to escape the bitter fallout from the scandal, Doug had a brief run with Association club Brunswick. The following year, 1912, he returned to Carlton for one more season, ending his tenure with the unenviable distinction of having played more than 50 matches without kicking a goal.
When Doug's father died in 1913, his mother Mary was left to fend for her eight children. A year later, following the outbreak of World War I, Mary was then placed in the harrowing position of having to farewell each of her five sons, for all of them answered the call. Sergeant Doug Gillespie, a gardener by profession, was 26 years old when he enlisted in December 1914. Promoted to sergeant in Egypt in March 1916, he was later struck down with illness and transferred to France in June 1917, before securing leave to Australia in December the following year.
All five Gillespie brothers -
Doug
, Gordon, Robert, William and David - were struck down with serious illness or wounded. David fatally.
As with his twin brother
Doug
, David Francis Gillespie, was an early volunteer for front line military service. Upon joining the 59th battalion, Dave soon found himself a part of the ill-fated Gallipoli campaign.
Having somehow survived the campaign, the now-promoted Sergeant followed his battalion into the unspeakable horror that was trench warfare on France's Western Front. It was March 1916, and by the following May, Dave's outstanding leadership qualities were again acknowledged, with a further promotion to the rank of Company Sergeant-Major.
But his all-too-short existence was nearing its tragic end.
On July 19, 1916, Dave was leading his men in an assault on German positions near Armentieres when an artillery shell exploded close behind him. Shrapnel tore into his lower back and one arm, inflicting grievous injuries.
Miraculously still alive, Dave was evacuated to a hospital behind the lines and quickly repatriated to England. A series of operations followed, but it was obvious that his spinal cord had been shattered, and his stomach and intestines were irreparably damaged.
Returning to Melbourne aboard the hospital ship Wiltshire on the eve of the New Year - December 31, 1916 - the mortally wounded soldier was slowly stretchered down the gangway. From there he was taken to Caulfield Military Hospital where, despite the best efforts of the medical staff, he succumbed to peritonitis.
Dave Gillespie died in the Australian General hospital in Caulfield, on March 27, 1917. The Carlton Football Club was well-represented when Dave was laid to rest with full military honours at Coburg cemetery, not far from the grave of Robert Heatley, and the players wore black armbands in tribute at their next match.
A little under seven years later, Dave's grieving mother Mary was laid to rest in the same grave.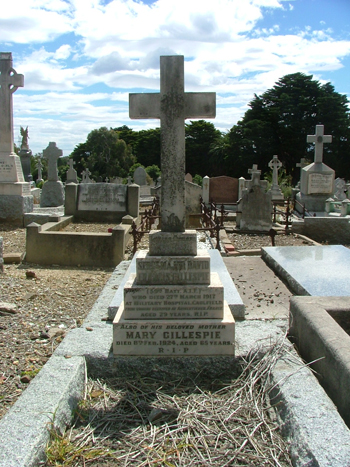 A touching memorial to Dave Gillespie (and other soldiers of the district lost in wartime) stands on tranquil ground on Royal Parade, not far from the Carlton Recreation Reserve where he and twin brother Doug once played. An inscription at the base of that memorial says simply: WE DIED FOR COUNTRY, LIVE YE FOR IT
Dave's twin brother
Doug
died at East Malvern on January 6, 1947. He is buried at Fawkner Cemetery. A newspaper obituary penned in early 1947, which remains in the possession of a relative Lorraine McAllister, reads as follows;
"Mr Douglas Gillespie, head keeper at the zoo grounds where he spent practically all his life, died on Monday night at the age of 59. He was born in a house at the zoo grounds and became a friend of the most dangerous and savage animals. He was well known to thousands of children who visited the gardens during the 1914-1918 war. He served with the Veterinary Corps of the AIF. Mr Gillespie was also a prominent footballer, having been full-back in the three Carlton premiership teams of 1906, '07 and '08. Mr Gillespie is survived by a widow, two sons and two daughters. His funeral will take place today at the Fawkner Cemetery and arrangements are being carried out by WG Apps & Sons Pty Ltd."
Doug's surviving daughter, Mary Nolan, of Riddell's Creek, remains a staunch Carlton supporter. Now 84, Mary was only too happy to put the following recollections of her father and the Gillespie family on the public record.
"I was told that Doug and Dave were born in the Melbourne Zoo, in the giraffe enclosure. His mother Mary used to run the kiosk at the zoo and they (being the boys' parents) lived in the enclosure there for a time. It was a big stone building.
I think my Mum and Dad met through the Carlton Football Club. After they were married they lived in Gatehouse Street, but then they lived in a little single-fronted house at No.2 Garton Street where I was born. The house was across the road from the Carlton Football Ground and he (Doug) went over for a kick there one night ... and that's how he started.
I never knew much about it (re: the bribery scandal) other than what I've heard. Dad never said anything to the family and what I know is only what I've read in a couple of the Carlton books over the years.
Dad was a good father. He was always with us, although he wasn't much of a social man and he never went out much, but he always went to the footy when he got the day off. Dad was always very interested in sport. He liked to have his little drink too, as they all did. He and his four brothers all went off to war and they all got injured. Dad never got anything which cause him any worry, but David died of his injuries back in Melbourne and Gordon lost a leg.
I wasn't much of an animal lover, but Dad loved his animals. He used to take his chimpanzee Molly out walking in the pram. He lived at the zoo for quite a few years and I was there with him. He left for a poultry farm up the country for a few years and was then asked back. They were quite happy days. My older brother Jack also worked in the Melbourne Zoo and he later took charge of the Ballarat Zoo.
Dad used to work at the zoo every second Saturday but he was there at the Carlton ground every other Saturday and he used to keep in touch with some of his old mates. Men like
Vin Gardiner
, a bit of a lad with the girls,
Billy Payne
,
Fred Jinks
,
George Topping
and Paddy O'Brien. A couple came to his funeral.
My brothers, sister and I would go to the games and wait for him outside the rooms afterwards. We'd come home, talk about the game over the tea table for hours and my sister and I'd be crying if we lost. We all loved Carlton. I still follow Carlton, my word I do, and while I can't get down there now I never missed a match for years."</i>
Links
David Gillespie's Blueseum Biography
|
Doug Gillespie's Blueseum Biography