Summary
The Carlton Football Club entered season 1907 aiming to join Fitzroy and Collingwood as the only teams since the inception of the VFL a decade earlier to have won consecutive Premierships. Beginning the 11th season of the competition, the list of flag-winners was short and exclusive; Fitzroy had won four, Essendon and Collingwood two each, and Melbourne and Carlton one.
But in their coach
Jack Worrall
, the Blues had an advantage that the other clubs were slow to emulate. Worrall's eye for talent and his incessant recruiting had assembled a galaxy of stars at Princes Park; a list of such talent and depth that it would deliver an unprecedented three Premierships in succession between
1906
and
1908
, and get agonisingly close to snatching a fourth in
1909
. In setting out to defend their title, the Blues started slowly and two of their four losses over the season occurred in the first five rounds. However, wins when they were most needed became a habit, and the club reached the
Grand Final
by comfortably accounting for St Kilda in a one-sided
Semi Final
. The full story of this great day is told in this Blueseum exclusive article
here
, utilising some of the press reports of the day.
Carlton's
Grand Final clash
against the season's big improvers; South Melbourne, was a classic – despite both sides missing key players. In a thrilling, hard-fought contest from the outset, Worrall's Blues led by 15 points at three quarter time, and held off a barnstorming finish by the Bloods to win by just 5 points.
At last, Carlton had arrived as a football power, on a par with Fitzroy, Essendon and Collingwood. The intriguing question was, could the boys from Princes Park set a new standard for the competition by snatching a third flag in
1908
?
At the 1907 AGM in March the 1906 season expenditure was revealed;
(The Referee)
April 13
VS CARLTON JUNIORS at Princes Park.
Kelly (West Australia), Ruddock (Richmond), Festell (Essendon),
Carlton team; (26 named)
Beck, Gillespie, Gillespie, Gotz, Hammond, Hammond, Harris, Jinks, McGregor, Kennedy, Kelly, Little, Snell, Topping, Flynn, Elliott, Grace, Johnston/e, Caine, Ruddock, Edgar, Jinks, Ingleman, Clark, Bruce, Gotz, Festell, Payne, Richardson, Smith
Carlton team; (18 named)
Hammond, Kelly, Flynn, Elliott, Grace, Johnston, Caine, Ruddock, Edgar, Jinks, Ingleman, Clark, Bruce, Gotz, Festell, Payne, Richardson, Smith
Carlton Juniors (20 named)
Williams, Grant, Paton, Mitchell, Bell, McGregor, Snell, Beck, Lang, Gillespie, Gillespie, Smith, Smith, Stephens, Gardiner, Walker, McLean, Custain/Curtain?, Dore, Sethers.
Umpire; J. Smith
Carl; 4.0 10.2 11.4
Cjnr; 1.2 1.3 4.7
Scores to three quarter time only.
April 20
CARLTON (SASH) vs UNIVERSITY at Princes Park
Carlton will select a 15 man team from; (25 named)
Beck, Bruce, Caine, Clark, Elliott, Felstead, Felstead, Flynn, Gillespie, Gillespie, Gotz, Grace, Hammond, Hammond, Harris, Ingleman, Jinks, Kelly, Kennedy, Lang, McGregor, Payne, Snell, Topping, Williams.
Plus, some prominent juniors.
Players selected were; (18 named in The Herald)
Lang, Topping, Williams, Caine, Grace, Snell, Ingleman, McGregor, Fiestel, Beck, Payne, Hammond, Clark, Gillespie, Ruddock, Flynn, Jinks, Elliott.
The similarity of the teams' jumpers was somewhat confusing for both players and spectators. This problem was solved by the Carlton team donning a white sash at quarter time.
Umpire; Connor
Carlton won by 45 points
Carl; 2.3 8.5 9.8 11.12.78
Uni; 2.3 2.4 3.7 4.9.33
Goals; Topping 5, Lang 2, Elliott, Caine, Grace, Flynn.
April 22 Monday, Eight Hour Day Holiday
BLUES vs WHITES at Princes Park
The Bendigo club which played Essendon on Saturday agreed to play Carlton on the Monday holiday.
However, on the day only three Bendigo players turned up, so a scratch match was organised between teams selected by J. Flynn and F. Elliott.
Interstate Football
Shortly after winning their second Premiership, the Blues travelled to South Australia to play their champions Norwood in the first
Club Championship of Australia
to be held for 14 years. The Redlegs did what few other teams could do, and defeated the Blues 13.12 (90) to 8.10 (58).
FORDHAM'S FOOTBALLS
"The Armstrong Cycle and Motor Agency have accepted the agency for Mr. H. Fordham's Australian footballs, which have now been adopted by the Goldfields Association for the present season.
Armstrongs, with Fordham's goods, are suppling to the clubs that which they have for many season's felt the want of, namely, a first-class football of good shape and make.
The Carlton Football Club, Victoria, have used Fordham's balls exclusively for the past three years, and are very loud in their praise of their durability and the way they keep their shape during play."
Trove: Morgans Courier (Mount Morgan WA) April 24 (p3) 1907.
The Sporting Globe in 1940 mentions Fordham's Footballs (368 Sydney Road Brunswick) for 14 years the exclusive ball of the VFA.
Ladder
| | | | | | | | | |
| --- | --- | --- | --- | --- | --- | --- | --- | --- |
| Pos | Team | Wins | Draws | Losses | Points | For | Against | % |
| 1 | Carlton | 13 | 0 | 4 | 52 | 138.232.1060 | 92.129.681 | 155.7 |
| 2 | Sth Melbourne | 11 | 0 | 6 | 44 | 127.153.915 | 100.173.773 | 118.4 |
| 3 | St Kilda | 9 | 0 | 8 | 36 | 120.215.935 | 110.136.796 | 117.5 |
| 4 | Collingwood | 9 | 0 | 8 | 36 | 134.166.970 | 118.171.879 | 110.4 |
| 5 | Fitzroy | 7 | 0 | 10 | 28 | 118.156.864 | 138.183.1011 | 85.5 |
| 6 | Geelong | 7 | 0 | 10 | 28 | 120.124.844 | 131.203.989 | 85.3 |
| 7 | Melbourne | 7 | 0 | 10 | 28 | 107.158.800 | 134.183.987 | 81.1 |
| 8 | Essendon | 5 | 0 | 12 | 20 | 103.156.774 | 144.182.1046 | 74 |
Premiership Flag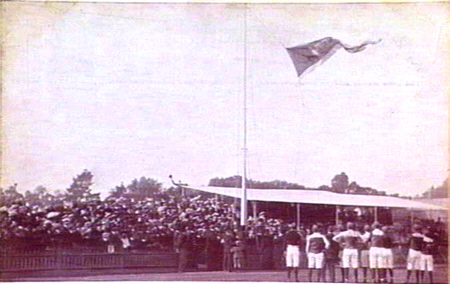 People of 1907
Coach:
Jack Worrall
Captain:
Jim Flynn
Vice Captain:
Norman Clark
Leading Goal-kicker: Frank Caine
- 32 goals
Milestones
Debuts:
Bert Wheeler
,
Horrie Pearce
,
Harvey Kelly
,
Dave Gillespie
,
Vin Gardiner
,
Frank H Williams
,
Bill Hickey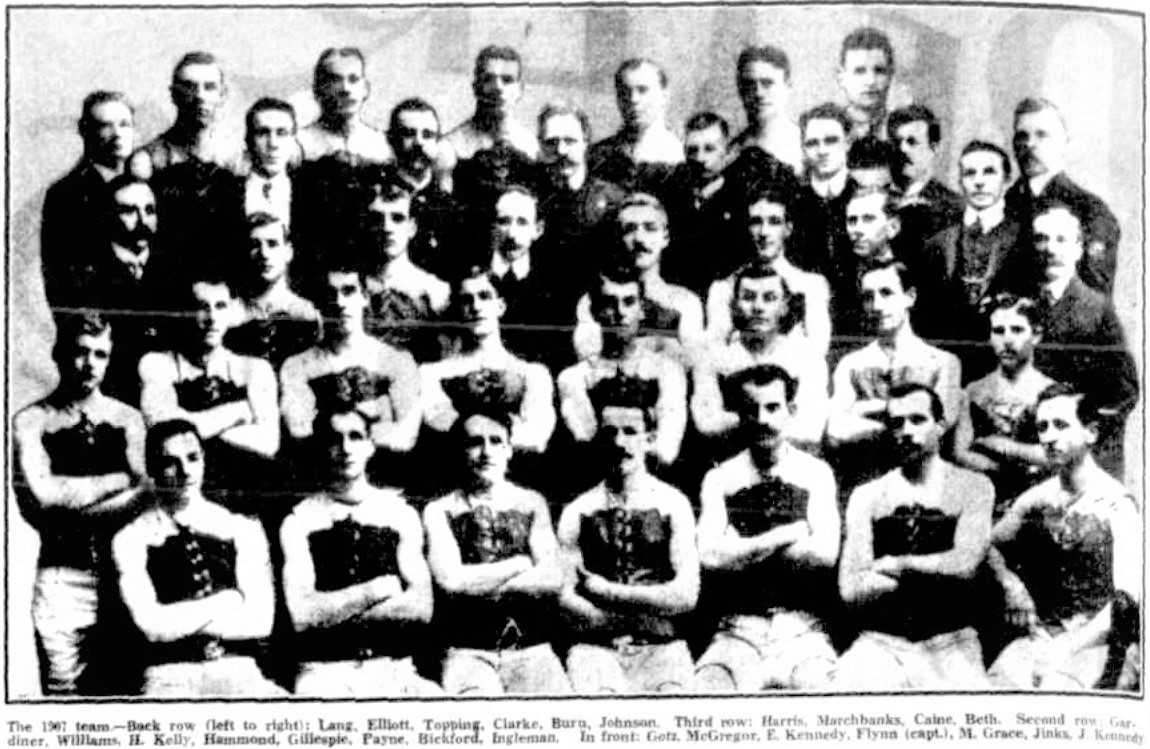 Incorrect names on the photo. "Burns" is George Bruce and "Beth" is Les Beck
25 players and 13 officials. 30 players took part in during the '07 season.
5 from playing list missing; Dave Gillespie, Bill Hickey, Horrie Pearce, Archie Snell, and Bert Wheeler
Other people; Jack Worrall in the back row of officials far left. Possibly Jack Melville far right.
John Urquhart CFC President, middle, between Marchbanks and Caine.
Could be Harry Oxlade (VP) standing behind Alby Ingleman far right
If anyone can help out naming the others please contact blueseum
Carlton to Secede and Vacate Princes Park?
"There is rumour current according to "The Argus" that the Carlton and South Melbourne football clubs contemplate leaving the League and joining the Association in consequence of the treatment meted out to them by the League in disqualifying certain players. There must be some foundation for the rumor, as it appears that the president of the Association (Mr. Aikman, MLC) has been approached in order to ascertain upon what terms the Carlton Football Club would be admitted to the Association.
It is also rumored that the Carlton Club, in consequence of the strained relations subsisting between it and the Carlton Oval Committee have an eye on the Park Street reserve with the object of playing there as soon as the Brunswick Club shifts it's quarters to the new recreation ground in Victoria Street. Of course, it would be a godsend to Brunswick and the local council if the Carlton team were to play on the Park Street reserve."
The Coburg Leader
, August 31, 1907 (p1)
South Melbourne was the other team rumored to secede. A spokesman said it was very unlikely because if two teams dropped out there would be two others ready to jump in.
(Empire (Fremantle) September 14 p3 1907)
Umpires
By "Reform " - The Referee, Sydney June 05 (p9)
"Although football is booming this year, the quality of the game generally as a spectacle is inferior to the form displayed up to a corresponding period last season. The game is too crowded by comparison, and the result is what I should imagine would happen if the "scrum" is overdone in Rugby. The fine open play that appeals to the populace is less evident.
Many causes are ascribed to this falling-off, but I was chatting with the captain of one of our leading teams, and I am confident that he hit upon the right explanation. He puts the deterioration of the game entirely down to the inefficient and inconsistent umpiring. There is no doubt that the present referees are miles behind such men as Jno. Crapp, who is now a name to conjure with in W.A. as a football umpire, and the late Jack Trait.
The field umpires, as they are termed, receive 30/- per match, and they earn it. Owing mainly to the intense club rivalry existing, and perhaps to their incompetence, Saturday after Saturday on most of the grounds there is an unruly and hostile demonstration against the umpire after the game, especially when the locals have "gone under," a posse of police being necessary on such occasions to escort the trembling official to his dressing-room. And at the expense of gallantry, I must confess that the hoodlums and cowards who make these despicable attacks are not confined to the male sex. In a match recently played on a leading ground, the umpire, after its termination, was leaving the arena, when a woman is alleged to have unceremoniously "biffed" him on the nose in a way that would have been credible to Bill Squires. Of course, I refer to the punch only. The police and players formed a ring round the devoted man, when a half-brick hurtled through the air, missed the umpire by half an inch, and rebounded from the gallant and imposing chest of a policeman.
The crowd waited to wreak vengeance on the unfortunate man, and tactics had to be resorted to in an order to get him safely away. The various ground managements strain every nerve to prevent these occurrences, but the only effective way to check them would be to arrest a few of the offenders. It is really astonishing to behold the state of excitement (sic) that overcomes apparently respectable men and women when their popular local fancy goes under."
Comparison - The British and the Australian Game
A British writer viewed the match between Fitzroy and South Melbourne at Brunswick Street.
From The Herald May 06 1907.
http://nla.gov.au/nla.news-article242578386