Port Adelaide 9 16 70 defeated Carlton 5 6 36 on the Adelaide Oval, October 03
Crowd; 5,000
Carlton team; (18 named)
Brown, Daykin, Haughton (Capt), Leehane, McDonald, O'Brien, Keily, Andrews, McGregor, Sharp, Fisher, Baud, Calwell, McKenzie, Lowe, O'Donnell, Topping, Morris.
Umpire; O'Connor
Carl; 1.3 3.3 4.4 5.6.36
Port; 2.4 5.6 6.9 9.16.70
Goals; McKenzie 2.4, Sharp 1.1, Baud 1.0, Morris 1.0, 0.1 unknown
Players mentioned; Lowe, McGregor, McKenzie, Fisher, Baud, O'Donnell, O'Brien, Leehane, Topping, Sharp, Haughton.
Last week's premiership players missing from this team were Jamieson, Dick, Cook, Burleigh, Green and Hammond.
Under a blazing sun with temperatures in the 90's (F) and on a rock hard Adelaide Oval, the Blues were beaten in all departments of the game except for high marking where they held sway. Port dominated, and with this victory they have gone through the 1914 football undefeated.
No Victorian team has won this game in the past six seasons.
This would be the last Championship of Australia until it was revived 54 years later in
1968
when Carlton took on Sturt and won.
There were 10 such matches up until the end of 1914. Eight of these games were held in Adelaide with South Australian clubs winning all matches. Two games were played in Melbourne with Victorian clubs being successful.
Carlton played three times in Adelaide
1907
,
1908
,
1914
and each time were comfortably beaten by 42, 29, and 34 points.
Travelling interstate in those days would have been such a novelty and would have been seen as a chance for a sight seeing holiday for most of the players. The fact that the clubs did not bring their strongest teams interstate gave the opportunity to try out several lesser experienced players.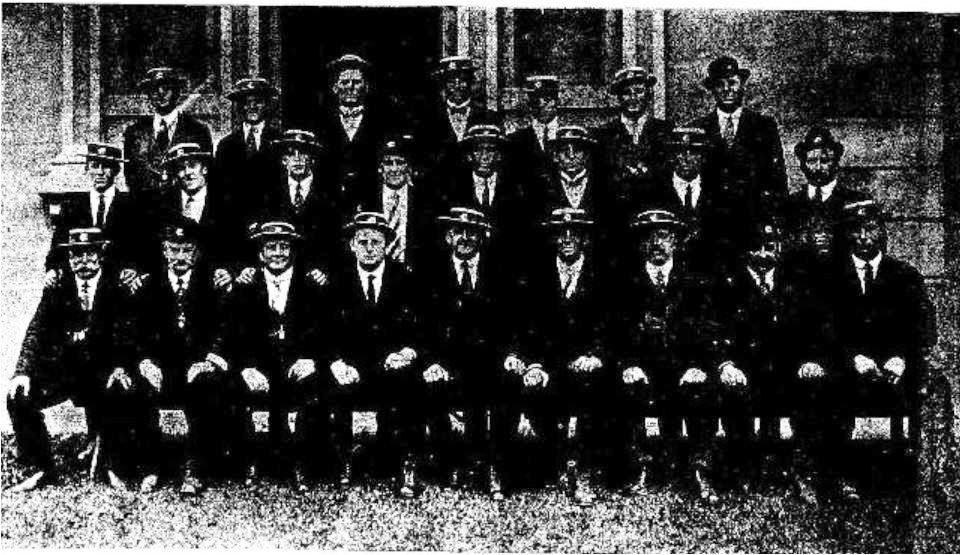 Image: Trove, The Critic October 07 p19 1914
A party of 35 made the trip, however 24 players and officials are pictured. (Note the CFC monogram on the hat bands)
The Daily Herald October 03 (p3) and The Journal October 02 (p2) mentions 20 players from which the team (18) was selected;
W. Dick (Capt), E. V. Brown, Daykin, A. McDonald, S. Leehane, P. O'Brien, M. Keily, G. Green, R. McGregor, A. Sharp, S. Fisher, C. Hammond, A. Baud, G. Calwell, S. McKenzie, J. Morris, S. Lowe, J. Andrews, S. Topping and H. Haughton (Vice Capt)
Manager: J. E. Clinton (Carlton Secretary)
J. E. Clinton, T. W. Skehan (Vice President), R. Wright (Treasurer) and J. Gardiner (President) all made speeches in Port's rooms post match.
Norman Clark (Coach), and former committeemen J. Coulson and N. Abrahams also accompanied the team to Adelaide.
Carlton were the guests of Port Adelaide club and attended the Tivoli Theatre on Saturday night and on Sunday accompanied them with a drive through the Adelaide Hills where refreshments were provided and more speeches were made.
Links
Season 1914
|
1907 Championship of Australia
|
1908 Championship of Australia
|
Champions of Australia