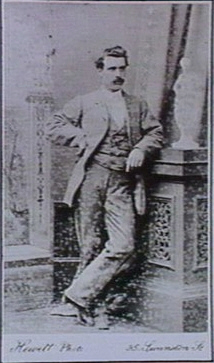 Challenge Cup Competition
DOB: August 08 1846, Melbourne
DOD: January 18 1896, Brunswick
Career: 1867 - 1870, 1875
Angelo James Azzopardi
There had been some confusion with the spelling of the name, however Azzopardi seems to be correct.
These variations have appeared in Carlton team lists, Azzopara/Azzopard/Azzopardi and he has signed his name as Azzoppardi - see below.
Azzopardi is a Maltese name.
The Argus listed Carlton teams which included an A. Azzopardi and or, A. J. Azzopardi, and the paper also mentions a G. Azzopardi playing for East Melbourne.
Angelo's two brothers were Galileo and Valletta.
The nineteenth century publication, "The Footballer", has on it's covers (1875-1879) a sketch of what looks like a Geelong* footballer running with the ball. (see below)
Underneath the figure in small print, appears the name Azzoppardi, near the player's left heel.
Is this the name of the player or the artist?
The family has been in contact with Blueseum and they confirm that Angelo was an artist and a print engraver, so most likely the sketch is his.
One of the descendants has completed an extensive research of the family tree. She says there was only one person going by the initials A. J. Azzopardi in Melbourne up until 1940.
We thank her for the photograph of Angelo.
Angelo's father Antonio was born in Malta and he was the first Maltese person to emigrate to Australia. He arrived in Melbourne in 1839 just four years after the city's founding. He worked as a seaman, mail contractor, and for the newspaper the Melbourne Herald. He later bought a printing press and became a printer.
Although Angelo was born in Melbourne on August 08 1846, his mum took the family back to Scotland. His mother had originally emigrated from Scotland and when Angelo returned on the S.S. Great Britain as a young man, it is believed he spoke with a Sean Connery type Scots accent.
Angelo was one of four children, three brothers & a sister, he died in Brunswick on the 18 January 1896, aged only 49.
According to the web site Dictionary of Australian Artists Online (DAAO),
Angelo Azzopardi was an artist-engraver, printer, and publisher who worked in Melbourne.
His business address was in the Herald Passage which was a lane way behind the GPO. The 1937 Morgan's Melbourne street directory has the passageway listed as Angelo Lane. 70 years on and Melways 2007 edition, Map 1B, still had Angelo Lane marked but with the Little Bourke Street entry blocked.
The lane was later incorporated into the Myer's complex.
He was also a water colour painter who exhibited his works at the 1866 Melbourne Intercolonial Exhibition.
Angelo's engraving, could this be a self portrait?
The name Azzopara appears on a list of Carlton players for 1868.
1897
August 17
Carlton played Geelong on the Argyle ground.
Azzopardi named among Carlton better players.
1867
August 24
Carlton played Melbourne on the Melbourne Ground.
A. Azzopardi named among Carlton's better players
1868
Azzoppard is named in the Carlton team for five matches this year. (see 1868)
The Argus Monday 25th. May, the name Azzoppard appears in the Carlton team list to play Geelong that day.
1868
The Argus lists Azzoppard in the squad of 24 players, 20 of which will be selected named to play Emerald Hill on Saturday 6th. June.
Also named in the squad to play South Yarra at South Yarra Saturday 20th June.
1869
Azzopardi named as Collingwood captain (not to be confused with the present day Collingwood F. C. formed in 1892) in a match against East Brunswick on August 7.
1869
Azzopardi named in Carlton Second Twenty or Reserves team that played Hobson's Bay Railway Company on September 4.
1870
May 28
A. Azzopardi is named in a Carlton Second Twenty/Reserves squad that played Collingwood at Royal Park.
1870
June 18
A. J. Azzopardi is named in the 23 man Carlton Second Twenty or Reserves squad that played Albert Park at Albert Park.
1871
June 03
Azzopardi named in a Collingwood team playing Richmond.
1872
East Melbourne has named two players with the name Azzopardi in their game against Melbourne on August 17.
1874
October 10
A. J. Azzopardi competing in the Carlton Sports Day.
1875
May 08
The Argus names Azzopardi playing in a Carlton 25 scratch match against a Carlton First Twenty at Royal Park at 3pm.
"The Footballer"
1875
P28. has a listing for G. Azzoppardi playing for East Melbourne. (Could be Angelo's brother Galileo)
1876
June 17
Azzopardi playing for East Melbourne against Carlton at Royal Park.
1896
January 20
Death Notice - The Argus
AZZOPARDI - On the 18th. January, suddenly, at 74 Cassell's road, Brunswick, Angelo James dearly beloved husband of Annie Azzopardi aged 49 years.
At rest.
.*Geelong did not adopt blue and white hooped socks until 1877. Carlton had worn them from 1876 - 1905.
2016
July 07
CARLTON'S KNIGHT OF MALTA
Carlton Football Club historian Tony De Bolfo's Multicultural Round article about Azzopardi.
http://www.carltonfc.com.au/news/2016-07-07/angelo-azzopardi-carltons-knight-of-malta
Two engravings by Angelo. Note his name at the bottom of each picture.
Link to some more examples of his work

Above: In
1878
Angelo signed a petition which was presented to the Melbourne City Council calling on the council to provide a portion of Princes Park for the club to use as a football ground. Angelo's brother Valetta also signed.
This document is now kept at the Victorian Public Records Office in North Melbourne. (PROV)
1888
The Herald March 22 (p3) had a report of land sales in Melbourne;
"Land and a two story brick building at the corner of Latrobe street and Queens street, at one time known as Azzopardi's printing office, having 70 feet to Queen street, and 44 feet to Lonsdale street." The property was passed in."
What that property looks like today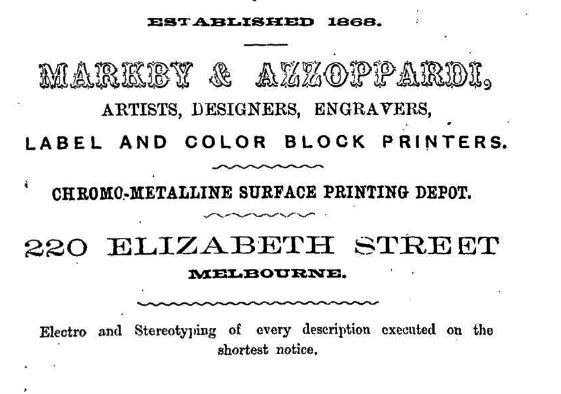 The Footballer 1878
Links
Blueseum:
Pre VFL Players