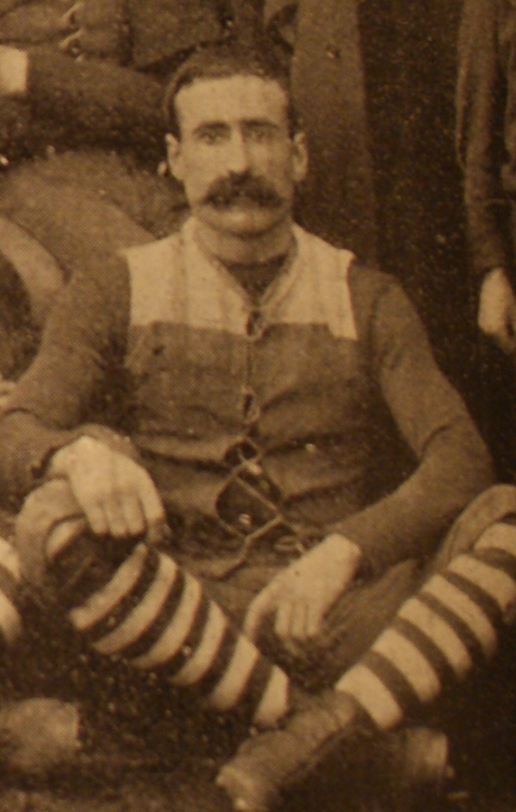 Career : 1897 - 1900
Debut : Inception Blue - Round 1, 1897 vs Fitzroy, aged 24 years, 141 days
Carlton Player No. 8
Games : 61 (plus 15 V.F.A. games)
Goals : 2
Last Game : Round 17, 1900 vs Essendon, aged 27 years, 256 days
Height :
Weight :
DOB : 18 December, 1872
The first of many outstanding Carlton players born in Tasmania, William Orlando 'Bill' Casey played at half-back in our club's VFL debut, and went on to be a star for the Blues throughout our first four years in the competition.
Recruited from Brunswick College, Bill was already established at Princes Park by
1897
, when Carlton defected from the Victorian Football Association to join the new eight-team Victorian Football League. The optimistic Blues met Fitzroy at the Brunswick Street Oval in the
first round of the new competition
in May of that year, only to be given a reality check and a five-goal thumping.
One of the few positives to come out of that day (and indeed, the rest of the year) was the performance of Bill Casey, whose resilience and bravery under pressure only enhanced his reputation. From round two, he was switched back to his favourite position on centre wing, and played consistent, reliable football all year while Carlton struggled at the foot of the ladder and eventually wound up second-last.
Instinctively quick and a skilful ball-winner, Casey was also remarkably durable. Throughout his four-year career with Carlton, he missed only a handful of games through injury. In
1900
he was asked to play in the back pocket to bolster the Blues defence, and proved equally as valuable there as he had been on the wide expanses of the wing.
Like so many of Carlton's games in the first five years of the VFL, Casey's final match in navy blue was not a happy occasion. Playing Essendon on their original home ground at East Melbourne in the
last game of the season
in September
1900
, Carlton was hammered by 85 points on a dreadful day when our score at full time was a miserable 1.4.(10).
In all, Bill Casey celebrated victory only 15 times in his 61-game career at Princes Park. Yet he is fondly remembered for being a foundation player of the Carlton Football Club, and a classic example of a young man whose ability was not rewarded by on-field success.
Casey passed away on 25 November, 1915 aged 43.
Carlton VFA
Games: 15
Goals: 0
On May 8, 1896 the VFA permit committee granted W. Casey a transfer from South Tasmania to Carlton. He debuted against Essendon round one
1896
.
"Origins of Australian Football" Vol 4 has Casey recruited in 1896 from Brunswick and Southern Tasmania and playing 15 games that season.
The Argus reported that he was one of the prominent new players for the Blues.
Casey was mentioned in seven games this year. He could have played in all eighteen matches, but the records are incomplete.
On August 01, Carlton played Williamstown at the University Ground, the Blues lost.
The Carlton Gazette in a review of the game said;
"Casey stood out head and shoulders above his fellows and he fairly surprised himself, although he can always be reckoned on for a good game. The able manner in which he handled the ball was worthy of the best exponents of the game."
The Coburg Leader June 29, 1901, reported that Carlton player Bill Casey is going to play with the Northcote Juniors.

Trove, SLV; Sporting Globe July 03 1935
Milestones
50 Games:
Round 7, 1900
Vs South Melbourne
Links
Blueseum:
Summary of playing statistics for Bill Casey
|
Pre VFL Players
|
Casey's Blueseum Image Gallery