Career : 1915, 1916 & 1918
Debut : Round 7, 1915 vs Collingwood, aged 24 years, 298 days
Carlton Player No. 305
Games : 30
Goals : 1
Last Game : Round 1, 1918 vs Collingwood, aged 27 years, 271 days
Guernsey No. 24
Height : 178 cm (5 ft. 10 in.)
Weight : 72.5 kg (11 stone, 6 lbs.)
DOB : 13 August, 1890
Premiership Player 1915
Billy Robinson achieved a remarkable sporting milestone on
Grand Final day in 1915
, when Carlton overwhelmed Collingwood by 33 points to claim the Navy Blues' fifth VFL Premiership. On that glorious day, Robinson joined his coach
Norman 'Hackenschmidt' Clark
as the only two men at that time to have played in a VFL Premiership team, and to have also won a Stawell Easter Gift.
Born William Rupert Clarence Robinson at Maldon in central Victoria in 1890, Robinson won Australia's
most famous sprint race
in 1914. Off 12 yards, he clocked 11.8 seconds and won a purse of 130 pounds – which was equivalent to a year's wages for the average male worker. At the same time, Billy was playing VFA football with Footscray, and in 1915 he was recruited by Carlton.
Robinson played his first senior match for the Blues on a half-back flank against Collingwood in
round 7, 1915
in front of an enormous crowd of 30,000 at Princes Park. In a close, skilful contest, Magpie full-forward Dick Lee kicked 9 of his team's 10 goals, but Carlton won by 2 points. Billy impressed on debut, and held his place in the Blues' line-up right through the rest of the season. In September, he was playing just his 14th game when Carlton and Collingwood clashed again the Grand Final, and the Blues beat the 'Pies by 33 points to win their second flag in a row.
In the midst of World War 1 in 1916, only four teams – Carlton, Fitzroy, Collingwood and Richmond – contested the VFL Premiership. Robinson drifted forward to kick the only goal of his career in
the Blues' big win over the Tigers in round 6
, and was at half-back again when Carlton was sensationally beaten by Fitzroy in that year's
Grand Final
. Billy apparently retired after that defeat, because he disappeared from club records throughout 1917.
However, in 1918 he came back to Princes Park and finished his career the way he had started it – playing in
guernsey number 24
at half-back against Collingwood –
in round 1 at Victoria Park
. Only this time, Carlton was well-beaten on a miserably wet day in front of a meagre crowd.
The 305th player to represent the Navy Blues, Billy Robinson passed away at the age of 78, on March 14th, 1969.
Footnotes
A third Carlton player;
Claud 'Harry' Rigby
, had previously won at Stawell in 1909. But it would take until 1924 before Norman Clark and Bill Robinson's exploits in taking out the Premiership/Stawell Gift double would be duplicated - by Bill Twomey of Collingwood.
The Cootamundra Herald, November 26 1915 (p2) reported ;
"A runner who promises to develop into a champion has been unearthed in Melbourne, by the name of W. Robinson, the crack wing player of the Carlton Football Club. A challenge has been issued on his behalf to run any man in the world, any distance from 100 to 880 yards, for a substantial stake.
He put up a great performance in an 85 yards open handicap on Saturday last night, when his run was the equivalent of three-quarters of a yard worse than A. B. Postle's world's record for 80 yards. Now then, 'ye peds, who fancies himself?"
In 2014, a cap presented to Robinson by the Carlton Football Club in recognition of his place in the 1915 VFL Premiership team, was offered for sale by auction in Melbourne.
The Herald May 02 (p3) 1919 reported that Robinson of Carlton had crossed to Northcote. Permit granted for W. Robinson (Herald May 9 p10)
Father of
Keith Robinson
?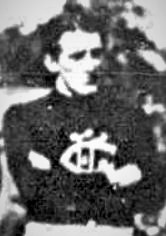 Believed to be Robinson, from the team photo when Carlton played the Army Camp team in October
1915
.
Links
Blueseum:
Summary of playing statistics for Billy Robinson
|
Robinson's Blueseum Image Gallery