Carlton Reserve Career: 1955.
Reserve Games: TBA
Reserve Goals: TBA
Height: 6ft 5ins (196cm)
Weight: 15st. 1lb (95.7 kg) - 1965 NFL.com
Guernsey No. TBA.
DOB: 19th February, 1939.
Colin Ridgway played U/19's football for Carlton from 1954 to 1955, as well as reserve grade in 1955.
Ridgway would make his name in sports other than Australian Rules Football. Ridgway was a high jumper who competed at the 1956 Olympic Games and 1958 Commonwealth Games for Australia. He had also competed in the Australian Open Track and Field Championships from 1955/56 to 1959/60. Ridgway failed to make the 1960 Australian Olympic team and so accepted an offer of a track and field scholarship to Lamar Tech (now Lamar University), before joining the Dallas Cowboys. In 1961 he became the first Commonwealth athlete to clear 7 foot in the high jump.
Ridgway attended Lamar University in Texas, where the Dallas Cowboys discovered him and signed him to their 1965 team. He participated a total of three games as a punter, making him the first Australian to play in the NFL. It turned out that the running drop-kicks that were commonly used at that time in Aussie Rules didn't translate well into the American game. But Ridgway stayed in Dallas and became a successful businessman.
Colin Ridgway was found murdered at his University Park Texas home on May 13 1993.
To date, no arrests have been made and the case remains open.
He didn't manage to play a senior game for Carlton.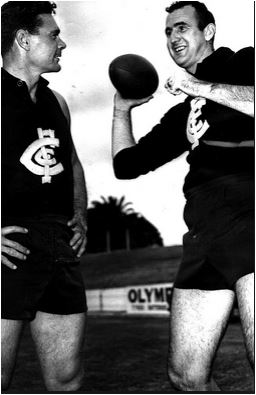 Ron Barassi and Colin Ridgway


Images: Courtesy Courier-Mail, S.M.H.

Trove: Canberra Times August 31 1965
Link
Colin Ridgway the tragic tale of Australia's first NFL player
Milestones
1955 - U/19's Most Consistent Award.