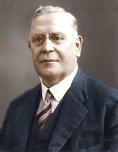 Carlton President 1912, 1913
DOB: July 23 1873 Ararat
DOD: May 13 1941 Carlton
Worked as an accountant, elected to the Melbourne City Council 1909, appointed as Justice of the Peace in 1913.
President of the Carlton Football Club, Carlton Cricket Club, Victoria Bowling Club.
"Blue" Bell - A Carlton President's story.
Club historian Tony DeBolfo's article on David Bell.
http://www.carltonfc.com.au/news/2011-03-17/blue-bell-a-carlton-presidents-story
Links
Blueseum:
Presidents