Victorian Football Association
Games:15
Goals: 1
Career: 1895 - 1896
There little information on this player.
1894
June 15 Friday
A player named Dobbin was playing as a defender for Carlton College against Brighton Grammar on Punt Road Oval (A/asian June 23 p12)
1895
May 31 Friday
Is this the Carlton player?
Dobbin was named as one of Carlton College's better players in a match against University High School on the East Melbourne Cricket Ground.
(Leader June 04 p7)
Dobbin was captain of Carlton College in 1895 (A/asian Sept 21 p20)
There was a Charles Dobbin attending Carlton College in Sydney Road Royal Park in 1895. He was in the Lower IV class, perhaps too young? (Argus Dec 21 p15)
1895
September 07
This seems to be the Dobbin's Carlton debut.
Carlton played Richmond at Richmond.
Dobbin was named on the half back flank, kicking one of Carlton's four goals.
1895
September 14
Dobbin was named in the Carlton starting 20 against Collingwood at Victoria Park.
He diid not take the field in the final match of the season next week.
He appears in this
1896
team photo v Geelong June 20 at the MCG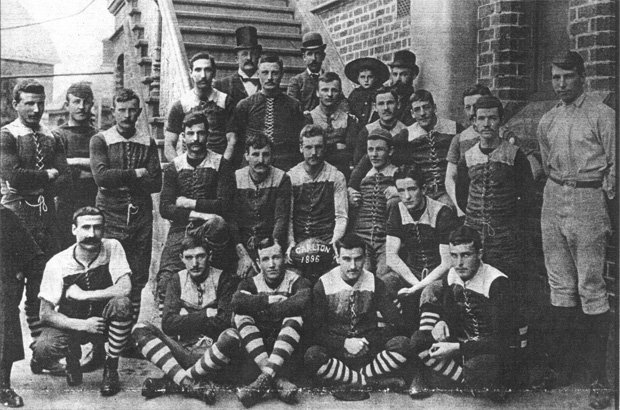 If anyone can identify Dobbin or any the other players, (see June 20 1896) please contact blueseum
There was a player named Dobbin who was the captain of Carlton College in 1896. A relation?
1896
Dobbin seems to have played most of this year's games. He was named in most of the team squads and many of the starting twenties that have been found. He was named mostly as a defender with a couple of games on the forward line.
Possible candidates.
Without the first name, it is guess work.
It seems the Carlton College player may be the best bet.
Others;
1915
June 02
Charles Leonard Dobbin son of the same named late police magistrate, married Ailisa Desailly of Mildura at South Yarra, prior to Charles leaving for (army) camp in Seymour.
(Punch June 24 p28) Same person?
1948
November 18
Charles Michael Dobbin of San Remo died in Melbourne, husband of Dorothy Veronica, aged 68 (Argus Nov 20 p10)
Buried at San Remo cemetery.
Would this fit, born 1880 aged 15 in 1895?
Links
Pre VFL Players