Challenge Cup Competition
DOB: Port Phillip District NSW, prior to July 1851
DOD: 25 April 1922
Second Twenty Secretary: 1873
Career: 1871
Probably Edmund Finn - Eddy Finn was at a gathering of old players July 02
1890
Edmund Finn (jnr) was associated with the Carlton Football Club as a poet.
He was the son of Edmund Finn who was born in Ireland and came to Australia in 1841 in his early 20's and documented the "story" of the development of Melbourne in his writings under the name of Garryowen.
Edmund (junior) was born in the Port Phillip District prior to the Act of Separation establishing the separate Colony of Victoria. He was educated at St. Patrick's College and Scotch College. He became a lawyer, however, he did not practice as one. Since 1875 he worked for and later edited the Melbourne Punch, writing as a theatre critic and went onto write mystery novels, poetry, and pantomimes. One of his novels "A Priest's Secret" (published 1888) was made into an early Australian movie. He also set up the Melbourne Bulletin and a newspaper The Evening World.
Edmund's brother Pat Finn was also a journalist and a song writer. Pat co-wrote the song, "The Football Premiership" in
1892
see that page, July 07.
Left: Edmund Finn (jnr) Image: Courtsey Picture Victoria, & Fitzroy Library
1871
On August 12 a mixed Carlton team made up of First and Second Twenty players played the Southern club in Royal Park.
Finn was named in the 22 man Carlton squad.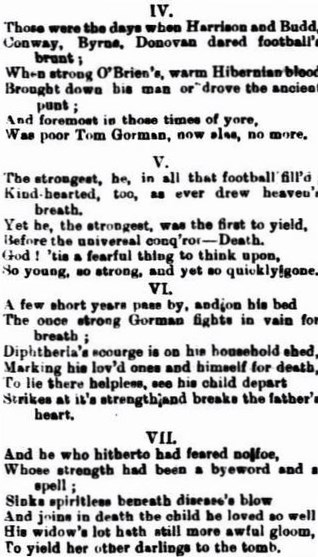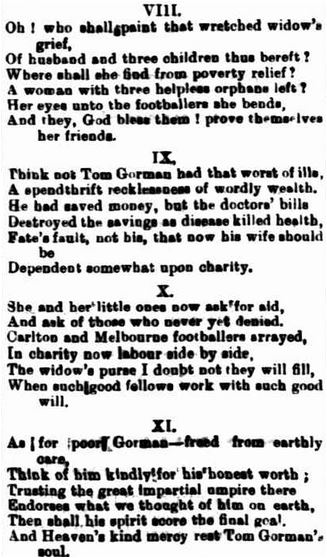 Edmund Finn's Tribute Poem to the late Carlton champion Tom Gorman
Trove; Hamilton Spectator July 03 1880

Trove; Melbourne Punch June 14 1888
Blueseum:
Pre VFL Players