Victorian Football Association
DOB: circa 1873
DOD: 07 October 1916 Kalgoorlie district W.A. age 43.
Games: 66 senior games
Goals: 9
Career: 1892 - 1896
Frederick William Rolfe
One report said he was ex Williamstown. Origins of Australian Football Vol 4. said he was from Carlton Juniors.
Left: Rolfe is pictured in the
1896
Carlton team photo.
1892
First mention of Rolfe found so far is July 30 when Carlton played Williamstown on the Warehouseman's Ground. He was named in the squad of 22 and scored a goal in the Blues' 3.7 - 0.2 victory.
1892
Played 4 games and the CFC Annual Report said F. Rolfe scored 3 goals in season.
1893
Rolfe scored 1 goal in the match against Geelong at the M.C.G. on July 29.
1893
CFC Annual Report, F. Rolfe scored 3 goals in season.
1894
In a Carlton side that weak all round (Rolfe) was one of their best players.
(The Carlton Story, H.Buggy and H.Bell p74)
1894
Rolfe was selected to play in a combined Victorian team to play the '94 premiers Essendon in a charity match at Victoria Park in September.
During the 1895- 1896 cricket season, the Carlton Cricket club established, a then World Record cricket score in a match against the University Club.
Carlton scored 924 runs in February 1896.
Fred Rolfe was part of this team, and scored 53, playing alongside
Jack Worrall
,
T. Hastings
,
Tom Warne
,
William Hannah
Remarkably in this round of V.C.A. Pennant Cricket, Carlton scored 924, East Melbourne 876, Melbourne 683 and Williamstown 376, all first innings scores.
1896
CFC Annual Report, F. Rolfe scored 1 goal in season.
The Argus named Rolfe amongst Carlton's better players for the first game of the 1896 season against Essendon.
1896
May 23
The Argus names backman Rolfe as the best Carlton player in the third round victory over Richmond at the Punt Road Oval.
1896
August 01
Carlton played Williamstown at the University ground, the Blues lost.
The Carlton Gazette said;
"Fred Rolfe was at his best which is saying a great deal, following on recent poor performances. He was playing against his old town and divided honors equally with Walter Warren for marking and kicking."
1897
March 05 Friday
By the end of February Rolfe was playing cricket for West Perth.
(Inquirer & Commercial News p5)
1897
June 04 Friday
Rolfe was named on the half-back flank for West Perth in the match against Rovers.
1898
May 11
The Umpire and Permit Committee (WAFA) granted a clearance for Fred Rolfe to transfer from West Perth to the Cementers (Kanowa).
Left: F. Rolfe from the World Record Breaking Carlton Cricket Club team photo of 1896.
Image: Carlton C. C. web site
FATAL FIRE
In December 1897 Fred Rolfe was sleeping in a tent near the Boulder Perseverance Mine that caught fire and his fellow miner, "Budge" Walker was burnt to death.
Rolfe escaped with superficial burns.
To read click here>
http://nla.gov.au/nla.news-article66699319
/ Sunday Chronicle 13 Feb 1898 p4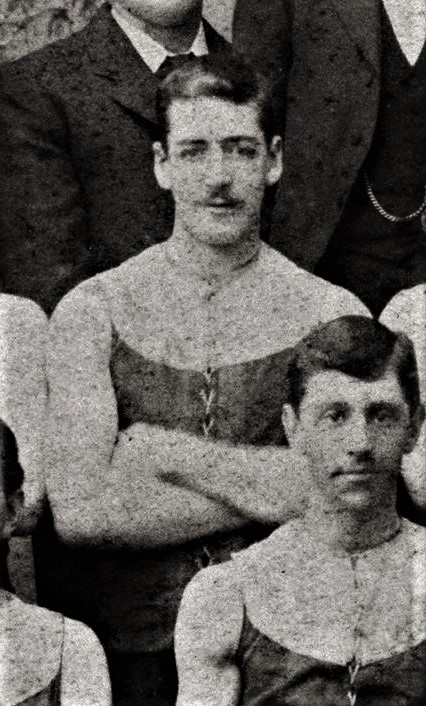 Right: Fred Rolfe at West Perth
Sean Cowan image
DEATH OF FRED ROLFE
1916
The Kalgoorlie Miner (Monday October 09) reported the death of Fred Rolfe aged 43 years, on the previous Saturday 07 October.
He was a popular footballer and cricketer in the district and played for the "Cementers," the Kanowa Football Club. Fred had suffered from rheumatic gout for some time and was buried in the Church of England section of the Boulder Cemetery.
Gold was discovered in 1893 at Kanowa, 20 km east of Kalgoorlie. By 1897 it had a population of 2,500 and by 1899 it had jumped to 12,500! The town boasted 16 hotels with two breweries it also had an hourly railway service to Kalgoorlie. The gold started to run out and by 1950 the town was abandoned.
Today, there is very little remaining of Kanowa, except for the cemetery and the railway platforms.
To read the Miner's obituary click here>
http://nla.gov.au/nla.news-article92160373
1927 The Sportsman newspaper (May 13 p10) commenting on the death of the famous Essendon player Albert J. Thurgood.
"Personally, I only saw him kept down to minimum on one occasion, and that was by tall Fred Rolfe, the ex-Carlton player, who played with Wests in 1897."
The West Australian newspaper, July 5, 1929, writing on the history of football in W.A. said that West Perth's Freddy Rolfe, ex Carlton, was a tall "splinter" of player. The paper said that Rolfe was a glorious drop kick and was a very fair footballer. He was also a fine person and a good cricketer.
August 2016 this writer on a visit to the Boulder Cemetery found Frederick William Rolfe's unmarked grave.
(Church of England section R plot 597)
Links
Blueseum:
Pre VFL Players