| | | | | | | | | |
| --- | --- | --- | --- | --- | --- | --- | --- | --- |
| Carlton | 1.1 | 7 | 3.3 | 21 | 3.7 | 25 | 5.7 | 37 |
| Fitzroy | 3.1 | 19 | 3.2 | 20 | 5.2 | 32 | 9.7 | 61 |

Venue: MCG
Date: Saturday September 17, 1904
Result: Lost by 24 points
Umpire: Ivo Crapp
Crowd: 32,688
Goals: G.Bruce, M.Grace, E.Prescott, A.Snell, G.Topping 1.
Best: F.Elliott, A.Snell, G.Topping, J.Flynn, A.Trim, C.Roland, B.Leeds, T.Kennedy, B.Boyle.
Reports:
Injuries:
---
Game Review
Fitzroy went into this, their second successive Grand Final, having finished a game and a half in front of Carlton on the ladder, and having belted the Blues by 94 points in
round 1
before their narrow victory in
round 8
. The Blues named the same side that had monstered St Kilda in the previous weeks' Semi Final, and were confident that their best form was good enough to topple the Maroons.
Carlton captain
Joe McShane
won the toss and kicked with a strong north-westerly wind, but the Maroons posted three goals to one into the breeze. The Blues fought hard in the second term to rectify the situation, leading by a point at half-time. With the benefit of the wind again in the third quarter Carlton could only manage four behinds, while Fitzroy kicked two majors. Then, with the wind at their back in the last quarter, the Maroons got right on top of the tiring Blues, and eventually won by 24 points.
Among the many stories of this era is that of
Billy Leeds
, who was registered as a half back flanker for Carlton on this day. Earlier in the year, Leeds had actually retired to become an umpire. But as Carlton's injuries mounted late in the season, Billy found his way back into the side for the final series. As well, a notable incident occurred during this match - one that would have far-reaching consequences, as detailed below.
Umpiring Controversy
A free kick was awarded by the umpire Ivo Crapp during an exciting stage of the 1904 Grand Final. Carlton was getting a run-on, when one of their forwards took a 'screamer', by planting his knees in the back of a Fitzroy defender. Crapp penalised the player for interference and gave the ball to Fitzroy, which steadied and went on to win the game by 24 points. The decision aroused such controversy that the rule was quickly amended to allow for 'unintentional interference
' -
100 Years of Australian Rules Football.
THE FOOTBALL PREMIERSHIP
How The Teams Prepare For It.
The Argus wrote the club's training for this week's Grand Final.
To read click here>
http://nla.gov.au/nla.news-article10340512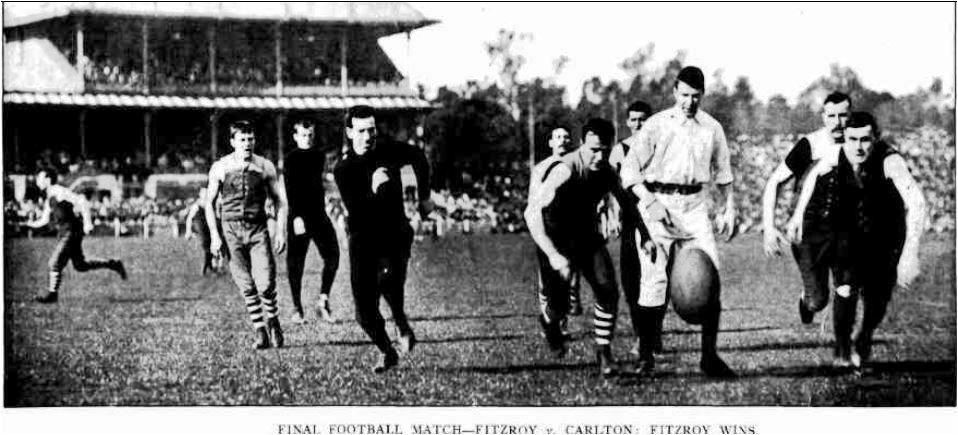 Archie Snell closest to the ball. Former Carlton player Umpire Ivo Crapp and Fitzroy's Ernie Jenkins


L-R: Herbert Milne (F), Fred Elliott, Ern Jenkins (F), unknown, Henry McShane, unknown, Jim Marchbank, Joe McShane, Jim Sharp (F)
Team
Changes
No Change
Milestones
100 Games (VFL) :
Mick Grace
Last Games :
Henry McShane
,
Joe McShane
,
Eddie Prescott
,
Albert Trim
and
Ernie Walton
---
Semi Final
|
1905