| | | | | | | | | |
| --- | --- | --- | --- | --- | --- | --- | --- | --- |
| Carlton | 2.5 | 17 | 6.6 | 42 | 6.8 | 44 | 11.12 | 78 |
| Collingwood | 3.0 | 18 | 4.2 | 26 | 5.9 | 39 | 6.9 | 45 |

Venue: MCG
Date: Saturday September 18, 1915
Result: Win by 33 points
Umpire: A.Norden
Crowd: 39,343
Goalkickers: H.Burleigh 4, V.Gardiner 3, C.Hammond 2, G.Green 1, P.Daykin 1.
Best: A.McDonald, G.Challis, T.Brown, H.Burleigh, P.Daykin, R.McGregor, A.Baud, V.Valentine, B.Robinson, J.Morris.
Reports: Nil
Injuries: Nil
Game Review
Former Carlton and Essendon premiership coach
Jack Worrall
was quoted as saying that the contest in this Grand Final was; "one of the grandest that had ever been seen in the finals". Carlton entered the game without skipper
Billy Dick
, who had been disqualified for the rest of the season. Therefore, the brilliant
Alf Baud
captained the Blues in his 54th and last game.
The Blues played well early, holding a slight advantage in the centre and across their defence, to establish a narrow 16-point half-time lead. Collingwood improved in the second half, and were actually on top of Carlton for long periods, even leading at one stage. Collingwood's Clancy was forced from the ground for a short period of time in the last 10 minutes, and the momentum swung the Blues way. Carlton kicked five unanswered goals, with Burleigh starring during this period to kick three of them.
On the scoreboard the Blues ran out easy 33-point victors, but the result had not done justice to a tight game. Our massive last 10 minutes allowed us to come away with the 1915 Premiership, and claim back-to-back flags. This would be Carlton's fifth Premiership in less than 20 years in the competition, but few fans could envisage that it would be 23 years more before we tasted success again.
General Soreness
In the aftermath, Collingwood claimed skulduggery when it was revealed that two of their players, enlisted men Paddy Rowan and ruckman 'Doc' Seddon, were sent on a 10-mile (16 km) route march on the morning of the match, by their commanding officer at Broadmeadows army camp. They scrambled to the MCG just before the first bounce. After trailing by five points at the final change, Collingwood faded to lose by 33 points. Unconfirmed rumours spread that the camp commander was a Blues supporter.
Carlton fly war flag
The battles between the year's two best climaxed in the Grand Final, when the Blues met the Magpies for the third time this season, and won by 33 points. The first game drew to Princes Park an extraordinary wartime crowd of over 30,000 who saw Carlton win by two points with Dick Lee responsible for nine of Collingwood's goals. At Victoria Park there were 25,000 to watch Carlton surge home, kicking 3.1 to four behinds in the last term to win by a point. The Grand Final began with news that the incomparable Ted Rowell would play his first game for the season with Collingwood. Then there was the bizarre intelligence that two Magpies, Paddy Rowan and 'Doc' Seddon had been fetched by Secretary E.W.Copeland in a motor car from the army camp in Seymour, after initially being refused permission to play. They had done a ten-mile route march on the morning of the match (rumour had it, that the drill sergeant was a Carlton supporter!). Carlton were 16 points up at half time and looked likely to win - but Collingwood came to life, only managing one goal seven, but keeping the Blues to two points. The one goal was a Dick Lee special in which he dispossessed the Carlton full-back who had kicked a little mark to himself. In the last term Lee marked and goaled to put Collingwood ahead. Then a dubious mark was paid to Carlton's
Herb Burleigh
, who put the Blues back in front. They then kicked the next four goals.
- 100 Years of Australian Rules Football.
Team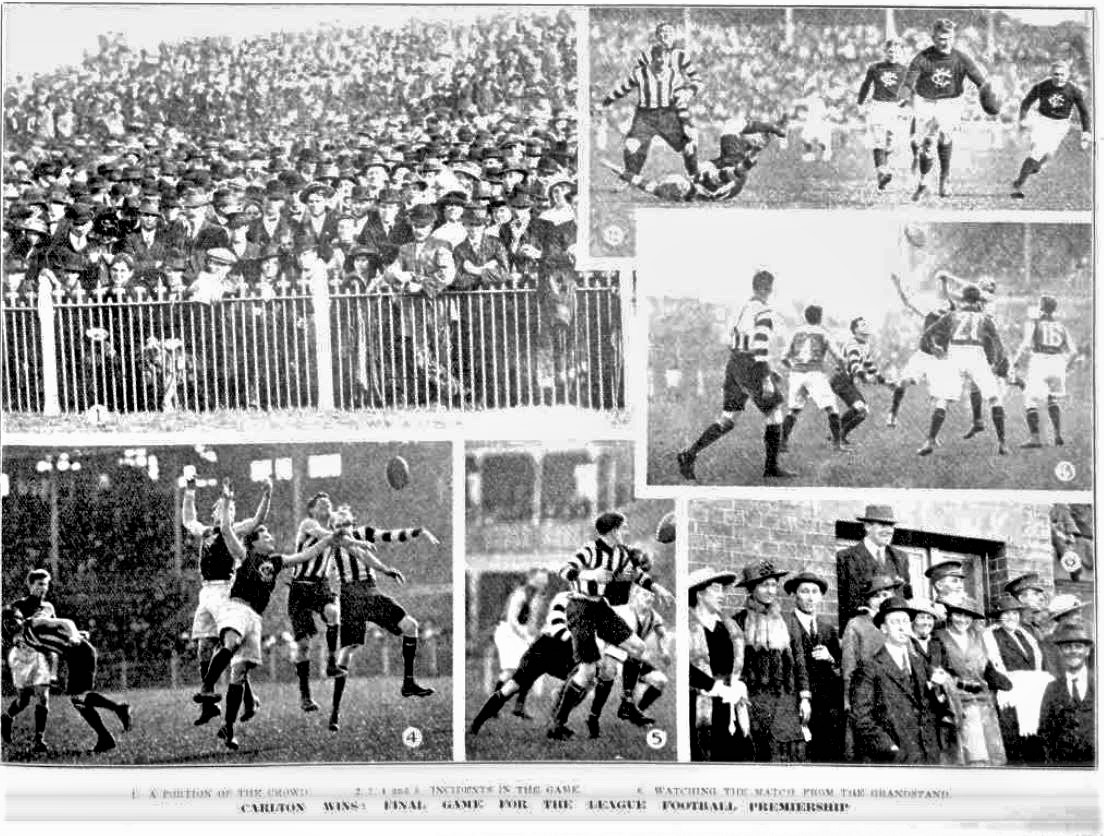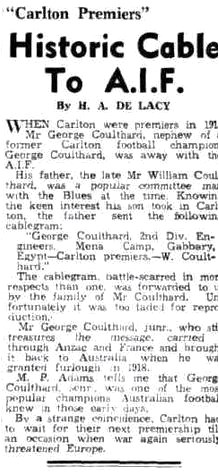 Sporting Globe Oct 01 1938
Milestones
Last game:
Tragically
George Challis
, who had been listed in Carlton's best players in all 3 finals in 1915, was later killed in action in World War I.
Last game:
Bill Cook
and
Alf Baud
, the latter who would also go off to war, and be severely wounded.
Score Records:
This was the last of 10 consecutive wins for Carlton, one of the best winning streaks in our history
Rivalries:
This was the second grand final between these great foes; and Carlton's first of 5 consecutive Grand Final wins - to this day - over Collingwood
---
Preliminary Final
|
1916