Challenge Cup Competition
DOB: 10 December 1847 Sydney, N.S.W.
DOD: 27 November 1907 East Bendigo, Victoria.
Height: 6ft. (183cm)
Weight:: 11st. 7lbs (73kg)
Games: 13 - 14
Committee: 1875 - 1876, 1879
Career: 1874 - 1875
Harry (Henry) Frederick Boyle.
Image:
www.knights.co.uk
1874
Boyle named in team to play to play Albert Park at Royal Park 22nd. August, and also against St. Kilda at St. Kilda on 12th. September.
(The Argus)
1874
. Mentioned as one of the star players for the year.
(The Carlton Story. H. Buggy and H. Bell p31)
1875
Boyle named in The Argus to be playing for a Carlton 25 against the Carlton First Twenty in a scratch match at Royal Park Saturday 8th. May.
1875
. As a custodian of the goal, few to equal him; playing very little this season.
(The Footballer 1875. p26)
1876
July 01
H. Boyle named in the Carlton Second Twenty 26 man squad that played Kilmore at Kilmore.
1889
June 08
The Launceston Examiner ran a story on Harry Boyle.
It is a good many years ago now
(says Melbourne Punch)
since Harry Boyle initiated the system of charging for admission to witness a football match.
The occasion was a Sandhurst cricketer named Jackson, who was also a miner, losing his eyesight through an explosion in the mine.
Boyle conceived the idea that an excellent way of assisting his wife and family would be by fixing a tarriff for admission to see Carlton (of which Harry was a tower of strength as goal keeper) and Melbourne play, and on the Hibernian Reserve*, Madeline street, Carlton, he had the pleasure of raking in the sprate with such good effect that he handed over no less a sum than £106 to his wife and children who had lost the services of their bread-winner.
It was a brilliant idea, and all the more so because, as Boyle had been careful to inquire about on every occasion that offers, the Jackson family placed the amount to such good advantage that they have never been in want from that day to this.
And from that time a charge has has always been made to see senior football matches played.
-* Hibernian Reserve was the University Ground and the match was played on August 21 1875.
This was possibly not
the
Madeline Street ground that Carlton played their homes on in 1876-1877
1895
June 14
It appears Mr. Harry Boyle, the well known Victorian cricketer, is about to take up his residence in Brisbane. At a meeting held in Melbourne a few days ago it was decided to present him with a testamonial on the eve of his departure, and £50 ($100) were subscribed in the room.
Mr. Boyle leaves tomorrow (Saturday) for this city. It was stated at the meeting that he had been a member of the East Melbourne Cricket Club for twenty-two years, and consistently stuck to his club.
Besides being a cricketer and baseballer, he was a member of the Carlton Football Club in it's best days, and was it's first delegate to the Association.
(Brisbane Courier, Friday June 14 p5)
H. F. Boyle was head of the firm Boyle and Scott, cricket outfitters, Melbourne. Harry and his business partner Dave Scott, were childhood friends. This store was established in 1878 at 286 Bourke Street. Harry when on overseas trips would select the very best sporting equipment available in England. The company provided trophies for sporting clubs, and produced the Australian Cricketers Guide. In 1892 he terminated the partnership and returned to live in Bendigo. The depression of 1892 which heralded the end of Melbourne's "boom era" saw many well known businesses go under.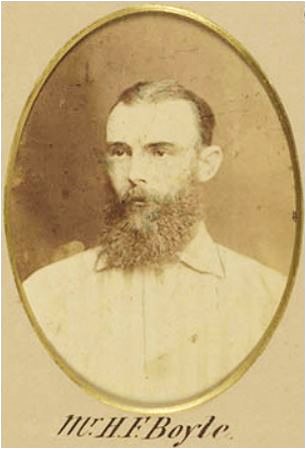 Harry Boyle aged 31 is pictured in a montage of Australian XI cricketers.
Image; Chuck Photographers Ballarat 1878. See Thomas Henry Chuck
For the complete picture see GENERAL: Team and general Pre-VFL images

.
(Courtsey National Museum of Australia)
Harry Boyle is buried at White Hills Cemetery Bendigo.
Henry Frederick "Harry" Boyle, plot C3.
findagrave web site has an image of Harry's headstone.
CRICKET
Harry F. Boyle played Test cricket for Australia. (Test player No.17)
Toured England in
1878
,
1880
,
1882
,
l884
,
1888
, and
1890
as team manager.
(Cricinfoaustralia) website
1882 England chasing 84 to win, Boyle took the last wicket at The Oval to give Australia victory by 7 runs.
This victory led to the creation of The Ashes, when a mock obituary of English cricket was published in the Sporting Times.
(England vs Australia, David Frith p18)
Harry Boyle made the position of short mid-on his.
In England, he would stand dangerously close in to the bat, causing many a batsman to lose his wicket to his catching.
"Felix" writing in the Australasian (June 15 1895) says;
"Harry astonished the old folks by introducing a new position in the field, now known as 'silly mid-on.' Harry has done some remarkable catching feats in that spot, once startling the veteran umpire Robert Thoms; and the only man I have ever seen to at all approach Boyle in that dangerous spot is
Jack Worrall
.
"The Grand Old Man" (W.G.Grace) came out to bat on the M.C.G. only to find Harry fielding at silly leg position, Grace said, "Hullo! What are you doing there? I'll knock your damned head off."
(Special Report: Bendigo Ashes Legacy, Part 4 A Cricketer of Great Hope. Bendigo Advertiser)
Boyle was captain of the East Melbourne Cricket Club 1876 - 1893
12 Test Matches 1879-1884.
(140 First Class matches 1871-1888)
Test match details.
RH Bat
153 Runs Av. 12.75, HS 36.
Bowling medium pace spinner.
32 Wickets Av. 20.03, Best 6/42.
(Cricinfoaustralia) website
1915
The Victorian Cricket Association "received with thanks from the Melbourne club the ball with which the late H. Boyle bowled W. G. Grace in the match England v Victoria 18 played in December 1879.
The M.C.C. will be thanked for the gift."
(Queensland Times September 18 1915 p5)
Boyle and Scott's Sporting Goods
By 1882 the store was located at 41 Bourke-street east, top end towards Parliament House.
The MCC publication "The Yorker" has an article about Boyle and Scott.
Issue 58 summer 2015
See MCC web site
Other Carlton Football Club players to have played
Test Cricket for Australia
are
Tom Kendall
,
George Coulthard
and
Jack Conway
managed an Australian Test Team.
V.F.L. Carlton Coach
Jack Worrall
played Test Cricket for Australia.
Links
Blueseum:
Pre VFL Players