DOB: October 12 1856 London UK
DOD: May 07 1936 Melbourne
Vice President: 1907, 1908
Carlton Recreation Ground Committee: 1908, 1909
In April 2015, Blueseum came across a family ancestry web site which mentioned that Harry Oxlade was a Carlton vice president. There was no mention of Oxlade's name at all on the Blueseum site. We contacted the person in charge of the ancestry site, Mr. Don Just, and then the year 1907 was mentioned.
We checked the 1907 list for vice presidents, which was then blank, and of course still no mention of Oxlade.
Now thanks to his descendant Don, Blueseum has been provided with newspaper references, images, and a write up Oxlade's life and involvement with Carlton.
Left: This sketch of Harry was made in 1888.
"Harry Oxlade, born London 1856, arrived Victoria 1862. His father Ben was a London qualified industrial rower and a professional rowing racer who settled at Ballarat, working at Lake Wendouree.
Harry Oxlade moved to Melbourne as a young family man. He worked as a public servant.
Oxlade was a leading amateur rowing racer. Later for many years he was a rowing coach and a successful bowler.
His interest in Carlton Football Club saw him 1904 chair a large and noisy meeting of members called by secretary and coach Jack Worrall then under challenge by the committee. In 1907 Oxlade was elected a Vice-President. He spoke that year on behalf of the club at the toast of departing captain Jim Flynn. In 1908, Oxlade was again elected a Vice-President. When the club acted that year against one member's racist protest to player Wally Koochew, Oxlade moved the motion against the member. He was not on the main executive 1909; possibly he did not run.
In 1908 and 1909 Oxlade was a football club representative on the Carlton Recreation Ground Committee which in that period oversaw the construction of a new grandstand.
Oxlade's run in 1910 for a vice-presidency was defeated by a reform party which also defeated Worrall.
Harry Oxlade died at Melbourne 1936, said associated many years with the Carlton Football Club."
Oxlade, on behalf of the club, and Mr. Worrall for the players, spoke to the toast of the retiring captain's health, and The Argus (Melbourne, Vic. : 1848 - 1957) Monday 8 July 1907 p5
Article Carlton team took leave of their captain J. Flynn, who is going to his native town, St. James, in the North-eastern district, to commence business as a hotelkeeper. Mr. Flynn was loudly cheered when he said that, if his help was required for the finals, it would be available.
1909 GARDINER STAND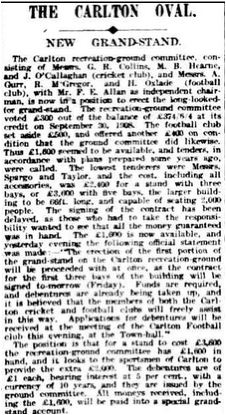 Trove; Argus March 12 p6 1909
Links
Vice Presidents
|
1907
|
Oxlade's Blueseum Image Gallery