Victorian Football Association.
DOB: 1873 Carlton
DOD: 21 January 1924 West Perth
Height: 6ft 1ins. (185cm)
Weight:
Games: 4
Career: 1893
VFA / VFL / WAFL Umpire
Image: H. Crapp - umpire (VFL) 1899, Trove; Melbourne Punch July 29 (p19)
Essendon's 'Joker' Hall grew up with Harry Crapp in Carlton and said Harry lived at the corner of Madeline (now Swanston Street) and Queensberry Streets.
"He could not play football for nuts, so he started umpiring in the parklands."
(Sporting Globe May 31 1941)
Harry is a nickname for Henry.
Brother of
William H. Crapp
How Crapp Was Called "Ivo"
.**"By the way, he was not christened "Ivo." Henry was his name. It is said his elder brother was nicknamed "Ivo" after the well-known English cricket captain, Ivo Bligh, and this was, later on, usurped by Harry. Crapp played for Carlton for only one season (
1893
), the whistle claiming him afterwards."
(Referee 30 January 1924 p13)
There is some confusion with the game entries for the brothers Crapp. Recent information points to Henry playing for Carlton for one season in
1893
. He went onto become the most well known and best umpire in Australian football adjucating in both Victoria and Western Australia.
.**Henry 'Ivo' Crapp played with Carlton in the VFA between 1885 and 1890. He is listed as playing in the Carlton VFA side 10 times during 1890, his last year; the last time being in Round 12 (August 2, 1890) against South Melbourne at the MCG. The last 6 times during this season he was listed in the final squad of 23 players (with 20 player making up the side, the final 20 players is unknown).
.**In
1893
, two brothers named Crapp also played for Carlton (a
W
and H. Crapp) but they were listed as brothers. Details are scarce but it would seem a high probability that both brothers were also related to 'Ivo'.
H. Crapp is most likely Henry 'Ivo' Crapp; see 1893 below.
He was then a field umpire in the VFA and in the VFL (1897-1905 in 147 games (17 finals and 7 GF's) - 43 of these were Carlton matches. Incidentally, Crapp laid the first ever report in the VFL in
Round 7, 1898
.
After 1905, Crapp then went to WA and umpired there for a number of years. In Western Australia, "Ivo" Crapp umpired 51 final round games (30 consecutive 1906 to 1914).
He was the Umpire of seven VFL grand finals, 1898, 1899, 1900, 1901, 1902, 1904, 1905, and the Umpire of 10 grand finals in Western Australia (1906-1914, 1918)
1924
January 21
Henry "Ivo " Crapp, the "Prince of Umpires," passed away at his home in West Perth aged 51 years.
He was survived by his wife and three children.
-*As he was 51 at the time of death in 1924, his birth would have been in 1873.
It seems highly unlikely he would have been playing at Carlton between 1885-1890.
The Sporting Judge newspaper carries a lot of information on junior football.
In it's August 27 1892 edition, it mentions "Ivo Crapp's high marking was much admired" this appears in a section where the newspaper has an article about a North Williamstown and Carlton Juniors match.
The following week, September 3 1892, the paper say of the Carlton Juniors and Albion United match, "Ivo Crapp surprised Albion United with his high marking."
To confuse matters there were possibly two players named Crapp with the initial W.
One debuted for Carlton in round one of
1885
.
1893
Both
William H. Crapp
and Henry ('Ivo') Crapp were recruited from the Carlton Juniors in the V.J.F.A.
1893
April 08
The Sporting Judge newspaper says "Brody Crapp, (a brother to the great Ivo) will be seen this season in the ranks of the Ports."
Unless Brody is a middle name that was used as a first, then we believe there was no brother by that name.
There were five Crapp brothers, Thomas, James, William, Henry, and Edwin.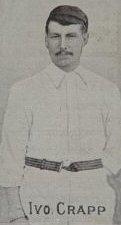 1893
May 6
The brothers
William H. Crapp
and Henry 'Ivo' Crapp, made their senior Carlton debuts in the opening round of the 1893 season against North Melbourne.
To confuse matters, William Henry Crapp was also nicknamed 'Ivo', see his page
William H. Crapp
for his death notice and his family members.
According to Ted Rowell (Collingwood) in the Sporting Globe June 19 1943, Henry only started using the name "Ivo" after his brother William had retired from football.
1893
After the Crapps made their debuts they were named in the team squads for next five rounds.
In rounds seven and eight only one Crapp was named.
Then their names not reappear again in 1893.
1894
April 17 Tuesday
H. Crapp was listed as one of the 20 umpires for this week's Victorian Junior Football Association round of matches.
He umpired all season with the V.J.F.A.
Another Crapp was a goal umpire in the V.F.A. this year.
1895
The AFL Umpire's Association web site says that Crapp began his (senior) umpiring career in 1895 with the VFA.
His first senior VFA match was on May 4 in the Fitzroy - Footscray match of round one.
The Argus said;
"Crapp, a brother of the old Carlton player, umpired the game, and is to be congratulated on his first essay with the seniors. He was cool, prompt, severe on sham little marks, and by throwing the ball well in, kept the play going."
1895
September 21
Crapp was the central umpire in the Port Melbourne - Richmond match at Port Oval.
The goal umpire in this game was another Crapp.
1904
October 04
The Daily News (Perth, p8) writes on the proposed football matches between a Kalgoorlie gold fields team Boulder City, which included ex Blue
Charlie Roland
s and local Perth clubs.
The umpire for the matches was Harry Crapp.
1918
October 25 Friday
The Western Mail (W.A.) has an article called "Ivo " Crapp - Umpire. A Unique Record.
It says Harry (?) Crapp was called "Ivo" after his elder brother whose "Ivo" nickname was from the famous English cricket captain Ivo Bligh.
It says he only played one season for Carlton in 1893 before taking up umpiring.
To read the article click here>
http://nla.gov.au/nla.news-article37602728
1924
January 21
The Daily News (Perth) wrote Ivo's obituary called "Now Then, Ladda"
To read click here>
http://nla.gov.au/nla.news-article82565138
1924
January 29
The Western Argus (Perth) published an obituary called The Late 'Ivo' Crapp.
To read, click here>
http://nla.gov.au/nla.news-article34283798
1924
February 19
The Northern Standard (Darwin N.T.)
The newspaper published this obituary, Death of 'Ivo' Crapp, A Great Umpire.
To read, click here>
http://nla.gov.au/nla.news-article48013506
1925
March 03
Western Argus.
Perth, March 01
A memorial has been erected at Karrakatta cemetery to the late Ivo Crapp, the well known umpire, by the W.A. Football League.
The memorial* was formerly unveiled today in the presence of numerous sporting representatives.
.*August 2016, this writer made a quick search at the cemetery and failed to find the grave or the memorial/headstone.
(Karrakatta - Anglican section BA plot 0027A)
1937
August 08
Sunday Times (Perth) mentions Ivo Crapp and the confusion arising from his name in their story;
"Footballers Of Other Days"
To read the article click here>
http://nla.gov.au/nla.news-article58786671
1946
December 24
"Death of Ivo Crapp, Football Umpire."
The Argus published a report of the death of William Henry (Ivo) Crapp on December 22.
This is obviously a mistake and is most likely his elder brother.
To read click here>
http://nla.gov.au/nla.news-article22390170
The family death notice mentions brothers Thomas, James, Henry (all deceased) and Edwin.
1907 Perth premiership team.
Sean Cowan image





















Links
Articles:
'Ivo' - the Bluebagger
|
Carlton in NSW, 1890
Blueseum:
Pre VFL Players
|
Crapp's Blueseum Image Gallery