Victorian Football Association
DOB: April 4 1871 Melbourne
DOD: April 4 1948 Sydney
Games: 29 approx, plus other non VFA games.
Career: 1891 - 1892
Occasionally some newspapers mispelt as McAwon.
Left: Islay McOwan from Trove: The Pacific Island Monthly - 19/4/48
Recruited from South St.Kilda in 1891
1891
September 26
McOwan was named by The Argus as best on the ground in the final match of the season against Fitzroy at Brunswick Street.
1891
McOwan played at least 10 games.
He was named in team squads for another 9 games. As every player is not mentioned in the match reports it is difficult to tell if he actually played. It is most likely that he did.
1891
McOwan named as one of Carlton's better players for the season.
1892
Islay McOwan played approx 13 games plus additional pre season and non premiership matches.
1892
One of Carlton's better players until his departure for Fiji. (August 1892)
(The Carlton Story, H.Buggy and H.Bell, p69,71)
Islay played his final game on August 27 against Fitzroy at the Brunswick Street oval.
He went to Fiji to take up an administrative position in the colonial government.
1915
February 15 Suva, Fiji
Mr. Islay McOwan Inspector-General of Police and Prisons, succeeds Mr. Telfer Campbell as British agent and consul at Tonga.
1948
Islay McOwan passed away on his birthday aged 77 years in Sydney.
CRICKETER
According to Cricket Archive web site;
Islay McOwan played first class cricket for Fiji and toured New Zealand in the summer of 1894-95.
The Fiji team played Auckland, Otago, Canterbury, Wellington, Hawke's Bay, and Taranaki.
He was a right hand bat; 11 innings for 49 runs, Av 4.45; Bowling 4/61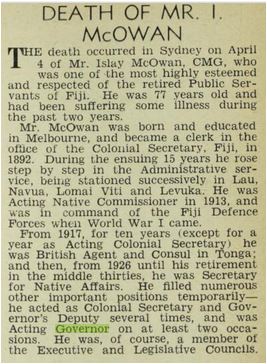 Pacific Island Monthly -19/4/48

heavenaddress.com/ Northern Suburban Memorial Gardens, North Ryde
Links
Blueseum:
Pre VFL Players