Challenge Cup Competition
Career; 1869
Committee Member: 1870
1869
August 14
J. G.
F. Harris
is named in the 24 man Carlton Second Twenty squad that played Collingwood in Royal Park.
1870
April 28
J. G.
F. Harris
is elected to the committee at the Carlton AGM.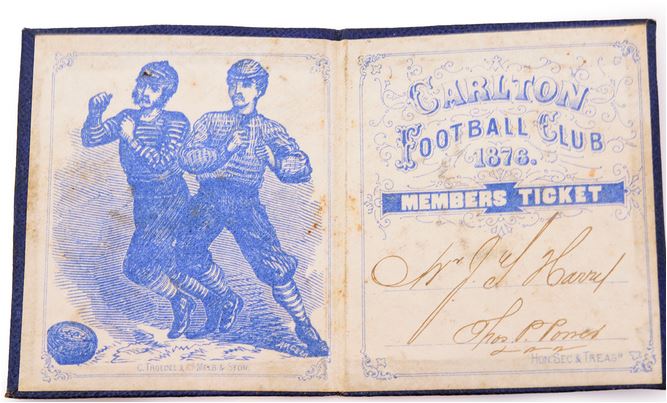 J. G. Harris' Carlton membership ticket, signed by Hon. Sec. Tom Power and sketched by Angelo Azzopardi.
A player named
F. Harris
is on the team list for 1866, same person?
There is a F.
F. Harris
(who also played in the 14 August 1869 game) and a W.
F. Harris
whose name appears around the same era.
There was a J. G. Harris who ran as a professional in many foot running competitions in Melbourne the 1860's and 70's.
This Harris was born in Collins Street Melbourne May 09 1846, height 5ft 10ins. (Leader June 18 1870 p8)
Links
Blueseum:
Pre VFL Players
|
Pre VFL Administrators