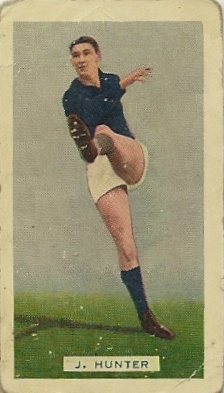 Date of birth: 5 October 1914
Date of death: 21 September 1990 (aged 75)
Height 192 cm (6 ft 4 in)
Weight 95 kg (209 lb)
Jack Hunter was a tall (6' 4'') full forward recruited from Tatura in 1935.
He managed several games for the Carlton reserves at the start of the
1935 season
before losing his place in the team to a dominant Clen Denning who kicked 61 goals for the reserves that season. Next year Jack was given opportunites in the first few practise games in the reserves but was not sighted after that, presumably off to another club.
Essendon Football Club recruited Jack from South Bendigo where he went on to play two senior games for seven goals for the Bombers in the 1940 season.
From there he went to Brunswick and ended up coaching Melbourne Scouts before being recruited by North Melbourne in his late 20s where he played seven senior games for thirteen goals spanning the 1944 and 1945 VFL seasons.
Links
Hunter's Blueseum Image Gallery
References
Encyclopedia of League Footballers -
https://catalogue.nla.gov.au/Record/2136300
Recruitment from Tatura -
https://trove.nla.gov.au/newspaper/article/11013160