Victorian Football Association
DOB: Circa 1873 North Melbourne
DOD: 20 November 1941 Melbourne
Games: 3
Career: 1893 - 94
1893
August 19
The Coburg Leader;
"The goal kicking propensities of Mr. J. Leckie, a member of the Brunswick Wesleys Football Club, has been a special feature throughout the season, he having kicked 20 goals out of 24 goals kicked by the club, which is a very good performance."
1893
August 26
J. Leckie "a prominent member of the Wesleys Football Club" was named in the 26 man Carlton squad to play Essendon on the East Melbourne Cricket Ground.
Leckie made his senior debut for the Blues.
1893
September 02
Leckie played in forward pocket in the match against Fitzroy at the Brunswick Street Ground.
1893
September 16
Played in the forward pocket in the match against Melbourne on the Warehouseman's Ground.
Mark Pennings' O.O. A. F. Vol 5 has John "Jack" Leckie playing for Carlton in 1893. It also has John William Leckie playing for Fitzroy 1890-91 and 1895-96 for 31 games.
After consultation with Mark there were two players named Jack and or John Leckie and both went to Western Australia!
The Fitzroy player John William Leckie's eldest daughter was Pattie Leckie. She would marry ardent Carlton supporter Bob Menzies who would go on to be Australia's longest serving Prime Minister.
These two footballing Leckies are not related according to information kindly provided by Jack Leckie's family..
Jack left Carlton and ventured to Western Australia, first to Coolgardie in 1895 where he played in a premiership with The Unions. He later became a coach of Perth, then a State selector, The Mirror (Perth) May 8, 1921 (p1) had a write up on Jack Leckie.
See Links below.
Jack passed away after a short illness in the Alfred Hospital Melbourne, on 20 November 1941, he was aged 68.
The Daily News (Perth) published Jack Leckie's obituary.
To read click here>
http://nla.gov.au/nla.news-article78566033

Image right; Jack Leckie, Sporting Globe July 13 1932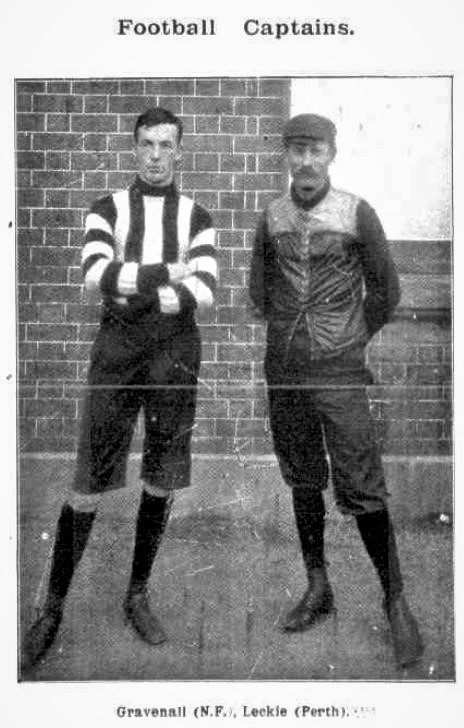 Trove: Mirror (WA) June 25 p16 1909
Note: Leckie wearing a Carlton lace-up guernsey?
Jack Leckie wears below the knee knickerbockers while former St.Kilda player, North Fremantle's Sam Gravenall daringly sports (very long) shorts
Links:
Outstanding Career
http://nla.gov.au/nla.news-article189109782
Player, Coach, Selector
Articles (External):
http://nla.gov.au/nla.news-article76199483
Famous Old W.A. Footballer - Mr. Jack Leckie On Trans Train
The Recorder, Port Pirie, interviewed Jack on his way to the Eastern states in 1938.
To read click here>
http://nla.gov.au/nla.news-article95948048
Blueseum:
Pre VFL Players