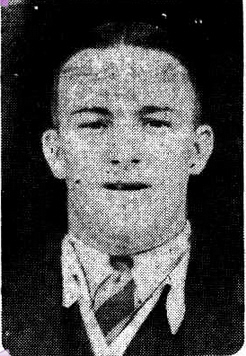 Carlton Reserve Career: 1934.
Reserve Games: TBA
Reserve Goals: TBA
Height:
Weight:
Guernsey No. 30 (1934).
DOB:
Jack Sinnott played reserve grade football for Carlton in 1934.
Sinnott's name appeared on the first six reserves game team sheets in which he had booted 13 goals up until the week the league had off in June for the Representative clash with the VFA. He booted 3 goals on 4 occassions and was named in the best on two other occassions then his name doesn't appear again for the remainder of the year. Its unsure whether he sustained a serious season / career ending injury or whether he left the club due to lack of opportunities to push for senior selection??
He didn't manage to play a senior game for Carlton.
The Perth newspaper Daily News January 13 (p1) 1936, mentions the arrival in the West of Carlton player
Ron Cooper
and J. Sinnott who played for Brunswick in 1935. Both players are going to play for Perth clubs.
The West Australian Jan 14 (p11) 1936 said;
"Twenty-two years of age, Sinnot is a product of the Carlton Club. Last season he transferred to the Brunswick Club in the Victorian Association. He is a rover, short in stature, but sturdily built."