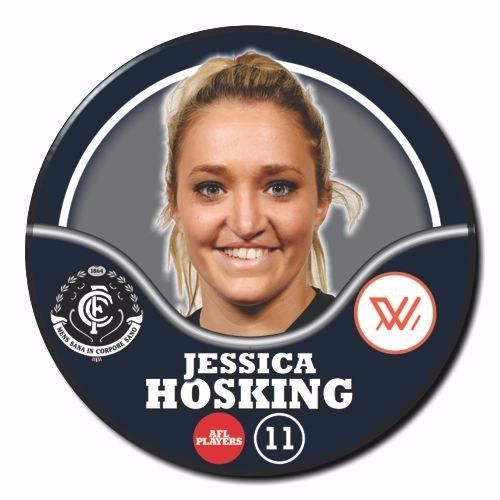 Career : AFLW 2017 -
Debut : Round 1 2018 vs Collingwood
Carlton Player No. 33
Games : 30 *
Goals : 1 *
Guernsey 11
Height : 164 cm
Weight : TBA
DOB : December 2, 1995
Jessica Hosking, the identical twin sister of
Sarah Hosking
, will be a long-term asset to the Blues' list according to senior women's coach Damien Keeping. Although the inside midfielder is undergoing rehab for a knee injury and will miss the entire 2017 season, Keeping strategically recruited the youngster at pick No.78 to safeguard Carlton's future.
Recruited from: Seaford Tigerettes (VIC)
Jess and Sarah Hosking, identical twins, both drafted to Carlton at AFL Women's Draft
FOR twin sisters Jess and Sarah Hosking, the AFL Women's inaugural draft day could not have gone any better. Not only were they both drafted, but the 20-year-old identical twins will both play at Carlton next season. Sarah was taken by the Blues with pick No.19 and then it was a nail-biting wait before Jess had her name read out by the Blues at pick No.78. "Once Sar went it was fingers and toes crossed and hope that I got to the same club," Jess said. "We were both definitely hoping we were going to Carlton. "It couldn't have worked out any better. That was the biggest thing we were dreading, the fact we may go to different clubs." Their Dad was at Wednesday's draft but their mum was working in Perth, but she didn't miss a minute as she watched the day unfold via Skype. Sarah and Jess had never played football before this season. They were talented netballers playing in the Victorian Netball League before they turned up to an AFL talent search at the start of the year and were encouraged to join their local football club Seaford. The pair made a seamless transition to their new sport, playing on the ball, before Jess tore her anterior cruciate ligament in about Round 8 this year. It makes being drafted for Jess even more special. "To be honest, I thought I had no chance at all (of being drafted) as soon as I did my knee," she said. "I thought it was one in a million, but for it to actually happen, it's crazy." The twins will be joined at the Blues by Seaford teammates Katherine Gillespie-Jones and Natalie Plane. -
ELIZA SEWELL, Herald Sun (12th October, 2016).
Blues celebrate International Women's Day.
It's not every day you get to kick a footy on the steps of Parliament House, but today Carlton AFLW twins Sarah and Jess Hosking did just that. In celebration of International Women's Day on Wednesday 8 March, the Hosking sisters – along with a selection of female athletes from four different sporting codes – joined Members of Parliament and Minister for Sport John Eren at Melbourne's iconic Parliament House. As the morning sun beamed down on the steps of the Spring street building, the sportswomen gave the MPs a few handy pointers with either a football, a soccer ball, a cricket bat or a netball in-hand. In support of the Victorian Government's ambition to see Victoria become the sporting capital for women as well as men, the event acknowledged the contribution of women in sport and the significance of sport in enhancing gender equality. Here's a selection of snaps from the event: -
Jacqueline Guldon, Carlton Media; March 8, 2017
Links
Blueseum:
Hosking's Blueseum Image Gallery