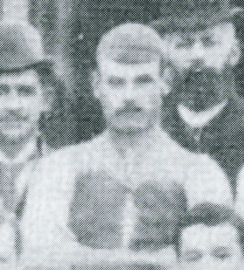 Victorian Football Association
Career: 1888-1890
1888
CFC Annual report, Russ scored 2 goals in the Reserves.
1889
July 17
Russ selected in the 28 man Carlton squad to play N.S.W. at the M.C.G.
1890
Mentioned among other players who received trophies and awards at the Carlton Football Club general meeting held Friday 29th. March, at the Hibernian Hall.
(The Argus (page 5) Monday 31 March 1890)
1890
May 17
Russ was named in the 23 man Carlton Second Twenty/Reserves team squad that played Port Melbourne at Port Melbourne.
Russ is pictured in the Carlton team photo taken in Sydney in 1890.
The History of The Carlton Football Club, Brian Hansen, p79)
Links
Articles:
Carlton in NSW,1890
Blueseum:
Pre VFL Players