Victorian Football Association
Games: 30 - 40
Goals: 6
Career: 1883 - 1886
Left; (Jos. Rickards) Joseph Rickards from the Carlton team photo in Adelaide
1884
.
As there are three players named Rickards playing for the club in the same era, it is difficult to know which Rickards the match reports are referring to when only the surname is given.
According to the book Origins of Australian Football Vol.3, Joe Rickards kicked 4 goals for the First Twenty during the 1886 season.
1891
May 30
Joe Rickards umpired the Second Twenty match Melbourne v South Melbourne on the W.C.G.(Warehouseman's Cricket Ground now known as the Albert Ground)
1895
May 11
"Joe Rickards, an old Carlton player and an umpire for the past three seasons In Victoria, was umpire for the match, and created a very favorable impression. He hardly met a footballer ere he appeared on the ground, having only arrived from the Victorian capital on the previous evening. He proved himself to be very fast and efficient, giving his descions immediately he noticed an infringement of the rules. He put down rough play at the outset, and gave every satisfaction."
(Daily Telegraph (Launceston) p3)
Relation to brothers
James Rickards
and
John Rickards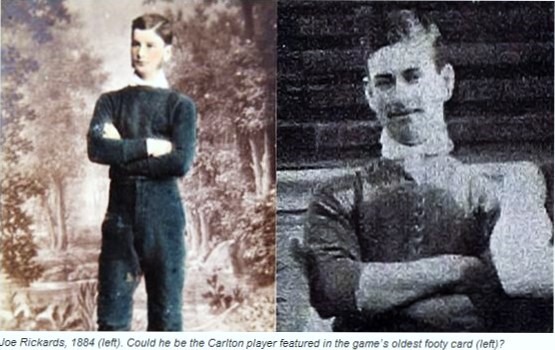 FOOTY CARD MYSTERY SOLVED?
Carlton historian Tony De Bolfo's article on an unknown Carlton VFA player's football card.
http://www.carltonfc.com.au/news/2017-08-22/footy-card-mystery-solved
Links
Blueseum
:
Pre VFL Players