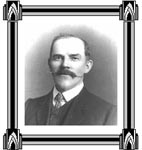 Victorian Football Association
DOB: 18 January 1856
DOD: 12 May 1943
Club Secretary: 1892 - 1895, 1901
Carlton Cricket Club Secretary: 1909 - 1939
Career: 1877-1880 (+ other games)

1876
J. Melville was on the Carlton Imperial committee, same person?
J.Melville played in the Carlton-Waratah match at the M.C.G. July 1
1878
Although it is often hard to track pre-VFL players given the quantity and quality of the source data (generally newspapers), the Blueseum has spent some time clarifying the history of John 'Jack' Melville, a former player and secretary of the Carlton Football Club.
John F Melville started as a 2nd 20 player at Carlton from
1877
- the year of our first VFA Premiership - before retiring in 1880.
1879
At times his coolness suggests indifference, but he has distinguished himself for all that by smart wing play, dodging and kicking splendidly.
(The Footballer 1879. p29)
1880
Played in a few matches now and again throughout the season.
(The Footballer. 1880. p23)
1883
The Argus Saturday 7th. April reports that at the Carlton Football Club general meeting last night, a medal was presented to J. Melville of the Second Twenty.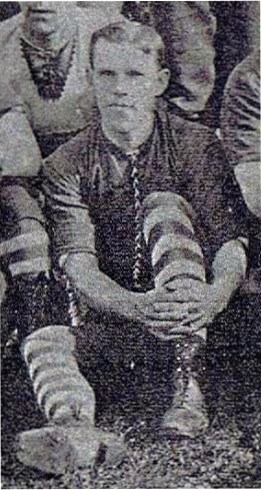 1884
Jack Melville from the Carlton team photo in Adelaide

Jack Melville in the Carlton team that played in Adelaide in 1887
Image; Trove, Sporting Globe August 09 1930
Later, Melville was on the Committee from 1885 and was secretary from
1892
to
1895
, later to again serve in
1901
. Melville became Carlton's delegate to the VFL in 1903 where he was a vice president. In addition to his services to football, Melville was also a keen cricketer, representing the Carlton Cricket Club and being its secretary for 30 years between 1909 and 1939. In this capacity, the Blueseum has records of Melville attending the funeral of Carlton Great
John Gardiner
(See article link below).
There are also records of a John Melville playing three isolated senior games in later years (1886, 1889, 1894). The Blueseum considers it likely that these are the same gentleman, with the possibility that Melville played as a stand-in player on occasion (Much like the story of
Jim Balharry
, who represented Carlton in a single game whilst being an administrator in 1898).
We also have information on a
Charles Melville
being a player at Carlton in 1895-6, although it appears from family memories that these gentlemen were not related.
(The Argus wrote in Jack's obituary that he was survived by a son, a Dr. A. H. Melville, and three daughters. See below)
1892 - WHY IT'S BIRTHDAY BLUES FOR PIES
On the eve of Collingwood's 125th anniversary match v Carlton in 2017, Carlton historian Tony De Bolfo writes about Jack Melville's part in Collingwood securing an extra game so they can compete in their inaugural 1892 premiership season.
http://www.carltonfc.com.au/news/2017-05-04/why-its-birthday-blues-for-the-pies
1894
September 8.
The second last game of the season.
Carlton were short of a player and the club's secretary J. Melville, aged 38, stripped and donned the colours to play.
The game was against Melbourne and played at the Blues "new" home ground at the University. Carlton lost.
See The Australasian's September 15 review, click here>
1894
Mark Pennings' book "Origins of Australian Football" Vol 4 has J. Melville playing 2 games in 1894.
1896
March 31
At the Carlton AGM,
Mr. A. H. Shaw moved a vote of thanks to Mr. John Melville the out going secretary of the club.
He had been placed in an unenviable position, owing to the fact he had no money at his disposal, which of course had seriously hampered him in his operations.
He would ask the meeting to accord this vote in no mean way, but by acclaimation and with the utmost enthusiasm.
Cr. Cook had much pleasure in seconding the motion.
Mr. Melville had been a most obliging player in addition to the many good services he had rendered. He was willing to play at all times, or willing to stand out also, instead of sneaking way to another club because he happened to be left out of the team now and again, as some others did.
(Cheers.)
In reference to the new ground, Mr. Melville had done an enormous amount of work. The speaker knew that Mr. Melville had been to his house on this errand many and many a time. (a wag here in the hall insinuated that Mr. Melville had another attraction ...(text unreadable)....uproar of laughter that Cr. Cook could not make himself heard for some time.)
Mr. Melville had done the hard work in the hard times, and he would like to see him participate in the good times which he believed were coming.
He sincerely hoped Mr. Balharry would be as successful in the office as John Melville had been.
Mr. Lanyon supported the motion.
The President also spoke warmly in the same strain.
Mr. A. H. Shaw called for three cheers, which were given with utmost enthusiasm.
Mr. Melville said he did not profess to be a speechmaker; he would rather be a doer.
He had been connected with the club for 18 years.
He had chances of leaving the district to better himself, but he did not like to leave the old club. He had done his best in the past and would continue to do his ..... (text unreadable) in the future.
(The Carlton Gazette.)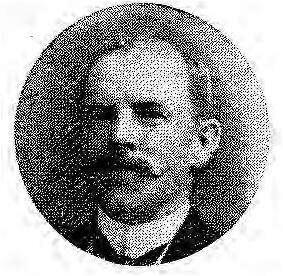 Image: Australian Football Jubilee programme 1908
1924
J. Melville played in an old players match at the M.C.G. on September 26.
He was vice captain of one of the four teams that day and he would have been 68 years old!
1939
July 29
An item in The Argus wrote about Jack Melville;
"..... in 1878 was one of the leading players. He was described as 'speedy and sure and a good kick. Has played back on the wings with much energy and judgment.' In the same year he was a member of the team that played a match against the Waratahs, the Sydney Rugby team. Half the match was Rugby and the other half Australian. He retired in 1880.
Mr. Melville was associated with the cricket club for 64 years and was secretary for 30 years. He played senior cricket, and was a delegate to the V.C.A. for many years. He retired from that body about two years ago. He frequently managed State teams."
1939
August 12
SET FOR A CENTURY
Jack Melville's Fine Innings
Although he has relinquished the secretaryship of the Carlton Cricket Club after 32 years, Mr. Jack Melville will continue to spend his days on the Carlton oval, where he has watched every blade of grass grow.
A resident of the district, he joined both the Carlton Cricket Club and the Carlton Football Club in 1877, and played cricket for Carlton for ten years in the days when the matches were fought out on the "old triangle." He was a spectator of
Jack Worrall
's famous innings of 417 not out for Carlton against University during the 1895-96 season, and also saw the great partnership of Worrall and
Tom Warne
, of nearly 400 runs.
Thirty-two years ago Mr. Melville was elected secretary of the club. He has seen the membership grow from 120 to its pre-depression peak of 700, and has remained a popular secretary and an esteemed friend of members. For 22 years he was a member of the executive of the V.C.A., and acted as secretary during the visit of the English team of which J. W. H. T. Douglas was captain.
His work for football has been scarcely less distinguished. He remembers playing for Carlton in the days when they had to erect the fence before the game, and he was a member of the famous Waratahs. He is a life member of the Victorian Football League and the Carlton Football Club.
For years Mr. Melville spent his days at the Carlton cricket ground. When one has given 62 years of one's 84 to the club, it seems a pity to abandon the practice; but Mr. Melville's interest in Carlton is not the outcome of a habit, it is a live and active one. At the election of officers on Tuesday he was the first to cast his vote.
There are now three generations of Melvilles in the Carlton Cricket Club - Mr. J. Melville, Dr. A. H. Melville, and Mr. J. Melville jun. Thus in 38 years the Melvilles and the Carlton Cricket Club may celebrate their century partnership.
And, it must be added that there is every indication that Jack Melville will get his century, too. His many friends hope so.
(The Age, p16)
1943
May 12
John Melville died in hospital at the age of 87.
Former Carlton footballer, wicket-keeper for the Carlton Cricket Club and long time administrator for both clubs. He was also a life member of the V.F.L. He was survived by three daughters and one son Dr. Hugh Melville. His other son, Jack, was killed during WW1 at the Gallipoli landings in Turkey.
1943
May 13
J. MELVILLE OBITUARY-ARGUS
To read click here>
http://nla.gov.au/nla.news-article11343694
Links
External:
Melville Family Site
Articles:
Carlton in NSW, 1890
|
When Carlton and Collingwood were friends...
|
The John Gardiner Story
Blueseum:
Pre VFL Players
|
Pre VFL Administrators
|
Melville's Blueseum Image Gallery