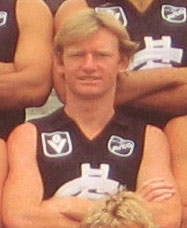 Career : 1982 - 1985
Debut : Round 18, 1982 vs Footscray, aged 19 years, 340 days
Carlton Player No. 905
Games : 27
Goals : 35
Last Game : Round 8, 1985 vs Richmond, aged 22 years, 266 days
Guernsey Nos. 55 (1982), 10 (1983-84) and 4 (1985)
Height : 190 cm (6 ft. 2 in.)
Weight : 79 kg (12 stone, 6 lbs.)
DOB : 25 August, 1962
Fair-haired, tall and slimly-built, Mark Buckley had a short yet notable senior career with the Blues between
1982
and
1985
, during which he completed a family connection. Mark's father was 116-game Carlton defender
Brian Buckley
, while his brother
Stephen
played six matches at Princes Park in
1980
after a long apprenticeship in the lower grades.
Buckley is still a favourite of football trivia buffs to this day; in particular because he wore three different guernsey numbers in his career, and was the first Blue to wear
number 55
in a senior match. He also wore
number 10
, and had the honour of briefly carrying the sacred
number 4
for one game between the departure of
Peter Bosustow
, and the arrival of
Stephen Kernahan
.
Like his father and brother, Mark began at Carlton with the Under 19 team. A natural left-footer, he grew into a dangerous forward who took often-spectacular marks and was a reliable kick for goal. At thirds level his thin build didn't matter, but as he worked his way through to the seniors he was to find his lack of bulk something of a handicap. Before worrying about that, though, he celebrated a Premiership with the Under 19s in 1979, in a team managed by his father Brian, and coached by Carlton Premiership star
Bryan Quirk
. He was recruited from St Mark's, he had also played for Fawkner.
The Old Dark Navy Blues dominated the VFL between
1979
and
1982
, winning three flags while costing ourselves a fourth in the aftermath the Harris/Rice boardroom brawl. The team was as strong as at any time in our history during those years, so just gaining a place on the list was a creditable achievement. Mark had enjoyed a good, consistent year with the Reserves by July 1982, so when he was named to make his senior debut on the interchange bench for Carlton's
round 18 match against Footscray at Princes Park
, it was a just reward.
Buckley's first game was an unforgettable experience for the youngster. Led by the dynamic Waynes;
Johnston
and
Harmes
, Carlton shredded the Doggie defence to kick 10 goals in the first quarter, and from then on, dominated the match. The Blues piled on the second-biggest score in our history; 30.21 (201) to 10.12 (72), as full-forward
Ross Ditchburn
helped himself to 6 goals,
Ken Sheldon
booted 4, and Buckley joined in the fun with two on debut.
Mark played off the bench for all three remaining rounds of the '82 home and away season, but was left out when the finals got underway. Three weekends later, Carlton claimed our third flag in four seasons with a gutsy, determined
Grand Final victory over Richmond
– a triumph that set the seal on that team as one of the best of all time.
Buckley swapped to
guernsey 10
in
1983
, and burst into the new season in the traditional Grand Final rematch at Princes Park in
round 1
. This time, Carlton hammered the Tigers by ten goals, even though full-forward
Ditchburn
damaged a shoulder and was forced off the field just after half time. Buckley (who had taken a couple of good marks and kicked a goal during a brief run in the first half) was sent to the goal square in Ross's place, and set the partisan crowd alight by marking everything that came his way. He kicked five impressive goals in the second half that afternoon – including a pearler from an impossible angle in the forward pocket.
That game showcased Buckley's potential, but other teams weren't prepared to concede him time and space like the Tigers did, and from then on he was closely marked whenever he was sent to the goal-mouth. When centre half-forward
Mark Maclure
was sidelined by injury mid-season, Buckley proved to be a capable replacement, although the team as a whole lost its edge and was bundled out of the finals in the first week by Essendon.
That was the high-water mark for Buckley's career, because in
1984
the arrival of boom West Australian
Warren Ralph
and the return to full fitness of
Mark Maclure
squeezed him out of the senior team for all but two games, both of which he started from the bench. He switched numbers again in
1985
, taking on the
number 4
worn with such distinction by
Peter Bosustow
, but only got to wear it once for the senior team –
in a 17-point win over Richmond in round 8 at Princes Park
.
Sometime soon after that game, Mark decided (or perhaps was told) that he would get more opportunities somewhere else, and that his time at Carlton was up. In the following weeks while his future was decided, Mark finished off his career in style with the Carlton Reserves, kicking 16 goals in three matches before heading off to the Junction Oval to play with St Kilda. He added seven games and four goals to his tally with the Saints, and in
1987
rounded off his career with another four matches and two goals with the Brisbane Bears.
Career Highlights
1979 - Under 19's Premiership
1981 - Reserves Best First Year Player Award
1981 - 6th Under 19's Best & Fairest
1982 - 9th Reserves Best & Fairest
1982 - 3rd Reserves Leading goalkicker (43 goals)
1983 - Senior Night Premiership Player
Links
Articles:
The BIG Numbers
Blueseum:
Summary of playing statistics for Mark Buckley
|
Buckley's Blueseum Image Gallery