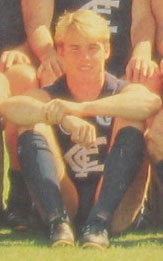 On the list: 1993
Reserves Games: 10
Reserves Goals: 11
Guernsey No. 37 (1993)
Height: 5'11" (180cm)
Weight: 11.11 (75kg)
DOB: 8th November, 1970.
Matthew Penny was recruited to Carlton with Pick 43 of the 1993 Pre-Season Draft from VFA club Box Hill via Hawthorn where he played in 1993.
Penny did not play a senior game with Carlton.
According to one informal source, Penny had been told he was very likely to make his debut for Carlton when an emergency, but the senior player he was to replace came through with a fitness test. A sleepless night eventuated but no senior game tally...