Victorian Football Association - Victorian Football League
Foundation Member of the Carlton Football Club
DOB: 1846
DOD: 19 January 1916 "Wombelano" Grandview St. Moonee Ponds Vic
Secretary/Treasurer: 1882, 1883, 1884.
Treasurer: 1880, 1881, 1882, 1883, 1884, 1885, 1886, 1887, 1888, 1889, 1890, 1891, 1892, 1893, 1894, 1895, 1896, 1897, 1898, 1899, 1900, 1901, 1902, 1903.
Carlton Recreation Ground Committee: Hon. Treasurer 20 years - ? 1909 - ?

Left; M. B. Hearne, age 38, manager of the Carlton team in Adelaide
1884

Hearne's signature 1893 Members Ticket
1916
McArthur Bennett Hearne passed away aged 70 years, late of the Mines Department.
An amazing effort, Hearne served the club for more than 40 years! (see obit) He was also a member of his Lodge for 50 years.
"He was a foundation member of the Carlton Cricket and Football Clubs, and he was a vice-president of each club for more than 40 years. He took a prominent part in securing the recreation ground for Carlton, and for 20 years he was the honorary treasurer of the Carlton Recreation Ground Trustees."
FOOTBALL ASSOCIATION
To The Editor of The Argus
Sir, - The Carlton Football Club, feeling dissatisfied with the recent action of the Victorian Football Association
re
the Coulthard enquiry, are taking steps to receive sworn evidence in the matter, and I am desired on behalf of the club to ask the public in the meantime to withhold their judgment - Yours, &c.,
M. B. HEARNE, Hon. Sec. C.F.C.
Carlton, Aug. 19.
(Argus 21 August 1882, p6)
Left:
Hon. Treas.
M.B.Hearne's signature.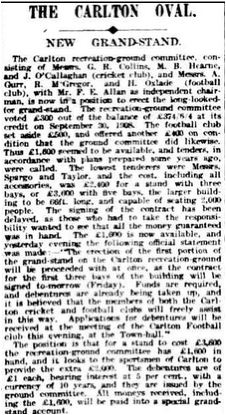 Ballarat Star Jan 21 p3
The 1903, 1909, & 1914 Electoral Rolls had McArthur Bennett Hearne living at 11 Grandview Terrace Moonee Ponds, occupation draughtsman.
He was vice president of the Carlton Cricket Club in 1908
1884: Carlton Football Club - Notes On Their Adelaide Trip
The Sportsman interviews M. B. Hearne
http://nla.gov.au/nla.news-article229821353
The Carlton Footballers
A reception was given to the Carlton players prior to their return to Melbourne.
http://nla.gov.au/nla.news-article160098134
Links
Blueseum:
Pre VFL Administrators