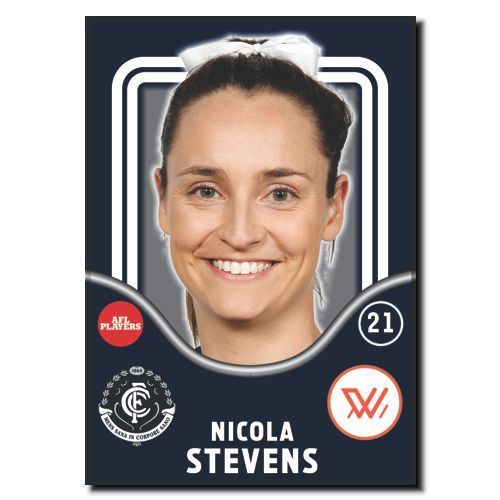 Career : AFLW 2018 -
Debut : Round 1 2018 vs Collingwood
Carlton Player No. 35
Games : 49 * (7 Collingwood)
Goals : 20 *
Guernsey 21
Height : 173 cm
Weight : TBA
DOB : March 24, 1993
Stevens was the reigning AFLW best and fairest winner at Collingwood in its inaugural season. At seasons end she requested a trade to cross-town rival Carlton. One of the best defenders in the game. Stevens is extremely versatile, as she can play as a running defender from half back, or lock down a key forward when required. She is also an excellent reader of the ball and intercept marker.
Recruited From: Collingwood (AFLW) via Melbourne University (Vic)
How Nicola Stevens found her feet
When the phone rang in December last year, Nicola Stevens was packing boxes and preparing to move house. She'd been expecting the phone to ring but still nervously answered as her mentor, and would-be manager, called to offer her the osteopathy job of her dreams. The Carlton defender had only recently graduated from Victoria University with a Bachelor of Science (Osteopathy) but experienced significant trepidation and uncertainty about where her future lay — it was a thought that, at times, was often overwhelming. "Planning for this year was a really scary thing for me," Stevens told AFLPlayers.com.au. "I didn't have the safety net of going back to university at the end of the year. Having to think about what to do next year for the first time ever was a really stressful thing for me." Ahead of graduating, Stevens sat down with a tutor and mentor to seek advice as a graduate and beyond. "I was in the middle of my emotional breakdowns," Stevens joked. "I was getting so worked up about what I should be doing and where I should be. "(This tutor) had crossed my mind quite a lot in the past few weeks so I wanted to have a chat with where I was at with things." After sitting down with her and discussing the future, Stevens' mentor alerted her to an opening at her clinic in Carlton. "I really just wanted some advice and support, but the conversation changed a bit from there," Stevens said. It was a coffee catch-up that proved vital for Stevens being able to manage the challenges associated with job-hunting.
The journey to osteopathy was long and winding. Stevens experienced substantial self-doubt about her ability to pursue a science-based career despite her passion weighing heavily towards it. Growing up, she was inspired by her own osteopath, constantly asking questions each visit and eager to learn more about sport and the human body. "I knew I wanted to do what he did but there was always that thing in my mind that would I actually be able to do it," she explained. An interest in sport and still unsure of her path, Stevens studied a Bachelor of Exercise and Sports Science straight out of high school. Although it wasn't her passion, it was a step in the right direction to understanding where she wanted to take her career. After transferring into osteopathy, the first year for Stevens was an overwhelming experience. In her early 20's she was attending tutorials and lectures with students fresh from high school who knew exactly what they wanted to achieve and how to get there. "I was thinking, 'why am I even here?' I didn't feel like I was good enough." But as soon she was settled, Stevens said she knew osteopathy was the right path for her. With the often-challenging lifestyle of university and a budding AFLW career, acknowledging her emotions and mental health was critical to managing the self-doubt. "There are always going to be challenges that may stop me or make my path a little bit longer but at the end of the day that's what I wanted to do," she said. "I tried to remind myself it was going to be hard but I made sure that I surrounded myself with good people that also helped me get through it."
Ahead of the 2018 VFLW season, and shortly after her first season at Carlton concluded, Stevens made the decision to step away from her commitments and focus on her final year of university. Football had always been an outlet for Stevens but with the AFLW competition growing, it had become more demanding. "I needed a mental break from all of it and I really needed to shift my focus," she said. As much as Stevens is eager to improve her craft as a footballer, which saw her win the Collingwood best-and-fairest in her first AFLW season, she's also learnt that there is more to life than football. It was her decision to travel overseas that gave her a fresh perspective on life. She traveled to Europe with her partner for a three week holiday before commencing a four-week placement at the British School of Osteopathy (BSO). Seven weeks away from the Melbourne fishbowl left Stevens feeling refreshed and ready to tackle the second half of her year. Her experience at the BSO was a reminder that there is more to life than football after a taxing, poor season from Carlton. The program placed Stevens in a community clinic where she was able to work with clients from all backgrounds including underprivileged people, individuals living in aged care facilities and children and expectant mothers. The experience not only allowed Stevens to learn from different osteopaths and different supervisors but also allowed her the opportunity to find what she loved doing regardless of where she was. "I was away for seven weeks and during that time I forgot that I was even a footballer," she said. "I was discovering different parts of myself aside from football and it opened my eyes to so many different ways I can impact someone's life."
Away from football and work, Stevens uses her position as a public figure in a variety of ambassador roles close to her heart. Most notably is her role as an ambassador for Dementia Australia. Stevens' mother was diagnosed with Dementia at the age of 52 when she was in year 12. Dementia Australia provided support services to Stevens and her family during times of need, offering counselling and educational services when challenging decisions needed to be made regarding her mother's care. "For me, it was always important to give back to the people that have supported me and my family so much," she said. Dementia is often classified as a condition for the elderly, with cases in people under the age of 60 quite rare but for Stevens that's why her role as an ambassador was so unique and pivotal. It allowed her to share her own story with young people who may be going through the same situation with a family member. "When you go through something like that you need to rely on the people around you. They can help you make decisions and help process and understand things that little bit better."
As the AFLW competition grows, so does the pressure the athletes face as they continue to balance their full-time careers and part-time, professional football commitments. Currently, Stevens is working two days a week to complement her training at Carlton but knows that two part-time jobs isn't a sustainable financial option. Over half of Stevens' Carlton teammates work full-time, with many studying or working part-time hours. Carlton train from 6pm until late in the evening, with the majority of players coming straight from work. "Some of us have had to sacrifice work opportunities to play football," Stevens said. "I'm in a really good position at the moment to be able to balance both but I'm not going to be able to do it forever." The public narrative surrounding AFLW has been both positive and negative but the biggest thing, Stevens says, is the need to have conversations around educating the general public in understanding the nature of part-time athletes. These are the conversations that have the ability to change people's perceptions. "You've got to remind yourself what you're doing for the game and what you're doing for the young girls who want to play the game," she said. After undergoing significant change since the 2018 season and a coaching panel overhaul, Carlton is well-poised to make their first AFLW finals campaign sitting top of the ladder in conference B. Pre-season for Carlton started with the question: what do we want to get out of 2019? From there the club, led by new senior coach Daniel Harford, built a culture surrounding positivity and strengthening relationships. Carlton are focused on the mentality of controlling what you can control and not dwelling on the past because you can't change it. It's a mantra that Stevens has been able to bring into her own life. With the high-pressure nature that football is, Stevens focuses on controlling the controllable. Recently she's become more invested in yoga and reading as an outlet to switch off her mind and give herself some space from everything else that is going on around her. Stevens has been inspired by Brene Brown, a researcher who studies vulnerability, courage and strength, as a way to help her understanding of how to switch off but acknowledge her emotions. "I've had to learn to dial it back," she said. "I have had to think about what I can try and do to get me where I want to be in the short-term. "If you think about the bigger picture it's far too stressful." - By Kavisha Di Pietro
2021 - Carlton;s AFLW Best and Fairest runner-up and defender-turned-forward Stevens also enjoyed an impressive 2021 campaign, relishing her time in the Blues' forward half to finish 13 votes shy of Vescio at the final count. Averaging 10 disposals in her fourth year in the Navy Blue, the 28-year-old finished the season ranked second at the Club for total contested marks (10) and score involvements (35). Senior Coach Daniel Harford praised the on-field achievements of all three Game Changers (Vescio, Stevens and Harrington) this season. "Both Nicola and Kerryn are true competitors and we know exactly what we are going to get from them each week. They put in the work at training and lead by example on game day, and as a result, they have both once again had very impressive seasons. "To have all three players of their experience finish in the top three at our club this year, is a testament to each of them as individuals and as admirable leaders of our group. They continue to drive the standards and strive to get the very best out of themselves and their teammates."
Career Highlights
2017 - Victorian State Representation
2018 - 5th Best and Fairest
2019 - Equal 6th Best and Fairest
2020 - Member of the Leadership Group
2020 - 10th Best and Fairest
2021
-
2nd Best and Fairest
Blueseum Links:
Nicola Stevens Image Gallery