Vice-President of the Carlton Football Club 1936
DOB: August 17 1884 Collingwood
DOD: October 24 1977 East Melbourne
"On 6 February 1925 Nilsen was granted the first commercial radio broadcasting license in Victoria, Australia for station 3UZ, which the Nilsen family retained until 1985. In 1996 the callsign was changed to Radio Sport 927.
Nilsen was elected to the Melbourne City Council in 1934, representing the Gipps Ward. He sat on the electric-supply committee for thirty years. He was elected Lord Mayor of Melbourne in August 1951 and served until 1952. Nilsen retired from the Melbourne City Council in 1964.
Nilsen was made a CBE in 1956, and was also a Justice of the Peace. In 1944 he received the Australian Federation of Commercial Broadcasters' award." (wikipedia.org)
Elected Lord Mayor of Melbourne in 1951, notorious for wanting the demolition of the now world heritage listed Melbourne Exhibition Buildings to make way for the Commonwealth Government's Melbourne offices.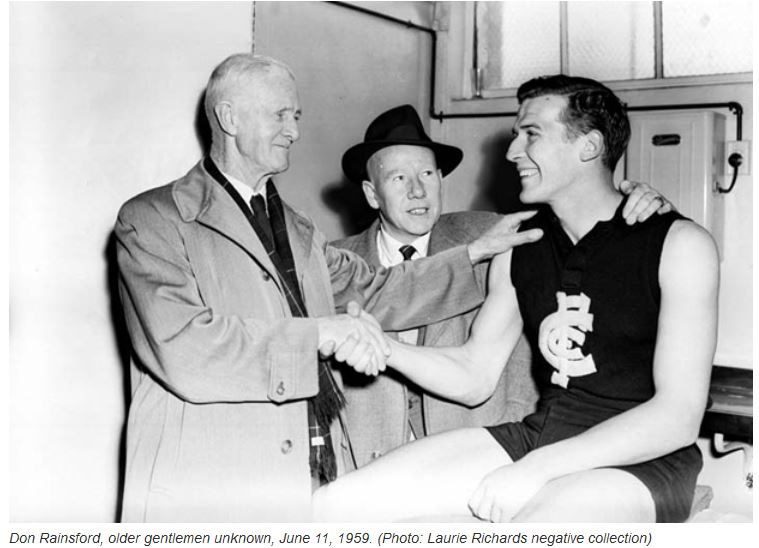 From the left: Former Carlton vice president Oliver J. Nilson, founder and owner of radio station 3UZ (now Sport 927), with John McMahon UZ's Programme Director and host of the long running talent show Radio Auditions with Don Rainsford 3UZ disc jockey, possibly before or after Don's debut match for Carlton. The date on the photo could be incorrect as Don debuted on July 11 1959.

Lord Mayor 1951-52
Links:
Vice Presidents
:
Administration