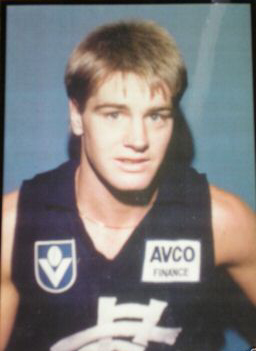 Career : 1986 - 1987
Debut : Round 2, 1986 vs Richmond, aged 21 years, 192 days
Carlton Player No. 937
Games : 19
Goals : 4
Last Game : Round 6, 1987 vs Sydney, aged 22 years, 218 days
Guernsey No. 2
Height : 185 cm (6 ft. 1 in.)
Weight : 82 kg (12 stone, 13 lbs.)
DOB : 24 September, 1964
On Friday, May 1, 1987, Carlton (second on the ladder) met Sydney (third) at the SCG. It was a fierce, physical contest. Despite five goals to Carlton captain
Stephen Kernahan
, the Swans were a shade too good and won by seven points. Among the Blues' best that sunny afternoon was Peter Motley; a rangy, blonde-haired 22 year-old budding champion, playing just his nineteenth game of AFL football in navy blue number 2.
Within a few short days after the game, Motley's career was tragically ended in an horrific head-on car accident. Although he survived the crash, Peter's injuries were so severe that he could not play again. The Blues – and more so football in general, was stunned by the loss of one of its fastest-rising stars.
Peter was the son of SANFL legend Geof Motley, one of his State's greatest players. Geof (his name was spelt this way on his birth certificate) pulled on the boots in 250 games for Port Adelaide in an amazing era in which they won nine SANFL flags between 1954 and '65. Geof was a significant part of every one of them, either as a player, captain or captain-coach, and he represented SA on 28 occasions.
Peter began his football at Sturt, where he quickly showed that he had inherited all of his father's football ability, and more. By the age of nineteen he was a 185 cm, 82 kg free-running half back with superb foot skills, pace and balance. He won Sturt's Best & Fairest award in 1984, and again in 1985 when he was named All Australian. By then the AFL heavyweights were beating a path to the Motley's front door. Sydney were the front-runners for his signature at first, before the chance to experience the football culture at its epicentre brought him to Carlton in the summer of 1985.
A series of minor muscle strains hampered Peter's first year with the Blues, but by late in the '86 season he had made one half-back flank his own, in a strong Carlton team that finished third after the home and away rounds. Victory over Sydney, then a shock demolition of hot favourites Hawthorn put the Blues straight into that year's Grand Final, but they were no match for a rampaging Hawks team who ran out winners by 42 points. The half-back flankers named for Carlton in that match were Peter Motley and
Des English
. English actually played in the back pocket, while Motley controlled his flank to be one of the Blues' few clear winners.
That defeat, plus the shock of "Motts" accident early in '87, was compounded by further bad news when it was revealed that Carlton's tough and popular defender Des English had been diagnosed with cancer. These twin tragedies galvanised the Blues, who dedicated their year, and their finals campaign, to their stricken team-mates. Carlton beat Hawthorn by 15 points in the second semi-final, then demolished the Hawks by 33 points to gain sweet revenge when they met again in the Grand Final.
As the victorious Blues ran a joyous, emotional lap of honour before more than 92,000 fans on that great day, their first stop was the players race. There, they shared the triumph of Carlton's 15th Premiership first with Dezzy and Motts - the two special mates who would have, and should have, but couldn't be out there with them.
Video
Peter Motley Fundraising Record
Side One
Side Two
Links
External Articles:
Interview: Grandstand Feature: Peter Motley
Blueseum:
Career Summary for Peter Motley
|
Career Breakdown
|
Motley's Blueseum Image Gallery