Carlton Reserve Career: 1956-1957
Reserve Games:
Reserve Goals:
Height:
Weight:
Guernsey No. 20 (1955) and 31 (1956 - 1957)
DOB:
Night Games: 1
Night Goals: 0
Recruited From: Tatura
Promising young ruckman Robert "Bob" Licciardo was recruited from Tatura at the being of the 1956 season and was given number 31 and played in Carlton's first 'Night' side in the first round match against Fitzroy at the Lake Oval, Albert Park at 19th man on September 4, 1956.
Early during the 1957 season Bob was injured during a game and his name dissappeared of the team sheet by the middle of the season and never returned, the 1957 Carlton Annual Report recorded on page 7 the following, "During the season, promising young ruckman Bob Licciardo met with a serious injury whilst playing in the Second Eighteen. Bob was in hospital for a long time and after leaving hospital was forced to convalesce for some weeks. To assist him the Club ran a Testimonial and a presentation will be made to Bob at a later date."
"Former Tatura follower Robert Licciardio, seriously injured while playing for Carlton against Footscray, has been discharged from hospital after having a kidney removed. His football future is doubtful." (The Age May 18 1957)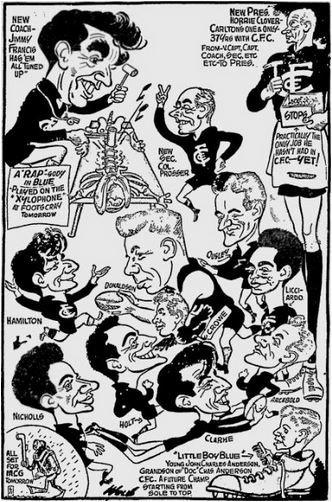 Image: Age May 25 1956