| | | | | | | | | |
| --- | --- | --- | --- | --- | --- | --- | --- | --- |
| Carlton | 2.5 | 17 | 6.6 | 42 | 11.11 | 77 | 17.13 | 115 |
| Richmond | 1.7 | 13 | 2.14 | 26 | 4.19 | 43 | 8.23 | 71 |

Venue:
Princes Park
Date:
Saturday 8 May 1943
Result:
Won by 44 points
Crowd:
17,000
Goalkickers:
J.Baird 10, J.Wrout 3, B.Chitty 1, L.Collins 1, J.Knight 1, C.McInnes 1.
Reports:
Umpire:
Hawkins
Injuries:
Best:
Baird, Brown, Gneil, Bennett, Savage, Knight, Atkinson, McLean, Howell
Game Review
A sobering reminder of the war raging at the time was the tribute paid to
Jim Park
who was killed in action in February in New Guinea. Spectators, players and officials all stood in silence while a lone bugler played the last post before the game began.
Forward
Jim Baird
would kick 10 goals in this big win over the Tigers. This was the first time in Carlton v Richmond encounters that a Blue would kick 10, a feat replicated by
Robert Walls
in
Round 7, 1976
.
On the back of this strong win Carlton would take first place on the ladder with a percentage of 162.
Team
B:
9 Bob Atkinson
12 George Gniel
6 Bob Chitty
HB:
18 Arthur Sanger
15 Vin Brown
1 Frank Anderson
C:
23 Keith Rae
14 Ken McLean
8 Fred Fitzgibbon
HF:
4 Lance Collins
28 Jack Wrout
11 Jim Knight
F:
13 Jack Howell
17 Jim Baird
31 Charlie McInnes
Ruck:
24 Ron Savage
3 Jack Bennett
16 Jim Mooring (acting capt.)
19th Man:
7 Tom Dillon
Coach:
Percy Bentley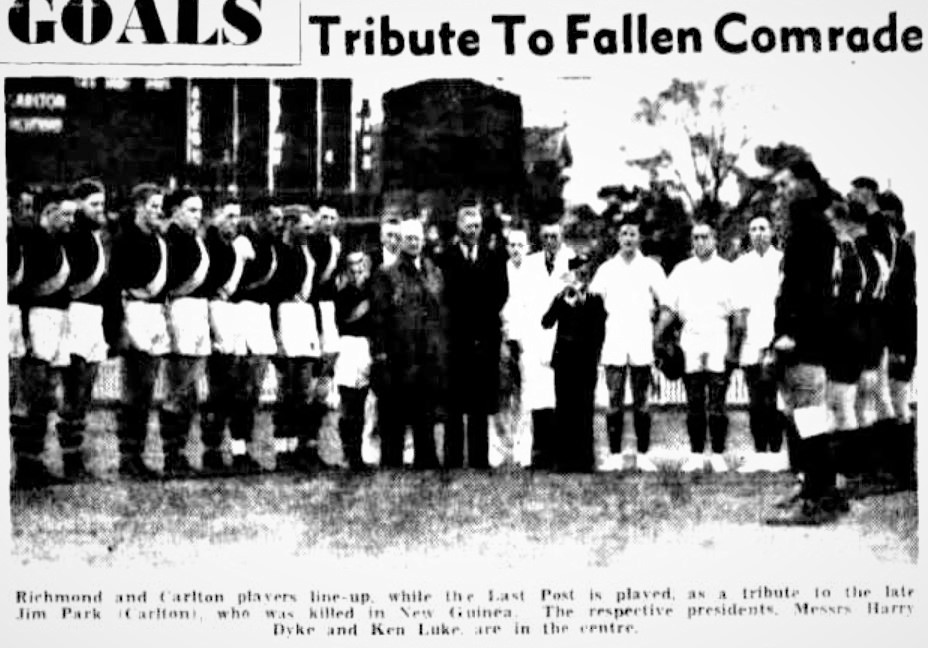 Note; spectators sitting on roof of the outer shelter shed.
Images: Sporting Globe May 12 p13 ed1
Milestones
150 Games (VFL):
Jack Wrout
Debuts:
Ken McLean
and
Tom Dillon
---
1943
|
Round 2