| | | | | | | | | |
| --- | --- | --- | --- | --- | --- | --- | --- | --- |
| Carlton | 4.5 | 29 | 12.12 | 84 | 18.14 | 122 | 22.16 | 148 |
| Essendon | 6.2 | 38 | 9.3 | 57 | 14.8 | 92 | 16.13 | 109 |

Venue: Princes Park
Date: July 21, 1934
Result: Win by 39 points
Umpire: McMurray
Crowd: 23,000
Goalkickers: F.Anderson 4.3, A.Clarke 4.1, M.Crisp 3.1, K.Shea 3.0, H.Bullen 2.1, J.Cooper 2.2, R.Cooper 2.4, H.Vallence 2.1. Green 0.1, Francis 0.1, Johnson 0.1
Best: A. Clarke, K. Shea, R. Cooper, M. Crisp, F. Anderson, J. Francis
Reports:
Injuries: Maurie Johnson severe cut to the side of his shin, almost to the bone, received 6 stitches, leg was strapped and he resumed playing. He was later taken to the Melbourne Hospital for a tetanus injection. Gill twisted knee. Francis (thigh) Crisp, thought broken big toe but x-rays showed it to be badly bruised.
---
Game Review
After trailing at quarter time due to Essendon's pace, the Blues' teamwork and straight through play eventually overwhelmed the Bombers to win comfortably by 39 points.
Four changes were made on the Thursday night. Harold Maskell was suspended, Jack Cashman had a knee injury, Ted Pollock had strained leg muscles and Joe Kelly was omitted. Into the side came Jim Crowe, Horrie Bullen, Bob Green and Jim Park as 19th man. Gordon Mackie was free to play as the tribunal had not yet deliberated on his report from the Collingwood brawl. Charlie Davey had developed pleurisy to add to his knee issues and was gone for the season
.
Carlton opened the scoring on the day with a one handed pass from Vallence to Green, whose long punt drifted for a behind. Essendon, with speedy play, rebounded immediately and scored their first goal. The bombers' pace was clearly worrying Carlton early, but the blues were winning in the air. Tenacious play from Jack Cooper in a pack gave Carlton its opening goal. Mackie was stopping everything in defence and Bullen and Francis were doing well. Two quick goals, to Clarke and Vallence, put the Blues ahead. Then in an electrifying burst, Essendon with quick, straight ahead play scored five goals in as many minutes to stun Carlton. Essendon were suddenly in complete control. Only a late Carlton goal and the quarter time bell stopped the momentum. The Blues were down by nine points at the break.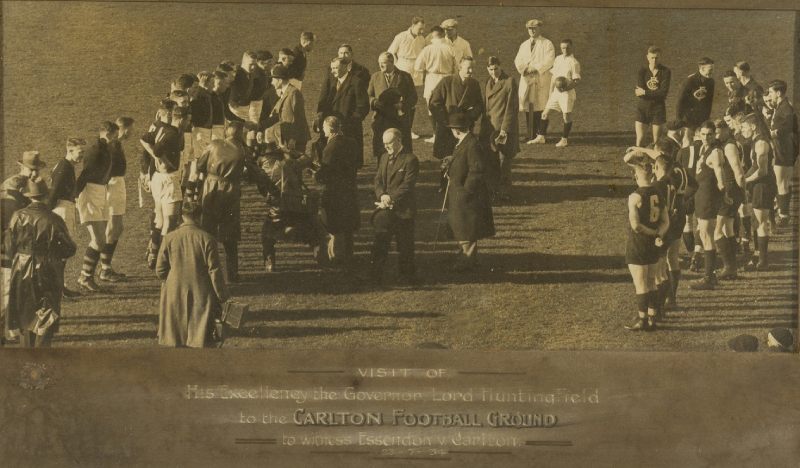 At the start of the second quarter, Ron Cooper, with superb play, broke through a pack and passed to Clarke, whose snap bounced through for Carlton's fifth goal. Carlton had returned to its usual vigorous, straight ahead play which put Essendon off their game. They counter attacked and scored their seventh goal, but then Carlton broke through with goals in quick succession to Ron Cooper, Shea and Vallence. Carlton were now in control and Essendon's early pace had waned. Several of their good players in the first term had faded out of the game. A free against Gill gave Essendon their eighth goal, but Carlton now broke the bombers with a great burst of four goals to Clarke, Anderson, Anderson again and Crisp. The bombers scored a goal against the tide but at half time, Carlton led by 27 points. Carlton's teamwork and skills had been outstanding this quarter. All were playing well.
Carlton's dominance continued through the third quarter. The Blues were stronger and bigger than their opponents and broke tackles at will with their hard running play. Determined play on the wing allowed Shea to pass to Anderson who goaled. Jack Cooper quickly had another from a towering mark near goal. Clarke and Bullen were on top in the middle and constantly drove the ball towards goal and Francis was stopping many Essendon attacks. Essendon was simply outclassed, winning only on one wing. Good play from Clarke gave Anderson his fourth goal, before clever play on the wing gave Essendon two badly needed goals. Carlton again asserted itself with two goals, both from Bullen, after a brace of behinds. Another to Shea gave the eighteenth goal and the result was now beyond doubt. Essendon hadn't given up and three goals made the difference 30 points at the last change.
Two great saves from Essendon's defenders fended Carlton's opening attacks, but the Blues were not to be denied and goals came from sweeping attacks from Crisp and Clarke. The bombers were trying to stop Carlton's aerial dominance by punching the ball out but Carlton continued attacking as Essendon's defence wilted. Another goal came from Shea, running into an open goal. Cool and steady, Carlton had the measure of everything that Essendon tried. Another Carlton goal came before a dying effort late brought two Essendon goals. At the final bell, Carlton had won in dominant fashion by 39 points.
The Age referring to Maurie Johnson, said that the injury occurred towards the end of the third term, and that he resumed playing in the final quarter after being urged not to.
"After the game he was treated with anti tetanus serum, as the soil of the Carlton oval is particularly dangerous as regards tetanus."
At the end of this round Carlton were in 5th spot on the ladder with a percentage of 119.9.
Friday's Argus; "Carlton has seven men not available, Mackie and Maskell (disqualified) the only victims of the fight at Collingwood. (Plus) Hale, Johnson, Cashman, Pollock and Davey."
Team
B:
23 Jim Crowe
21 Frank Gill
5 Keith Dunn
HB:
9 Eric Huxtable
24 Gordon Mackie
6 Fred Gilby
C:
32 Bob Green
10 Jim Francis
27 Terry Ogden
HF:
8 Keith Shea
22 Harry Vallence
12 Creswell 'Mickey' Crisp
F:
33 Jack Cooper
1 Frank Anderson
31 Ansell Clarke
Ruck:
15 Maurie Johnson (c)
29 Horrie Bullen
19 Ron Cooper
19th Man:
26 Jim Park
Coach:
Dan Minogue
Milestones
Last game:
Jim Crowe
---
Round 10
|
Round 12