| | | | | | | | | |
| --- | --- | --- | --- | --- | --- | --- | --- | --- |
| Carlton | 1.3 | 9 | 2.7 | 19 | 2.8 | 20 | 6.12 | 48 |
| Richmond | 3.4 | 22 | 4.8 | 32 | 7.13 | 55 | 8.17 | 65 |

Venue: Punt Road Oval
Date: Saturday July 25, 1931
Result: Lost by 17 points
Umpire: Scott
Crowd: 36,000 (approx.)
Goalkickers: H.Vallence 4.7, M.Crisp 1.0, B.O'Brien 1.0, V.Arthur 0.2, J.Green 0.2, rushed 0.1
Reports: Tommy Downs (Kicking) - Suspended until end of 1932.
Injuries: C.Davey (ankle) replaced by B.O'Brien in second quarter..
Game Review
Despite a come-back in the final quarter, the Blues went down to top-of-the-ladder Richmond by 17 points.
The Sporting Globe in it's Saturday match report made no mention of the Downs-Hunter incident.
However following the match report;
"Downs (Carlton) is to be reported by the goal umpire on the charge of having kicked Hunter (R) in the third quarter."
(Sporting Globe July 25 p2)
Tommy Downs
was reported and suspended for the remainder of 1931 and all of 1932 (effectively 29 matches) for kicking Maurie Hunter, the fourth time Downs had been reported against Richmond.
Whilst Tommy was undoubtedly a "rugged" player he would seem to have suffered unfairly at the hands of the tribunal. The 4 charges against Richmond were the only charges of his League career and he was outed for 60 matches on three guilty verdicts. Harsh justice indeed.
Downs kicked out
The VFL went behind closed doors to consider the final appeal over the
Tommy Downs
case, and after lengthy deliberation decided to reject it. Downs, the brilliant Carlton rover and vice-captain on a number of occassions this season, was reported by a goal umpire for kicking Richmond Captain Maurie Hunter during the game, in which Richmond won. Downs was suspended by the League for the rest of this season and all of
1932
. Downs has strenuously proclaimed his innocence of the charge, the worst that can be made in football, and has thousands of witnesses all willing to agree with him. 1800 Carlton members packed an angry meeting at the Brunswick Town Hall in protest, and asked the Committee to appeal once more to the League to re-open the case, citing a precedent in 1923. Eleven of this number signed statutory declarations saying that it was not Downs' leg which came into contact with Hunter. R.G.Menzies QC has provided advice that no further legal avenues of appeal are open. The popular player will have to wear the stigma.
- 100 Years of Australian Rules Football.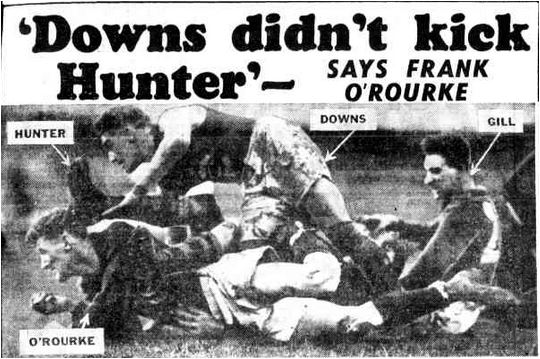 Image: Trove, Sporting Globe July 03 1954
Downs Didn't Kick Hunter - Says Frank O'Rourke
The controversial 29 game suspension of
Tommy Downs
was not warranted as Carlton team mate
Frank O'Rourke
says his boot connected with the Richmond captain's face.
Read the Sporting Globe July 03 1954 article>
http://nla.gov.au/nla.news-article176558489
At the end of this round Carlton were in 3rd spot on the ladder with a percentage of 144.5.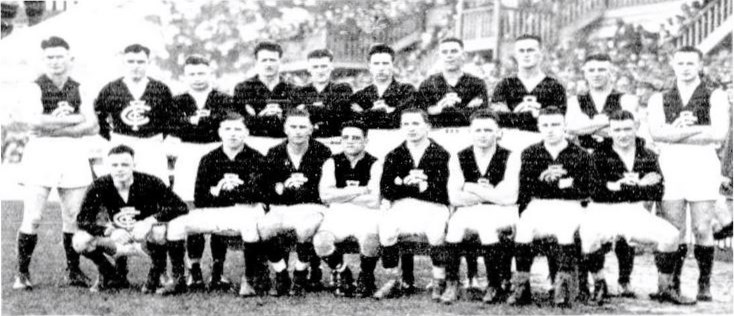 L-R Back Row; Denis Kelleher, Jack Green, Fred Gilby, Jack Kidd, Frank O'Rourke, Frank Gill, Alf Egan, Charlie Davey, Creswell 'Mickey' Crisp, Joe Kelly
Front; Eric Huxtable, Bill Jones, Harry Vallence, Tommy Downs, Colin Martyn (Capt), Ansell Clarke, Jim Crowe, Vin Arthur.
Image: Trove; Table Talk July 30
Team
B:
23 Jim Crowe
21 Frank Gill (acting vc)
32 Frank O'Rourke
HB:
9 Eric Huxtable
24 Jack Kidd
6 Fred Gilby
C:
7 Joe Kelly
2 Colin Martyn (acting capt.)
30 Vin Arthur
HF:
14 Jack Green
27 Alf Egan
12 Creswell 'Mickey' Crisp
F:
11 Bill Jones
22 Harry Vallence
31 Ansell Clarke
Ruck:
17 Charlie Davey
10 Denis Kelleher
3 Tommy Downs
19th Man:
25 Bernie O'Brien
Coach:
Dan Minogue

Sporting Globe July 25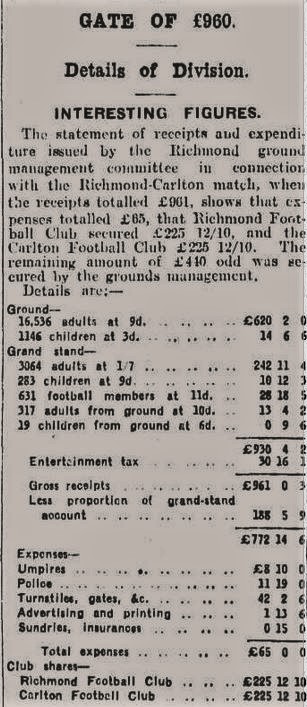 Age August 05 p12
Milestones
50 Games:
Tommy Downs
and
Frank Gill
Debut (Carlton):
Jack Kidd
---
Round 11
|
Round 13