| | | | | | | | | |
| --- | --- | --- | --- | --- | --- | --- | --- | --- |
| Carlton | 5.5 | 35 | 7.8 | 50 | 12.12 | 84 | 15.15 | 105 |
| Melbourne | 1.3 | 9 | 6.8 | 44 | 6.9 | 45 | 9.9 | 63 |

Venue: Princes Park
Date: Saturday August 27, 1932
Result: Win by 42 points
Umpire: McMurray
Crowd: 12,000
Goalkickers: H.Vallence 7, M.Crisp 2, C.Davey 2, A.Egan 2, A.Clarke 1, K.Shea 1.
Reports: Frank Gill (Attempted Kicking George Margitich) - Not Guilty.
Injuries: R.Cooper (Concussion) replaced by F.O'Rourke at three quarter time..
Best: Vallence, Gill, Davey, Kelly, Johnson, Clarke
---
Game Review
Vallence booted 7 goals in his 100th match for the Blues.
Carlton made two changes to this team, losing Jack Green to a shoulder injury and omitting Ted Pollock. The replacements were Alf Egan and Frank O'Rourke.
Superior team work and ruck play enabled Carlton to easily defeat a pacy and determined Melbourne, who consistently missed scoring goals on many occasions.
With the ground in perfect condition, Melbourne attacked early and kicked the first goal. Carlton attacked through a chain of passes from Gill, Clarke and Arthur, but Shea missed an easy shot for a minor score. Melbourne were faster and attacked strongly throughout, clearly being the better side. Another easy shot at goal was missed by Vallence and Melbourne's defence was clearly on top. Then Carlton steadied and three spectacular marks by Vallence resulted in three goals. Two more late goals through Clarke and Crisp gave the Blues a 26 point lead at quarter time. Melbourne's early dominance had gone and Carlton had reverted to an experienced and systematic game.
The second term opened with two Melbourne goals and their early good play returned. On top in defence and kicking with a strong breeze, Melbourne had the upper hand but missed several opportunities to score vital goals. However, they continued to attack and kicked another three goals to lead by one point late in the term. Steadying the tide, Vallence kicked his fourth goal and Crisp added another right on the siren to give Carlton a one goal lead at half time.
An even third quarter was not reflected on the scoreboard. Melbourne had a large share of general play, but could not score goals when the chances arose. On the other hand, Carlton, though not at its best, was able to goal almost every time they went forward. Vallence was excelling in his 100th game and kicked two goals for the quarter. Other goals came from Egan, Davey and Shea. Spite came into the game after Cooper was felled in a clash early in the quarter. Carlton responded in kind and the remainder of the quarter saw some fierce and ugly incidents. At three quarter time, Carlton had added 35 points to Melbourne's one to lead by 40 points at the last change. Cooper, with a concussion, was replaced by O'Rourke during the break.
The last term was an even, albeit rough affair, with neither side showing their best form. After ten minutes, Melbourne broke through for their first goal since the second quarter, to which Vallence immediately replied for his seventh goal. Both sides kicked two more goals, Carlton's through Davey and Shea. Although not at their best, Carlton had done enough to win comfortably by 42 points at the final bell.
Full back Frank Gill was reported by two boundary umpires for attempting to kick a Melbourne player, but was subsequently cleared by the tribunal.
At the end of this round Carlton were in 1st spot on the ladder with a percentage of 132.5
Team
B:
18 Jack Young
21 Frank Gill (acting capt.)
20 Charlie Street
HB:
9 Eric Huxtable
24 Gordon Mackie
6 Fred Gilby
C:
7 Joe Kelly
30 Vin Arthur
28 Eric Little
HF:
8 Keith Shea
27 Alf Egan
12 Creswell 'Mickey' Crisp
F:
29 Horrie Bullen
22 Harry Vallence
19 Ron Cooper
Ruck:
17 Charlie Davey
15 Maurie Johnson
31 Ansell Clarke
19th Man:
32 Frank O'Rourke
Coach:
Dan Minogue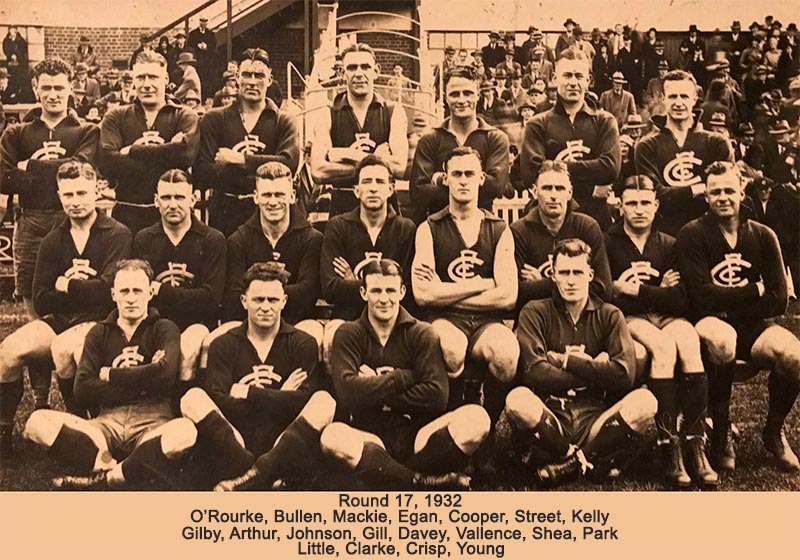 Milestones
Last Game (Carlton):
Frank O'Rourke
100 Games:
Harry Vallence
---
Round 16
|
Round 18