| | | | | | | | | |
| --- | --- | --- | --- | --- | --- | --- | --- | --- |
| Carlton | 5.3 | 33 | 7.5 | 47 | 14.12 | 96 | 16.19 | 115 |
| Richmond | 5.3 | 33 | 12.10 | 82 | 15.13 | 103 | 18.17 | 125 |

Venue: Princes Park
Date: Saturday May 23, 1936
Result: Lose by 10 points
Umpire: Boyd
Crowd: 43,000
Goalkickers: H.Vallence 6, R.Cooper 3, R.McLean 2, K.Shea 2, G.Collard 1, C.Davey 1, M.Johnson 1.
Best: J. Carney, J. Hale, C. Davey, F. Gilby, R. Cooper, R. McLean
Reports:
Injuries: F.Gill (twisted ankle) replaced by F.Anderson last quarter.
---
Game Review
Carlton's first defeat of the season came at the hands of their arch nemesis, Richmond. Playing an aggressive, straight through game, Richmond constantly had the Blues under the pump and were able to steady when Carlton mounted challenges. Carlton had its chances but went down by ten points.
Heavy fog enveloped Princes Park at Thursday night's training. The Blues had all players, except injured Les Hughson, out on the track for a series of group discussions and match practice. A goal kicking contest between Carlton great Horrie Clover, President Dave Crone and reserves coach Charlie Hardy (formerly of Essendon) provided much mirth and entertainment. Clover won easily but Crone and Hardy were not disgraced. Former players Newton Chandler, Colin Martyn and Alf Baud joined in as well. Only one change was made to last week's side. Frank Anderson came as 19th man at Bert Butler's expense.
A glorious day no doubt assisted in the bumper crowd of 43,000 spectators, the biggest turnout of the season to date. They were treated to a thrilling game. From the opening bounce, the fiery rivalry between the sides was evident. A free kick sent Carlton into attack but Richmond's defence repelled well. Shea drove the ball from the centre again and found McLean who goaled from a free kick within the opening minute. Richmond's tactics were clear: to use as much weight as possible to try to upset Carlton's game plan and system. Frees given away didn't matter: in fact, the Tigers gave away six in the first three minutes. Cooper scored a behind (another free) but Richmond's plan was working. Carlton was being forced into hurried kicking and was playing without its usual flair. The game was fast and rugged; Carlton's ground play was better but the Tigers were winning in the ruck and the centre. Richmond scored their first goal from a long kick following a smart combination. Another two followed in quick succession, putting Carlton's defence under a constant barrage. Gill was being outplayed by his faster opponent and Francis was well held. Pollock was able to forward for Carlton and McLean, from a thirty yard dash, kicked a mighty punt to allow Vallence to goal. Richmond's answer was immediate; two quick goals. Clarke and Shea were being kept quiet and when Carlton did go forward, they seemed to flounder. Two behinds were scored when goals were needed. Finally, they steadied and Shea drove into attack with a long kick which sailed straight for the third goal. Carlton was now playing better, and Mackie and Davey brought the ball around the wing to Vallence who was slung around the neck well out from goal. He goaled from the free to put the Blues back in the contest. Richmond attacked twice but each time was repelled and late in the quarter, Clarke and Vallence assisted McLean to his second goal to make the scores level at the first change.
The second quarter opened with the same rugged exchanges as the first. After each side had scored a behind, Richmond was first to goal after bustling play from the centre. Carlton hurled themselves into the fray, showing the same aggression and Shea, Carney and McLean were involved in getting the ball to Davey who marked brilliantly. His shot was touched as it went through. It was a very tough game, with neither side flinching. Carlton hit the front with a goal from Vallence, after good play from Davey, Crisp and Cooper, but Richmond answered well, tearing through three defenders for their seventh goal. Richmond was still on top in the ruck and centre and extended their lead to 12 points after receiving a doubtful free. Carlton hit back; Carney, Clarke and Green combining for Davey to goal. Again, the Tigers broke away, scoring a behind and a goal. Richmond's defence had tightened up and a Carney led attack was easily repelled. Then Carlton seemed to falter and a sudden onslaught brought up 3-4 in quick time. With Gill and Francis being kept quiet, Davey and Gilby were defending grimly but the burst had left the Blues 35 points in arrears at half time. Carney, Davey, Hale, Gilby and McLean were Carlton's best for the half.
Johnson was moved into the centre and Shea to half forward on resumption, with immediate effect. Johnson drove forward long from the middle to Collard who kicked a nice goal on the run. Two more attacks resulted in behinds to Clarke and Green, but Carlton looked like a different team, showing all the decisiveness and system as in previous games. Cooper was felled and goaled from the free, and when Shea beat three opponents and goaled from his wrong foot, the Blues had kicked three goals in the first seven minutes. Carlton kept attacking and Johnson just missed after being bumped heavily as he kicked. From another thrust, Vallence took a great mark and his goal made the difference just seven points. Richmond steadied and goaled following some great play, but Carlton responded, with Johnson driving long into attack to Cooper, who scored his second goal. McLean deserved more than a behind following a prodigious punt which just went wide. Richmond attacked and Mackie and Pollock caused the ball to be kicked out of bounds. It came back flat and both sides regrouped as they awaited a new ball. The delay obviously suited the Tigers and they came back well, scoring 2-1 (the behind hitting the post) to extend their lead. Another attack was repelled by Carlton's defence. Late in the quarter, Carney was instrumental in combining with Pollock for Vallence to goal after a juggled mark. Carney sent the ball forward again but Crisp and Cooper both missed goals from close in. The Blues got to within a goal when Johnson goaled from a huge punt kick, but Richmond scored a behind just before the bell to take a seven point lead into the final term.
Each side commenced the quarter with a series of attacks, which saw the ball move between half back lines, but it was Richmond who finally broke through despite desperate efforts by Hale, Gilby and Gill. Carlton's defence was under siege as the Tigers scored three behinds and a goal to put them 16 points up. When a doubtful free was awarded against Gilby, the resulting goal made the deficit 23 points and Richmond looked to have the game won. Gill, limping badly, was taken off and Anderson made his first appearance of the day. More attacks luckily gave only two behinds. As expected, Carlton rallied but several promising attacks were let down by lamentable kicking. Behinds to McLean, Johnson, Crisp (a poster) and Vallence (juggling the ball over the line) were answered by Richmond's 18th goal, which sealed the game. Still trying, Shea drove long to Vallence who marked and goaled on the run to raise some hope, but despite continued attacks, Carlton kicked behinds when goals were needed; Anderson, Vallence and Green all missing gettable chances. Just before the bell, Cooper brought the Blues to ten points with a lovely running goal but it was too late. Carlton had its chances in the quarter but in the end, it was Richmond's steadiness and system when needed which gave them a well-deserved victory.
At the end of this round Carlton were in 3rd spot on the ladder with a percentage of 150.6.
Team
B:
6 Fred Gilby
21 Frank Gill
26 Jim Park
HB:
11 Jack Hale
24 Gordon Mackie
10 Jim Francis (c)
C:
7 Jack Carney
8 Keith Shea
32 Bob Green
HF:
15 Maurie Johnson
16 Ted Pollock
12 Creswell 'Mickey' Crisp (vc)
F:
13 George Collard
22 Harry Vallence
19 Ron Cooper
Ruck:
17 Charlie Davey
14 Rod McLean
31 Ansell Clarke
19th Man:
1 Frank Anderson
Coach:
Frank Maher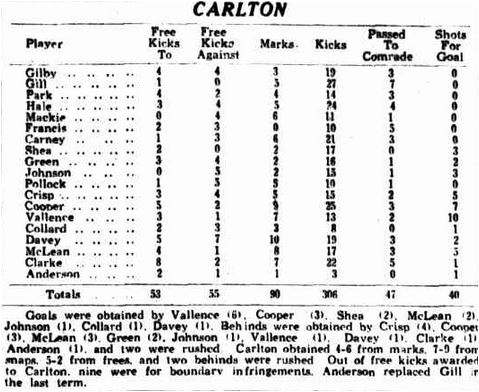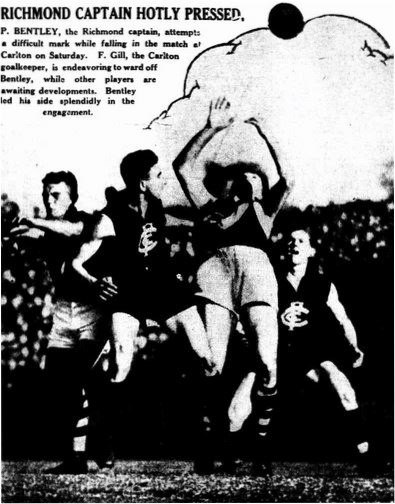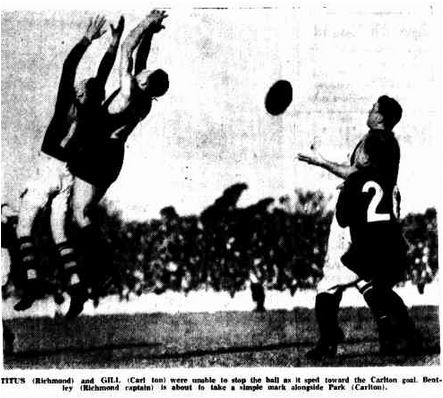 Images: Trove; Sporting Globe May 23
---
Round 3
|
Round 5