| | | | | | | | | |
| --- | --- | --- | --- | --- | --- | --- | --- | --- |
| Carlton | 2.2 | 14 | 6.3 | 39 | 8.7 | 55 | 10.7 | 67 |
| South Melbourne | 2.0 | 12 | 3.2 | 20 | 4.2 | 26 | 5.4 | 34 |

Venue: Lakeside Oval
Date: Saturday May 30, 1903
Result: Won by 33 points
Umpire: D'Helin
Crowd: 7,500
Goalkickers: A.Snell 3, J.Sullivan 2, F.Webber 2, M.Grace 1, J.McShane 1, G.Topping 1.
Reports: Nil
Injuries: Nil
---
Game Review
Another of the early pieces of
Jack Worrall
's Premiership jigsaw fell into place on this auspicious day, when South Australian speedster
George Bruce
played his first game for the Navy Blues, and celebrated a 33-point win over South Melbourne at the Lakeside Oval.
By then, the three undefeated form sides of the competition were Fitzroy, Carlton and Geelong, who filled the top three positions on the ladder. Collingwood were fourth, ahead of Essendon, South Melbourne, St Kilda and Melbourne.
"The first quarter was well enough contested to indicate the probability of an exciting game, but the unerring kicking for goal by Carlton's forwards in the second quarter (4 goals being added in rapid succession) gave them a substantial lead of 19 points at half time, which they increased to 33 points before they final bell rang. The third quarter was also much in favor of Carlton - but the fourth - like the first was sternly fought.
It was a remarkably hard, fast game throughout which both teams lasted splendidly, and though Carlton won easily, and played a distinctly the better game, South Melbourne are steadily improving, but require "steadying" when the pinch comes. In the ruck and in the air they made an excellent fight, but in system generally Carlton showed marked superiority. This was especially noticeable in their coolness and judgment - despite the great pace - in exchanging, picking their men, and making the best possible use of the ball. They were also quicker on to the ball, and altogether played splendid football. There was not a perceptibly weak spot in the Carlton team, and as they are each week developing increased excellence in the matter of combination, and the prospects of the once famous old club are brighter than they have been for many years, Collectively they are very fast, and their pace is quite equalled by their skill. They were supported at South Melbourne on Saturday by an immense gathering of enthusiastic followers, who heartily cheered them on throughout the afternoon."
(The Age, June 01)
Team
B:
Bob Jacobson
Jim Opie
Albert Trim
HB:
Henry McShane
Ernie Walton (vc)
Gordon Ross
C:
George Bruce
Arthur Ford
Charlie Roland
HF:
Fred Elliott
Mick Grace
Fred Webber
F:
Billy Leeds
George Topping
Joe Sullivan
Ruck:
Joe McShane (c)
Jim Flynn
Archie Snell
Coach:
Jack Worrall
Changes
In :
J.Sullivan, G.Bruce
Out :
B.McNamara, B.Orr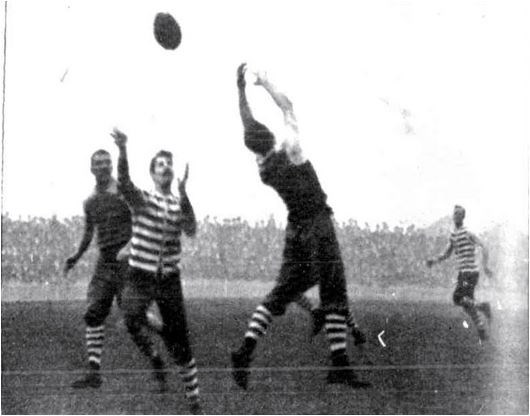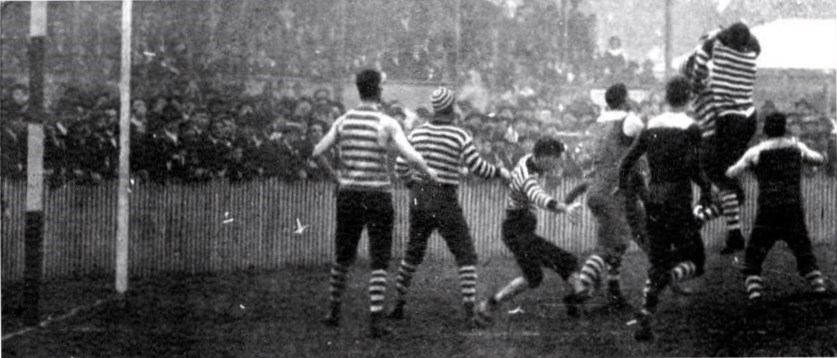 Note: The painted red & white striped goal post.
Images: Trove; Punch June 06
Milestones
50 Games :
Fred Elliott
Debut :
George Bruce
---
Round 4
|
Round 6