| | | | | | | | | |
| --- | --- | --- | --- | --- | --- | --- | --- | --- |
| Carlton | 1.1 | 7 | 8.8 | 56 | 13.11 | 89 | 14.16 | 100 |
| Collingwood | 7.5 | 47 | 8.9 | 57 | 11.17 | 83 | 14.20 | 104 |

Venue: Victoria Park
Date: Saturday 27 May, 1933
Result: Loss by 4 points
Umpires: Ellingson
Crowd: 25000
Goalkickers: H.Vallence 5.2, K.Shea 3.3, A.Clarke 2.1, J.Green 2.2, C.Davey 1.2, L.Hughson 1.0 C.Street 0.1, C.Crisp 0.1, R.Cooper 0.1 Rushed 3
Best: L.Hughson, E.Huxtable, C. Davey, K.Shea, J.Green, R. Cooper, H.Vallence
Reports:
Injuries: C.Crisp (jarred ankle) replaced in third quarter by J.Crowe
---
Game Review
In one of the games of the year, Collingwood edged out Carlton by 4 points at Victoria Park in this classic match that featured two of the all-time great full-forwards in Gordon Coventry and
Harry 'Soapy' Vallence
.
Carlton brought in three players for their first games of the year. Les Hughson, who had been subject of a clearance wrangle with VFA side Preston, was to play his first game for Carlton, after previously playing for Collingwood some years earlier, Gordon Mackie had served his four game suspension from the grand final last year and Jack Young was included after some good reserves form. Jack Hale was to miss through injury and Aub Martyn and Alf Egan were omitted.
Conditions were ideal, with a breeze favouring the factory end as play began. Collingwood bounced out of the blocks and had two behinds early, despite some dashing defence from Gill. A free shortly after gave Collingwood their first goal. Kelly counterattacked and kicked to Hughson but the ball was punched away. Collingwood was playing brilliantly and was well on top. Mackie and Street took saving marks but they provided only brief respite. The 'pies had their third goal on the board before Hughson, swung into the ruck, got the ball to Clarke for the first Carlton goal, dribbled past his overrunning opponent. Collingwood replied immediately for their fourth from good ground play. Hughson was playing well and assisting in many attacks, but Collingwood's defence was like a wall. Then, in a sensational burst of speed and teamwork, Collingwood kicked three quick goals to lead by 40 points at quarter time. Carlton appeared overwhelmed.
A behind to Street at the opening of the second quarter heralded a magnificent Carlton fightback. Green and Oprey worked together to pass to Clarke for his second goal. Green then goaled. A Collingwood attack was marked by Huxtable, but a free kick gave them a behind. Carlton's big men were now on top, Davey and Hughson in particular, and the Blues had settled and were contesting every inch. Two Carlton attacks yielded only behinds, before a nice pass from Cooper was marked by Vallence for Carlton's fourth goal. A great passage of play from Mackie, Green, Johnson and Clarke assisted Vallence in his second goal. Collingwood defended desperately for the next five minutes, before Hughson kicked to Shea for goal number six. Carlton were now clearly on top and Collingwood looked rattled. Green goaled from a long punt. Collingwood rallied and snapped their eighth goal, but they were wasting scoring opportunities when they came their way. Late in the quarter, Shea, Crisp and Hughson combined with some zig-zag passing to give Hughson his first Carlton goal and a one point deficit at half time. It had been an amazing half, both sides very dominant for one quarter and soundly beaten for the other.
Desperate play marked the opening of the second half. Clarke levelled the scores with a snapped behind. Both sides were now playing well in an exciting game. Collingwood goaled, before a great run from Kelly enabled Vallence to snap a clever goal. Collingwood stopped a Carlton attack, but fine work from Hughson landed the ball near Shea who kicked Carlton into the lead. Carlton was now the steadier side, handling cleanly and marking well. Good work from Hughson and Street got the ball to Vallence who kicked his fourth goal. He followed that up shortly after with another, Carlton's twelfth goal, after receiving a pass from Street. Carlton's defence was on top with Gill, Young and Bullen all playing well. A silly infringement against Davey resulted in the tall ruckman kicking the thirteenth goal from the resulting free kick, from a tight angle, and establishing a 19 point lead. A late goal to Collingwood lifted them and they came back into the game. Davey hit the post and Collingwood attacked close to the bell for their eleventh goal, to give Carlton a six point lead at the last change.
All was set for a magnificent last quarter. Gill saved a fine Collingwood attack with a mark right on the line. Despite good defence shown by Park, Mackie and Huxtable, another goal to the 'Pies levelled the scores. Collingwood had lifted and attacked again to score their thirteenth goal and take the lead. Carlton were not done however, and Cooper, in a thrilling move, forwarded to Vallence but his shot went out of bounds. Another attack from Cooper was repelled right on the goal line. A behind to Collingwood followed before a goal gave them a twelve point advantage. There was nothing in it. Both sides were playing desperate and thrilling football, throwing caution to the wind. Shea hit the post from a mark, but atoned shortly after with a goal, to only trail by five points. Collingwood went forward for a behind and then Carlton attacked again, but great defence by Collingwood resulted in only behinds being scored. Street had a shot but the ball went wide and as the bell sounded, with Carlton attacking again, the 'pies had won an epic encounter by four points.
Coventry kicked 8.1 for the Pies, and 'Soapy' booted five for the Blues. Now sixth on the ladder, and with a relatively poor percentage of 97.9, the Blues were in real danger of losing touch with the top four of Geelong, Richmond, Footscray and Fitzroy.
At the end of this round Carlton were in 6th spot on the ladder with a percentage of 97.9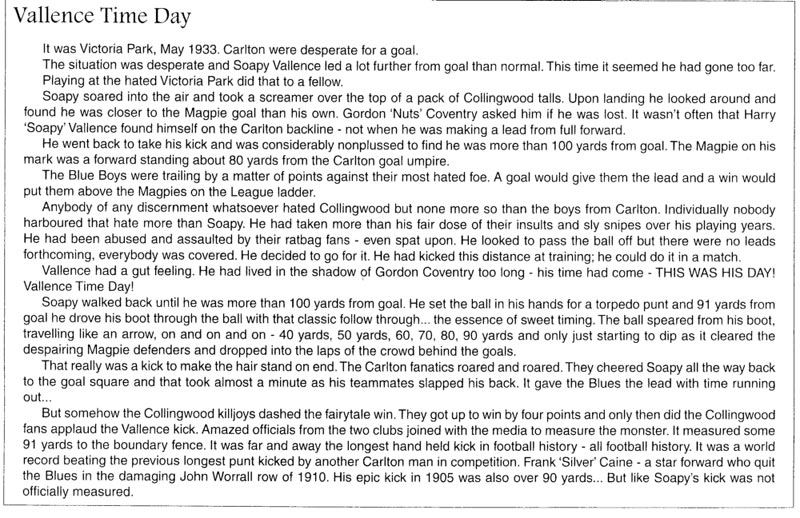 Team
B:
18 Jack Young
21 Frank Gill (c)
29 Horrie Bullen
HB:
9 Eric Huxtable
24 Gordon Mackie
26 Jim Park
C:
7 Joe Kelly
15 Maurie Johnson
5 Leo Opray
HF:
8 Keith Shea
14 Jack Green
12 Creswell 'Mickey' Crisp
F:
1 Les Hughson
22 Harry Vallence
19 Ron Cooper
Ruck:
17 Charlie Davey
20 Charlie Street
31 Ansell Clarke
19th Man:
23 Jim Crowe
Coach:
Dan Minogue
Harry Vallence (No.22) out reaching team-mate and first gamer Les Hughson, with R. Kent (Collingwood) leaping to spoil during the third quarter.
Monday's Age carries the same photo taken a spit second later and names Hughson.
(Photo: Trove, Argus May 29 p7)
Milestones
Debut:
Les Hughson
Last Game:
Jack Young
---
Round 4
|
Round 6