| | | | | | | | | |
| --- | --- | --- | --- | --- | --- | --- | --- | --- |
| Carlton | 1.2 | 8 | 5.6 | 36 | 10.6 | 66 | 13.7 | 85 |
| Collingwood | 6.1 | 37 | 7.4 | 46 | 8.9 | 57 | 9.11 | 65 |

Venue: Victoria Park
Date: Saturday May 15, 1965
Result: Win by 20 points
Umpire: Fisher
Crowd: 37,223
Goalkickers: J.Miller 6, A.Gallagher 3, B.Quirk 2, R.Barassi 1, T.Board 1.
Best: R.Barassi, A.Gallagher, T.Board, J.Miller, B.Quirk, J.Reilly, J.Goold
Reports:
Injuries: No replacements; R.Barassi (cramp)
---
Game Review
The Blues were in serious trouble at quarter-time in this clash against Collingwood at Victoria Park, after the 'Pies piled on 6.1 to 1.2 for starters. The 'Woods scored a goal soon after the start of the second term taking their out to 35 points. But thereafter Carlton's ruck combination of Nicholls and Barassi took control, and the visitors added 12.5 to 2.10 and celebrated a great victory by 30 points.
'Frosty' Miller
was a star at full-forward for Carlton, booting six goals (five in the second half) and seeing off three opponents.
Despite this win however, the Blues still couldn't break into the top four, although our percentage of 131.53 was third best in the competition.
"Ron Barassi was not so much a mere outline on the Collingwood radar in the first quarter at Victoria Park on Saturday. In the second quarter he began to appear on the scene, but only faintly.
However, in the third he ripped apart the Magpie defence to direct a Carlton offensive after some team-mates had appeared willing to concede defeat.
The game was further proof (if any was needed) of Barassi's ability to inspire and restore shaken confidence, either by his own courageous example or by reassuring words."
"Carlton's win showed the Blues have fighting qualities, but this may be subject to one proviso, that Barassi is on the field to direct them."
(The Age May 17 p22)
Team
B:
36 Roger Hoggett
28 John Reilly
4 Brian Buckley
HB:
26 Graeme Anderson
11 John Goold
12 John Gill
C:
30 Murray Kick
19 Ian Collins
39 Cliff Stewart
HF:
32 Bryan Quirk
1 Serge Silvagni
3 Kevin Hall
F:
16 Maurie Sankey
22 Jim 'Frosty' Miller
24 Terry Board
Ruck:
2 John Nicholls (vc)
31 Ron Barassi (cc)
10 Adrian Gallagher
Res:
6 Garry Crane
23 Ian Nankervis
Coach:
Ron Barassi
In:
I. Nankervis
Out:
J. Lloyd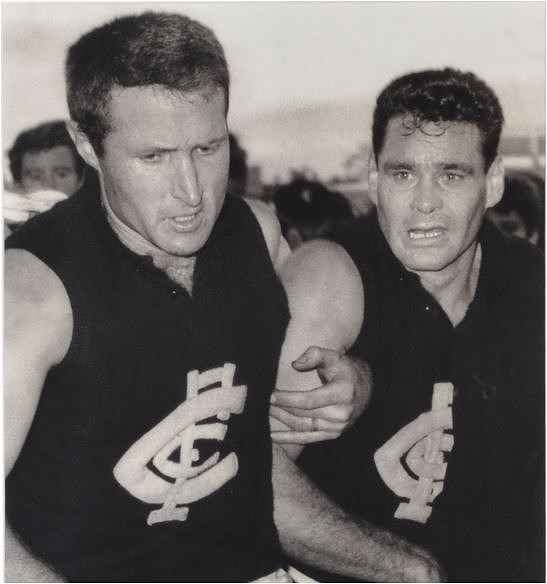 Cropped Age image/Ron Barassi collection-Leonard Joel
Age May 17 p24 caption:
It was Ron Barassi at his brilliant best at Collingwood on Saturday - but the toll of a tough game took on the Carlton captain-coach's physical and emotional reserves can be clearly seen in this picture. Barassi looks distraught as ruckman John Nicholls (left) shepherds him through the crowds. This dramatic picture was taken by a staff photographer of "The Age" seconds after the final siren. Barassi had led Carlton's revival after Collingwood had ran away to a six goal lead early in the second quarter. He lifted the listless Carlton by his magnificent example. And even when the Blues went to a three-goal lead he still kept going, rucking and roving tirelessly. After the game Barassi complained of slight cramp. But it was "nothing to worry about." He was smiling again.
---
Round 4
|
Round 6