| | | | | | | | | |
| --- | --- | --- | --- | --- | --- | --- | --- | --- |
| Carlton | 2.1 | 13 | 10.6 | 66 | 11.8 | 74 | 12.11 | 83 |
| South Melbourne | 3.3 | 21 | 4.3 | 27 | 8.7 | 55 | 10.11 | 71 |

Venue: Lakeside Oval
Date: Saturday 18 May 1968
Result: Won by 12 points
Umpire: Crouch
Crowd: 13,420
Goalkickers: Kekovich 5, Auchettl 3, Board 2, Gallagher, Jesaulenko 1.
Reports: Nil
Injuries: Quirk (broken jaw), Edmond
Ladder: 5th with 4 wins, 2 losses (12 teams) and a percentage of 118.1
---
Game Review
Both teams started well with weight being used freely. South surprised me with their fierce determination. Ten minutes into the quarter during a scuffle on the grandstand wing, Bryan Quirk was knocked to the ground but had the ball underneath him. Eric Sarich, South's acting Captain, tore into the pack in the most vicious act I have ever seen in a football match, kicked
Quirk
in the head in an attempt to get the ball. I am sure the incident was seen by the boundary umpire but no report. At the first change South led by eight points.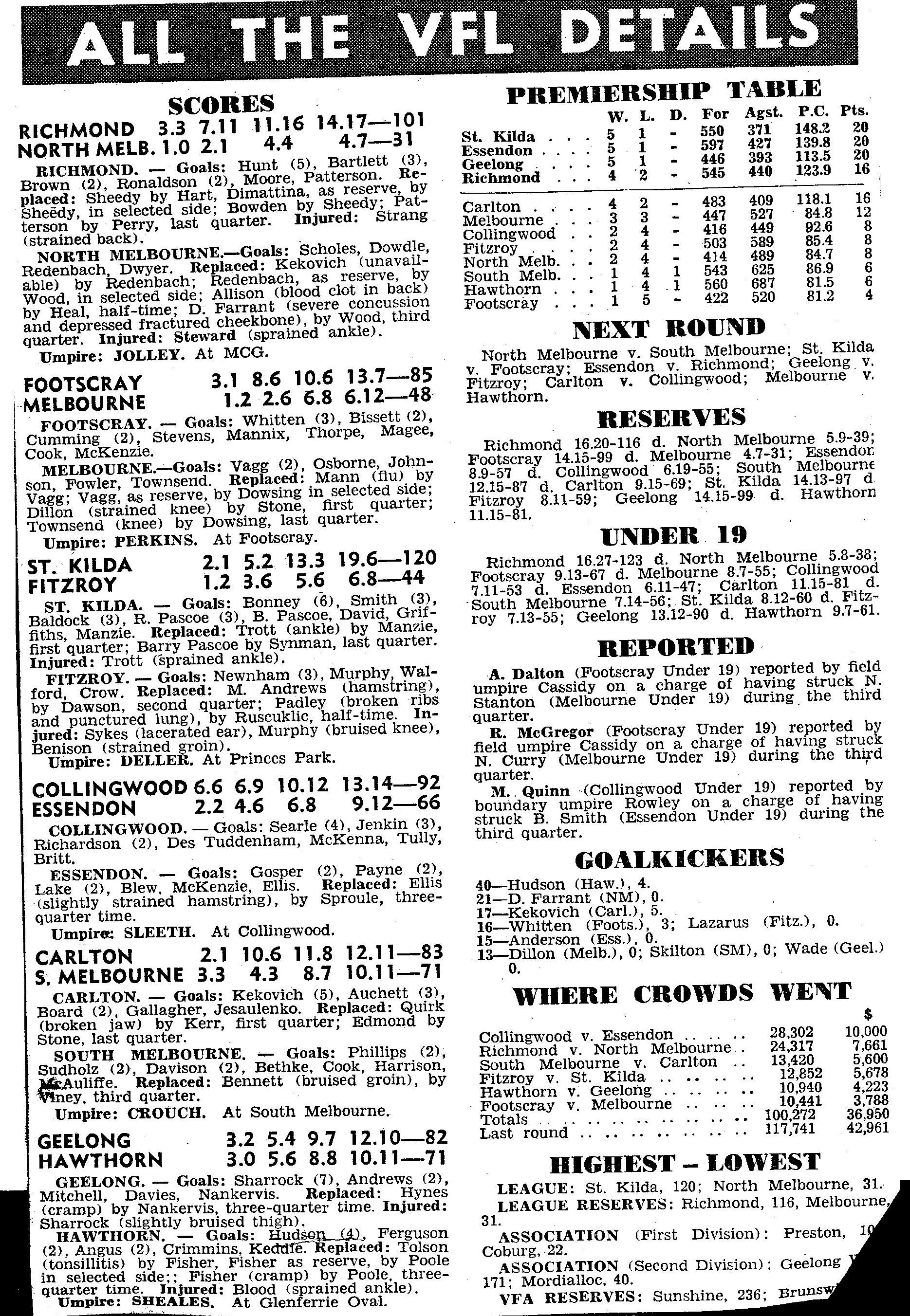 The second quarter saw a rejuvenated Carlton side. They slammed on 8-5 to 1 goal, due mainly to
Kekovich
who couldn't miss anything. Nicholls was worried by tall Bennet at the centre bounces where he rarely won. However, Carlton's rovers particularly Gallagher sharked everything. Had Skilton played it would have been very embarrassing. However at the boundary throw-ins Nicholls was able to manoeuvre his less experienced opponent out and create many chances on the forward line.
After the long break, South hit back hard and played good football for a patched up side. They rattled Carlton and added 4-4 to 1-2 and but for the great play of Collins, Goold and McLean, their score would have been higher.
South were stronger in the final term and some of the Carlton players did not play the game right out. They added 2-4 to 1-3.
Carlton's best players were Silvagni (He played a kick behind play, had a million kicks and took marks on the half-back line to relieve when most needed), Gallagher, Crane (unbeaten on the wing), Goold, Kekovich, Collins and Nicholls. South's best were Rantall, Davison, Priest, Cook and Bennet.
Blueseum footnote: This write-up, and an associated Image Gallery, were donated to the Blueseum through a Supporter Journal
Team
B:
19 Ian Collins
20 Wes Lofts
38 Bob Edmond
HB:
37 Peter Smith
11 John Goold
36 Peter McLean
C:
6 Garry Crane
17 Brent Crosswell
32 Bryan Quirk
HF:
25 Alex Jesaulenko
42 Robert Walls
34 Ian Robertson
F:
41 Ron Auchettl
16 Brian Kekovich
24 Terry Board
Ruck:
2 John Nicholls (acting capt.)
1 Serge Silvagni
10 Adrian Gallagher
Res:
44 Ron Stone
9 Peter Kerr
Coach:
Ron Barassi
---
Round 5
|
Round 7