| | | | | | | | | |
| --- | --- | --- | --- | --- | --- | --- | --- | --- |
| Carlton | 0.6 | 6 | 3.8 | 26 | 8.10 | 58 | 10.10 | 70 |
| Melbourne | 1.2 | 8 | 2.6 | 18 | 4.6 | 30 | 7.12 | 54 |

Venue: Princes Park
Date: Monday, June 4, 1962
Result: Win by 16 points
Umpire: James Brewer
Crowd: 32,000 Receipts: £3,833
Goalkickers: I.Collins 3, T.Carroll 2, G.Collis 1, G.Donaldson 1, P.Falconer 1, J.Gill 1, B.Williams 1.
Reports:
Injuries: M.Sankey replaced by J.Williams in last quarter. B.Williams (bruised arm)
---
Game Review
On this Queen's Birthday holiday Monday, the resurgent Blues caused a huge boilover by knocking over the undefeated ladder-leaders Melbourne by 16 points at Princes Park - despite not kicking a goal in the first term. Thereafter, Carlton's rucks got on top, and a five-goals to two third quarter set up one of our most important wins for the season.
After Melbourne's loss, Essendon remained the only undefeated team. They assumed ladder leadership from the Demons, Geelong and Footscray, with St Kilda and Carlton next.
Carlton had many fine performers in their unexpected win over the Demons.
John Nicholls
rucked powerfully and his efforts in the third term especially were superb. He dominated the ruck duels.
Berkley Cox
was a stalwart in the centre.
Serge Silvagni
gave strong support while rover
Peter Falconer
was a creative player and made full use of Nicholls' knockouts.
Ron Barassi
tore into the packs in an endeavour to inspire Melbourne and played a real captain's game.
- Football Record.
In toppling the previously undefeated Demons, Carlton scored their third victory since 1953. Their margin of 16 points was also the largest since the 1953 match, when they won by 26 points, 12.24.(96) to 10.10.(70).
- Football Record.
Team
B:
10 John James
18 Peter Barry
13 Graham Donaldson (c)
HB:
26 Graeme Anderson
20 Wes Lofts
14 Bob Crowe
C:
40 Bruce McMaster-Smith
9 Berkley Cox
30 Murray Kick
HF:
19 Ian Collins
17 Gordon Collis
12 John Gill
F:
16 Maurie Sankey
22 Tom Carroll
7 Bruce Williams
Ruck:
2 John Nicholls (vc)
1 Serge Silvagni
36 Peter Falconer
Res:
31 John Williams
8 John Benetti
Coach:
Ken Hands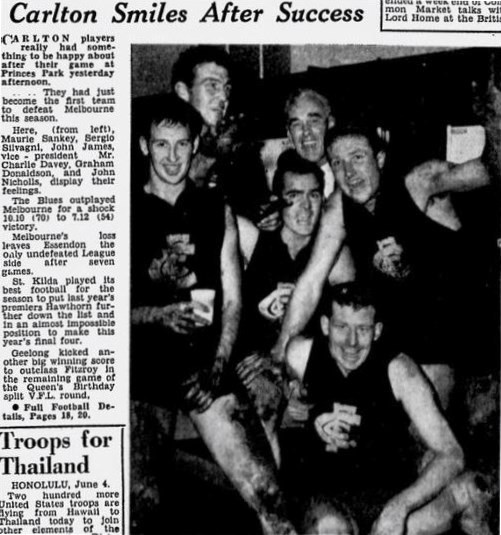 Age June 05
In:
G. Donaldson, P. Barry, J. Williams, W. Lofts
Out:
B. Buckley, B. Arch, K. Greenwood, H. Ogilvie
---
Round 6
|
Round 8