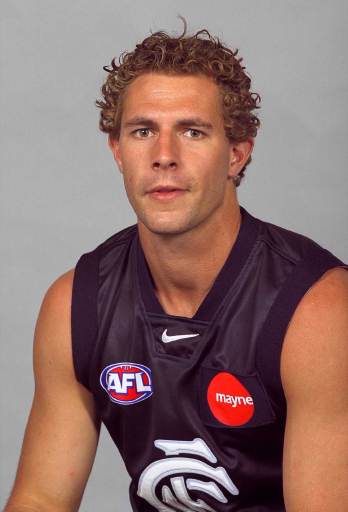 Career: 1995-2003
Debut: Round 10, 1995 vs Hawthorn, aged 19 years, 173 days
1003rd Carlton Player
Games: 152 (Carlton)
Goals: 89
Last Game: Round 22, 2003 vs North Melbourne, aged 27 years, 261 days
Guernsey No. 29 (1994 - 2003)
Height: 189cm
Weight: 84kg
DOB: 13 December, 1975
Originally from Melbourne Grammar (he also played for East Camberwell / Camberwell Sharks), Simon Beaumont was taken with Pick 18 in the 1993 National Draft, a period in which Carlton still seemed a little shy of embracing the draft. Whilst our foes the Bombers were busy with early picks, Carlton still seemed to be stuck in pre-draft days. With that in mind, "Beauy: was a luxury. The other Carlton player drafted in this draft was Matthew Hopkins (pick 48) who broke down within the first five minutes of the first practice match at Skinner Reserve and never played at Carlton.
Drafted as a forward from the Under 18's (Central Dragons who was coached by Ray 'Slug' Jordan), it took Beaumont a few years to make the grade - although it was in a very strong Carlton team that Beaumont would debut. His debut came in 1995, with 2 games, (the first game was against Hawthorn at Waverley in
Round 10, 1995
after Carlton had lost the previous two games (and only games they lost for this season) and he was aged 19 years and 173 days in this 102 point victory) and then he played a further 7 games in 1996 and 1997 respectively. 16 games in 4 years was perhaps a bit light on given expectations, but Beaumont had had to endure constant problems with his groins and a bout of osteitis pubis.
1998 proved to be the turning point for Beaumont. At 189cm and about 85 kilos, with an exceptional turn of speed for his height, Beaumont played a variety of flanker roles. An 8 goal half - yes, half! -
against the Pies at the MCG
was a mystical, magical day where this otherwise unknown player tore the Collingwood defence apart with a few marks on leads and freak left foot snaps. What made it even more odd was that he couldn't crack it for a single one in the second half, notwithstanding that the game was ours and the pressure dissipated.
1999-2001 was a golden period for Beaumont, but mainly in the guise of a key defender. Although considered short for this role, Beaumont played 'above his height' to use a footy colloquialism and gradually assumed a key defender role, sometimes taking full forwards (Lloyd) and even CHB. His shaky kicking at times remained, but it must be said that he was often in the best players in a final team.
2002
is a useful year to analyse for Beaumont. Whilst Carlton collapsed to our first Wooden Spoon, Beaumont was seen to play amongst his best year of football - he brought up his
highest average stats count
and came 4th in the Best & Fairest, demonstrating how important Beaumont was to Carlton and the roles that he had taken on.
In 2002, Simon's younger brother
James Beaumont
played three games with Carlton's reserves team.
But come 2003 and it all changed for Carlton, and it must be said, Beaumont. New Coach
Pagan
took over from Brittain and although Carlton remained on the bottom of the ladder, rumours of dissension swept the press on occasion. As the hopelessness of this era began to permeate the Club, a massive trading period was undertaken by Pagan and the Club and a number of proven and experienced players found their way outside of the Club. Beaumont - a proven defender, was traded away in a 3 club trade for
David Clarke jnr
of the Cats.
Simon Beaumont played his last 133 Carlton games uninterrupted over five seasons from
Round 8, 1998
to
Round 22, 2003
and also played the following 11 senior games at Hawthorn before missing the Round 12, 2004 game against Carlton after being suspended for striking former teammate
Justin Murphy
in a spiteful game against Essendon when Hawthorn "drew a line in the sand". Beaumont remains second on the list of Consecutive Carlton Senior Games played.
Regardless of finishing his career elsewhere, Beaumont was a utility and more than a servicable defender for the Blues who played 152 games - many in a strong team for Carlton who were just unable to secure a Premiership. This in itself is a great effort and in time people should remember Beaumont as the above average player with the shaky left who kicked 8 against the Pies in the first half. He would also hold the
Games Record
and
Goals Record
for Guernsey 29.
Beaumont went on to play 2 seasons for the Hawks, before retiring at the end of 2005. He would play a further 27 games and kick 12 goals for the Hawks during his two stint.
In 2009, Beaumont would play in a premiership with VAFA B Grade team Old Melburnians.



Having his career book-ended by severe injuries has seen some football followers forget just how versatile and damaging Simon Beaumont could be. Whether it was taking Mal Michael apart at the MCG or subduing Jonathon Brown at Optus Oval his ability to play above his height, underestimated speed and strength and his general football smarts made him a player to contend with. Should he have played with another team in his most natural position (possibly half back) his career would (subject to injury) have seen more games played and a greater level of recognition.
Milestones
50th Game
Round 17, 1999
against Collingwood
100th Game
Round 16, 2001
against Fremantle
150th Game
Round 20, 2003
against St Kilda
Career Highlights
1995 - The Past Players' Association Encouragement Award
1995 - 4th Reserves Best & Fairest
1996 - 6th Reserves Best & Fairest
1999 - Equal 9th Best & Fairest
1999 - Most Improved Award
2001 - 5th Best & Fairest
2001 - Best Clubman Award
2002 - 4th Best & Fairest
Links
Articles:
That First Pick...Players taken with Carlton's first pick
|
Great Games of the 1990's: Beauy's 8 goal game
Blueseum:
Summary of playing statistics for Simon Beaumont
|
Career Breakdown
|
Beaumont's Blueseum Image Gallery