Victorian Football Association
DOB: 1873 August 10, Hackney, England
DOD: 1952 July 05 Carlton
Games: 2
Goals: 0
Career: 1895
William Henry "Hawkie" Halkerstone pictured (cropped) leaving Government House after receiving a Bar to his Bronze Medal at the age of 71. (Herald September 1945)
Came to Australia with his family on the RMS Liguria, when he was 11.
(The Ligura's passenger list has Wm H. Halkerstone aged 8 arrived Melbourne November 1883)
https://prov.vic.gov.au/explore-collection/explore-topic/passenger-records-and-immigration/unassisted-passenger-lists
wikitree has him born August 10 1875 and death 1952 at Parkville
https://www.wikitree.com/wiki/Halkerston-16
1887 THE ROYAL HUMANE SOCIETY OF AUSTRALASIA.
"Bronze medals were awarded to ..... Wm. Henry Halkerstone, aged 13 years, Carlton, Victoria, rescuing James Taylor from drowning in the deep cutting between Prince's and Railway bridges on the River Yarra Yarra on January 6, 1887." (Argus March 02 p9 1887)
1895
May 09
The V.F.A. Permit Committe grants W. H. Halkerstone/Hawkstone a transfer from Williamstown to Carlton.
1895
May 18
Carlton played Richmond on the University Ground.
The Carlton squad for this match contained the name Hawkelston.
Blueseum believes this could be a misprint, and it could be Halkerstone.
Mark Pennings' Vol 4 has Halkerstone in the Carlton starting 20 for this match.
This would be Halkerstone's first of two games and it was a Carlton victory, 7.10 - 1.9
1895
June 01
Carlton played Footscray on the University ground.
Mark Pennings' Vol 4 has Halkerstone in the Carlton starting 20.
The Blues were defeated by 3 goals.
1895
June 29
Carlton played Melbourne at the M.C.G.
Halkerstone's name appears in the Carlton squad of 26 for this match.
However, he was one of the six players who did not take the field.
His name does not appear in any of the Carlton squads for the remainder of this season.
1945
January 05
COURAGEOUS RESCUE
"Investigations are being made by the Royal Humane Society into the action of Mr. William Halkerstone, 71, of Blythe st. East Brunswick, who on Tuesday dived fully clad into the sea at Mordialloc and rescued a girl and a youth from drowning." (Argus Jan 05 p5)
1945
October 06
"An old footballer W. H. Halkerstone, who played with Williamstown and Carlton more than 50 years ago, has been distinguishing himself in another field. In 1887, when aged 13 years he was awarded a bronze medal of the Royal Humane Society of Australasia for rescuing a man from drowning in the River Yarra, near Princes Bridge. He is now 71.
Last summer when lying on the beach on Mordialloc he heard the cries for help and saw a girl in difficulties about 40 yards out in the sea. Although he is not a good swimmer he could not see a damsel in distress without going to her rescue. Fully clothed, he dashed into the water and waded and swam to her assistance. When he reached her she struggled, and he had great difficulty in keeping her afloat until help arrived. Naturally, he was much exhausted, but he had achieved his object.
The lessons of courage and determination learned on the football field have certainly borne fruit in his case. He makes light of the whole affair but will talk freely of his old football comrades, such as "
Jasper Jones
, who is said to have kicked a goal on the old East Melbourne ground from half way. "Ginger" Worrall,
James 'Jigger' Moorhouse
,
Alf. Spedding
,
'Gib' Currie
,
"Danny" Hutchison
,
Jack Roberts
, and others."
(Trove: Australasian October 06 1945 p23)
1952
William's residence was 85 Cardigan Street Carlton and he was buried on July 08 at the Melbourne General Cemetery.
HAWKIE THE HERO
WilIiam Halkerstone is a fair dinkum hero. He saved 8 lives during his lifetime.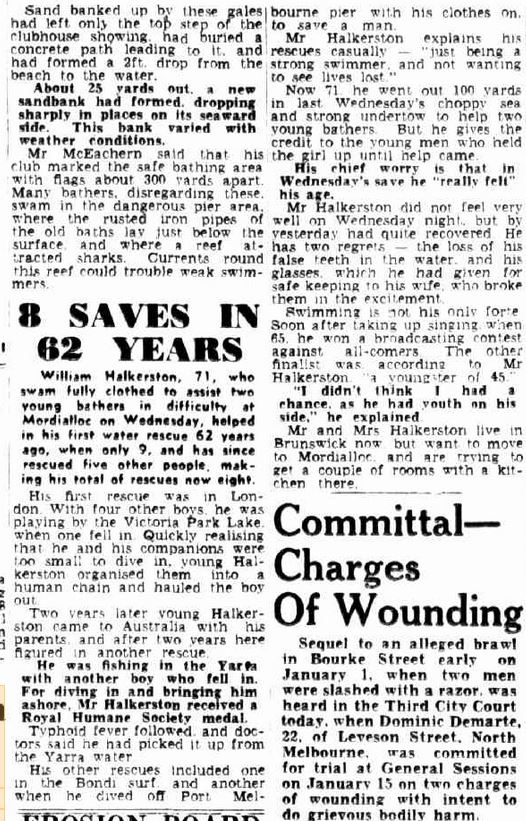 (Herald January 05 1945 p5)
Note:
The Royal Humane Society of Australasia was contacted to see if they may have an image of William. Unfortunately they have very few photos and none of Halkerstone.
Links
Blueseum:
Pre VFL Players