Author: The Blueseum Writing Crew - Published Mon 22 of Oct, 2007 02:47 AEST - (7497 Reads)
First published: October 2007, during Trade Week for Chris Judd




We have all been transfixed in recent weeks as one of the biggest stories of the past decade – and not just from a Carlton perspective – unfolded before our very eyes. There is little doubt that the recruitment of
Chris Judd
is a huge coup for the Club, adding to the massive on and off field turnaround that begun in Season 2007 which looks set to continue into next year. But with the eyes of the Blueseum set firmly on our amazing past, we decided to go back to the trade that landed our most recent Brownlow Medallist recruit,
Greg Williams
, to the Carlton Football Club.
The year was
1991
.
David Parkin
had finished the second year of his second stint at the Blues, and despite the best efforts of all involved, Carlton would finish in 11th place with 8 wins from 22 matches (across 24 rounds, with the bye in place in 1991). The Sydney Swans, featuring ex-Carlton tryout and 1986
Brownlow Medallist
Greg Williams
, would finish in 12th place.
As a result of this finish, Carlton would have a good range of draft picks with which to rebuild, including Picks 5, 18, 31, 44, 57 and 70.
But the Blues were not of a mind to 'rebuild' in the modern sense – Carlton would have its eye not only on
Greg Williams
, but two other players that would make their mark on Carlton. Picks 5 and 31 would go to Melbourne in return for
Earl "the Duke" Spalding
, with Melbourne using Pick 5 to pick up Jason Norrish. 1987 Premiership Player
Richard "Rocky" Dennis
, and a swap of 10th Round Draft Picks, would find their way to North Melbourne in return for young "Rocket"
Ron De Iulio
, who would play over 100 games for the Blues up until 1999.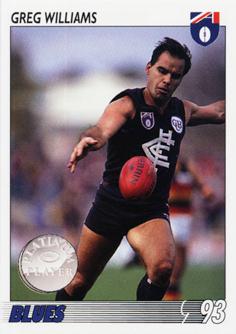 But the big prize was Williams. Arrangements were made between Fitzroy, who had finished in 14th place (of 15 teams, with this being the Crows first year), and the Swans, that would see the following trades take place:
The trading of
Simon Minton-Connell
, much like the Judd-trade-contemporary of Josh Kennedy, broke the hearts of many Carlton fans, who in each case could see the bright future of each player. Interestingly, Minton-Connell remained in Melbourne after the trade and flew to Sydney on Thursday or Friday to train and then play on the weekend. In all, Minton-Connell kicked 305 goals in his 112 games at 4 Clubs – Carlton, Hawthorn, the Bulldogs and the Swans. Even then, he wasn't quite finished - in his mid-late thirties Simon was still scoring many goals in the Essendon District League where he had represented several clubs since leaving the 'Dogs.
Overall, the trades left Carlton without Matthews, Minton-Connell, Dennis and Sartori, but with Williams, Spalding and De Iulio – the former two to become premiership players and De Iulio a 100 gamer and fan favourite as above.
In terms of the remaining draft picks, the Blues also picked up Matthew Hogg and 1993 Grand Final player Brett Sholl:
Round 2 – Pick 18
Matthew Hogg
– 114 games
Round 3 – Pick 28 (from Fitzroy)
Cale O'Keefe
– 0 games
Round 4 – Pick 44
Brett Sholl
– 35 games
Round 5 – Pick 54 (from Fitzroy) -
Leigh Snooks
– 0 games
Round 5 – Pick 57 -
Anthony McDonald
(0 games)
Round 7 – Pick 78 (from Sydney) -
Matthew Dickson
– 0 games
Round 7 – Pick 79 -
Bevan Smillie
- 0 games
In one strong recruiting season, the Blues would acquire 3 key limbs to our 1995 Premiership team, and of course Williams would go on to win a second Brownlow Medal in 1994, and was horrifying close to winning in 1993. Back in the 1970's Carlton had recruited another Brownlow Medallist – our first from another Club – in South Melbourne's
Peter Bedford
.
Chris Judd
therefore becomes the third Brownlow Medallist recruited to Carlton, and one who carries the hopes of the Carlton masses for 2008 and beyond.